You never know when trouble will strike so it is always good practice to carry some sort of self-defense device around with you at all times. Some of these devices are obviously intended for self-defense purposes, while others are weapons in disguise and will offer you an element of surprise if you are being attacked.
We will cover the most known and common devices first, such as the best pepper spray to carry, tasers and kubotans. But we will also cover some less well-known self-defense devices such as rings and keychains, hats, tactical flashlights, personal alarms and even tactical pens.
Below are products that we highly recommend you carry on a regular basis. Always make sure it is legal in your place of residence before carrying any of the devices listed in this post.
Top 26 Self Defense Devices Reviewed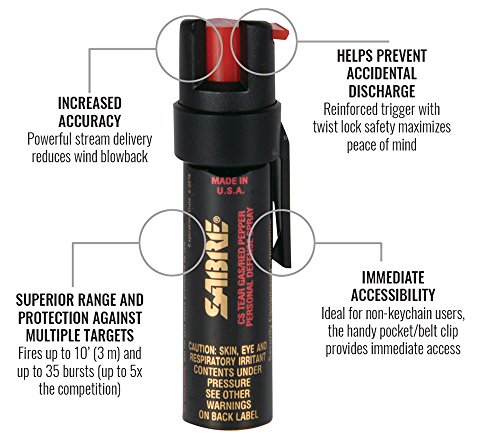 One of the most commonly carried self-defense devices is pepper spray. Pepper spray is cheap and effective; there is a reason police officers carry these types of products on them every day. Sabre Red makes some of the highest quality self-defense sprays on the market today.
The 3-in-1 pepper spray will help deter an attacker and has UV dye to make identifying the bad guy easy for the cops. If you are only looking to carry one self-defense product we recommend grabbing a few canisters of pepper spray.
For those of you looking for something easy to use with a minimal learning curve, this Fast Strike device can deliver a mean strike. The handle is similar to a folding or tactical knife but instead of a blade, there is a wire cable with a striking cap on the end.
When you swing this device the end will snap on the attacker similar to how a whip works. We tested this guy out and let me tell you, if someone is still approaching you after a few hard hits they deserve to take your wallet.
Anyone seeking a versatile device should check out this flashlight knife combo. Having a bright tactical flashlight is an absolute must for anyone looking to stay protected in dark situations. What makes this flashlight different from most other tactical lights is the concealed knife in the bottom part of the handle.
The knife assembly can be fully removed from the light so you can use the knife and flashlight independently making it great for people who like to pack light. The flashlight is rechargeable so you do not have to worry about constantly buying batteries. There is a hard point on the bottom of the handle that can be used to break glass if you are pinned in a car or need to help someone get out of a car.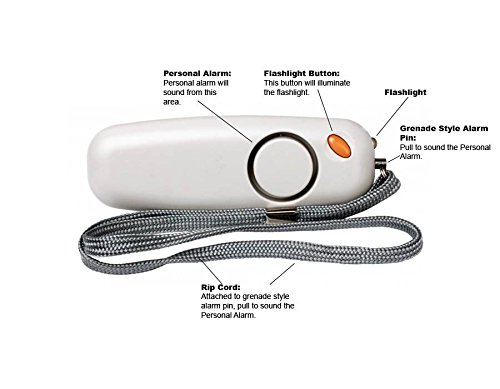 Many times individuals are just looking to carry something that will draw attention to them if they are in a threatening situation. This 130-decibel alarm by Vigilant will do just that. Personal alarms are legal to carry in all 50 states. The alarm is activated by a rip-cord like switch where you pull the pin from the device and it will sound alerting individuals in the area that something is going on.
There is an LED flashlight for convenience as well but has been reported to drain the battery very quickly, so use sparingly. Carrying a personal alarm around can also be very useful if you are in need of medical assistance, making it great for joggers and hikers alike.
For anyone interested in covert and simple, these "key" knives are a great addition to EDC self-defense devices. The knives have a lock back when they are in the open position to keep the knife from closing on you.
The blades are sharp enough to act as a nice everyday use knife while providing the ability to act as a self-defense mechanism as well. Having two knives is nice because you can have them on different sets of keys, or give one to a family member or friend as a gift.
Made of solid aluminum the Fury SDK Kubotan is a great self defense tool. You will need to practice using these devices before relying on them in any sort of real-life situation but they have been proven to be extremely effective when used properly.
Kubotans can be used to apply disabling locks by hitting pressure points or you can use the sharp point as a striking device. Available in a few different colors and sizes, there is a perfect fit for people of all sizes.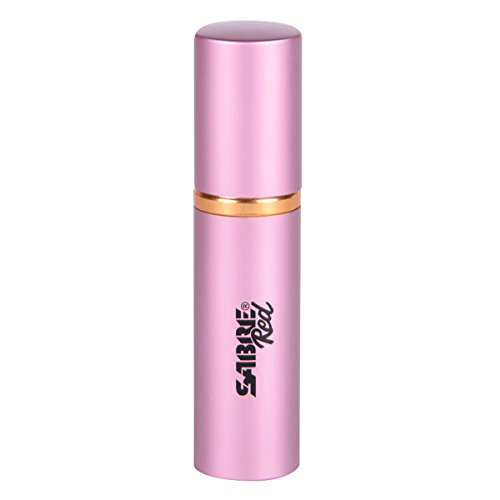 This pepper spray is perfect for any ladies out there looking for something discrete that packs a punch. The Sabre Red lipstick pepper spray provides a great level of protection for its size.
Don't let the size fool you, this product will cover a ten foot range and allow up to ten one-second bursts of a powerful pepper spray stream. The best part is it looks like a tube of lipstick so if you are looking to have some "less obvious" pepper spray this is a great option.
This chain bracelet is an awesome multi-use product that can deliver one heck of a wallop if push comes to shove. A few of the common uses for this self-defense chain are wearing it as a bracelet, necklace, wallet chain or even as decor in your car or at home.
If you are looking for the old school biker gang "don't mess with me" look this product will not disappoint.
Another old fashion self-defense option is the good ole baseball bat. I don't know about you but I would steer clear of anyone that pulled a bat out when they were approached.
The Brooklyn Crusher is made of Polypropylene so the bat is basically indestructible. Measuring a total of 29 inches and weighing a little over two pounds this bat takes minimal effort to swing. You can even use this bat for a neighborhood pickup game with the boys.
How is a pen going to help me in self-defense? Well, this is no ordinary pen. The Gerber Impromptu Tactical Pen is constructed from machined stainless steel and is extremely durable. The pen can write in the rain and on almost any surface for that matter. There is a solid push-button mechanism to deploy the pen.
The integrated glass breaker tip is made of tempered steel and can drop a window or offer a powerful striking tool to ward off an attacker. If you are looking for a badass pen that can keep up with your rugged lifestyle, the Impromptu Tac pen will not let you down.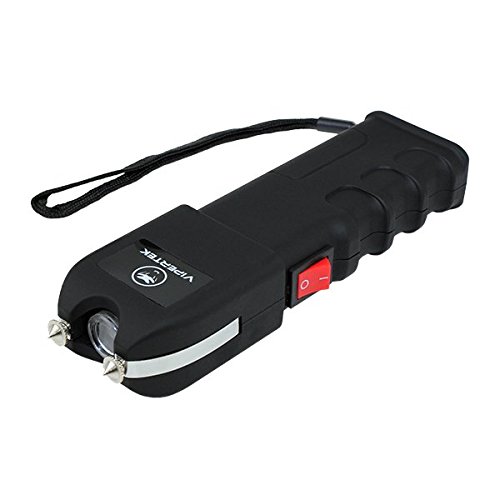 Vipertek makes some of the best stun guns on the market. The VTS-989 is rechargeable so you do not need to worry about replacing batteries. It also features thin metal shock plates on the side of the device to prevent an attacker from grabbing the device from you and using it against you. Just the sound of the electricity zapping through the air is usually enough to deter someone who is looking to do you harm.
Strike Spikes can easily convert your ordinary watch or boots into life-saving self-defense devices. Getting set up is simple just attach the spikes to your shoelaces or the back of a baseball cap and you are ready to go.
Some individuals attach them to their wristwatch to allow a great follow up to close quarters combat. The Strike Spike is a great cheap option to make your current gear a little more badass.
Sometimes you have the self-defense part down but need to restrain the individual until law enforcement can arrive. These heavy-duty solid steel handcuffs by Vipertek are no joke.
(These are not toys!)
Professional grade handcuffs feature a double lock mechanism, black finish and two included "standard" police cuff keys. Note there have been some reports that the keys are not exactly standard and they may not open other brands of cuffs easily.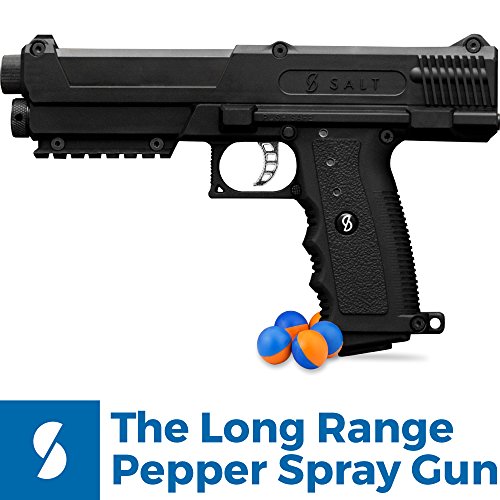 Salt makes one of the best pepper spray guns available. Each self-defense gun kit comes with one pepper spray gun, 10 pepper spray rounds, 10 practice rounds, one seven-round magazine, one lockable case, and one user manual. The SALT gun can hit targets up to 150 feet away with good accuracy compared to standard pepper spray ranging between five to 30 feet.
The gun is easy to fire and has a similar force and blowback of a paintball gun. The pepper spray rounds have a five year shelf life and are of military grade to ensure they are potent and effective. The price is a bit steep but the overall product is one of the best consumer grade self-defense devices on the market.
This strange-looking self-defense device is the Yoogo keychain. It is constructed with a non-toxic polymer and adhesive blend that is light and durable. It is secured with solid metal keyrings that can withstand 105 pounds of pull resistance and are made in the USA.
This device can be used in many ways making it quite versatile compared to some of the other items on this list. The last thing worth mentioning is this device has been reported as TSA friendly so if you like traveling and want to bring a self-defense tool with you, definitely check out the Yoogo keychain.
When other forms of self-defense are not allowed, a solid cane could be your lifesaver. Not a whole lot to say about this one. The Ka-Bar is black powder-coated aluminum that is one inch in diameter and 39 inches long but can be cut shorter if desired.
Total weight is about 2.15 pounds and the product is made in the USA. There are a ton of really good reviews out there about this cane so if you are in the need of a solid cane to whoop some ass, the Ka-Bar is your best option.
Sometimes you may need more of a defensive device instead of taking the offensive path. These armbands are designed to keep your skin safe from sharp objects such as knives, glass, arrows and many other piercing weapons. Composed of stainless steel wire, polyester and elastic fabric you will be protected with level five anti-cutting properties.
These sleeves can provide help with the following applications: glass production, machine manufacturing, personal defense, garbage sorting, metal processing, food preparation, rescue and relief and any other task that you want some extra protection on your arms. There have been reports of the armbands fitting a bit tight, so if you have big arms please keep this in mind when ordering.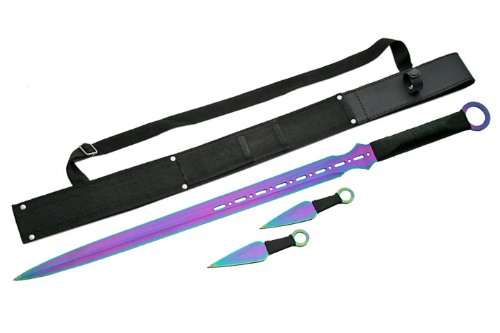 If you want to showcase your inner ninja check out this set by Szco Supplies. You will get a 28-inch sword and two matching throwing knives. There is an included nylon sheath for the main blade but not the daggers.
The handle is wrapped in a black cord to provide a nice grip. The rainbow finish makes this set more of a display piece than a practical sword, but it looks really nice none the less.
If you see yourself as the Daryl Dixon type this little crossbow will put you in full character. The bow has an 80-pound draw that can shoot the arrows at speeds of 165 feet per second. There is a pistol-style grip and trigger system that pairs nicely with the self-cocking mechanism to keep reload times short.
The crossbow comes with three aluminum arrows with hardened metal tips. There is even an adjustable sight to help give you the most accurate shot possible. This is not a toy but could be a great gift for a die-hard Walking Dead fan.
If you are feeling your inner ninja coming out then check out this 12 piece throwing knife set by Whetstone. They are made of black steel and have wrapped handles for some extra grip.
The knives are balanced fairly well and for the price make a great starter set for anyone looking to learn how to use throwing knives. These also make a great gift for ninja lovers and weapons enthusiasts.
This bundle includes both a stun ring and pepper spray, providing two completely different self-defense devices. Depending on the situation, sometimes pepper spray is not the best option and having a backup device could save your life. This self-defense bundle also makes for a great gift.
Little Viper pepper spray bracelets are a great self-defense device for runners, joggers, hikers, and other active individuals. You wear the pepper spray on your wrist, which makes it both available and accessible when you need it. You will be able to hit an attacker from about three feet away with this product which is not the greatest distance but better than having no defense at all.
The capacity is also quite small providing three to six short bursts per canister. Overall the product is a great option for active individuals who need a little more peace of mind.
Ka-Bar makes some really nice knives and this is the TDI Law Enforcement Clampack. The blade is set at a 20-degree angle and stamped with the Ka-BAR name. There is an included sheath but we recommend purchasing a better one.
The knife is a really great product but the sheath will fall apart decades before the knife gives in on you.
This covert blade is hidden in a nickel. The blade is made of hardened stainless steel and sharp enough to cut plastic zip ties, cord or duct tape. This is a great tool for undercover operatives and even civilians traveling in hostile regions.
The blade is easily deployed by running your fingernail clockwise with the heads side up. This product is made in the USA and could be one of the most useful tools you ever purchase in the event that you are captured.
Here is another great covert and concealable blade that could come in handy. The blade is concealed in a credit card shape and size, but when not in use it folds out to a very useful knife in a matter of seconds. You will get two of these so you can throw one in your wallet and gift one to one to a friend.
And last but not least is the Taser Pulse 2 which is one of the best taser guns available to civilians. The Pulse 2 uses high tech neuro-muscular incapacitation that will disable an attacker's central nervous system for 30 seconds. There is a laser targeting system and a flashlight to assist when aiming the device.
You will have an effective range of 15 feet which gives you plenty of distance from your target. There is a battery status indicator to let you know when you are running low on juice. If you like the best of the best this taser gun will not let you down and is the same product that law enforcement officials use in a professional capacity.
Final Thoughts
Always remember the number one rule if you are in a dangerous situation is to get away from the situation in a safe manner, and then call the police or signal for help. Do not think just because you have some pepper spray or a taser that you are in the clear.
There are many very dangerous people out there who may be under the influence of drugs or in a very desperate mindset that causes them to ignore the pain from many of these devices and potentially hurt you.
If you are ever at gunpoint do your best to stay calm and comply. Do not risk overtaking the attacker, as the gun may go off accidentally resulting in serious injuries or death.