Shooting a firearm can be fun and exciting: going out to the range, loading your weapon, placing a target. The best part about this experience is getting your target back and seeing that you hit what you were aiming for with great grouping.
Of course, the shooter needs to be accurate. But your weapon needs to be sighted in and properly functioning as well.
You can have the best rifle, a high-end scope, and all the bells and whistles. However, if the maintenance hasn't been done and the gun not thoroughly cleaned after each use, you may be let down by your time at the range.
The Top 7 Best Gun Cleaning Kits
Here we will take a look at seven gun cleaning kits to help keep your firearm up to par and functioning at the highest level. The prices vary so that there is something for everyone and every gun.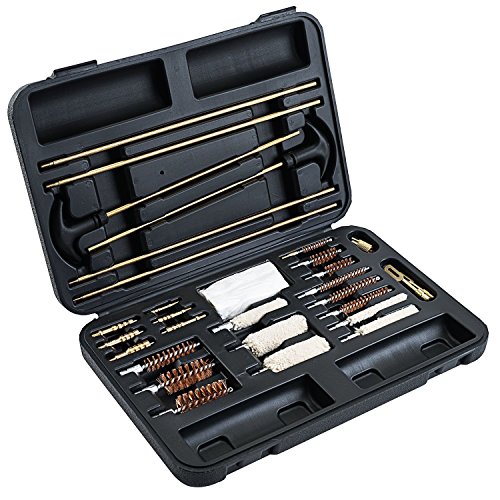 This kit by Falko is just what it says: a universal cleaning kit that will work for most calibers and gauges. All pieces are made from high-quality parts and use brass tips. Many other sets use cheap plastic that breaks after just a few uses.
The hard plastic carrying case is made to keep all parts and pieces in their place so that cleaning is quick and easy. It also comes with a one year guarantee so if there are any issues call their support and they will get you taken care of.
If you are looking for a versatile kit that comes at a very fair price, this little kit by Falko will not let you down.
Up next is a solid 65-piece cleaning kit that comes in a toolbox for easy storage. This pack includes all the necessary equipment to clean most firearms.
The kit is available for a fair price and includes everything you'll ever need to clean to your heart's content. Some of the included items are muzzle guards, cleaning rods, picks, cleaning brushes, brass jags, cotton swabs and much more.
The included toolbox has plenty of additional space for other cleaning supplies and tools, making this kit even more valuable as you add your own pieces to it over time.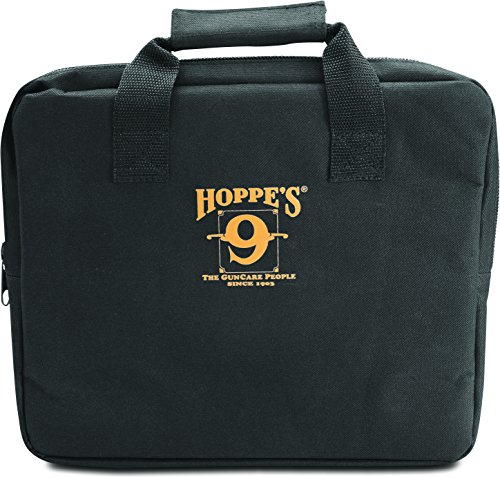 This is a classic but great option for most firearms. It comes with the basics you need to quickly clean and maintain your gun. The low price point is an added bonus.
But seriously, who doesn't love the smell of Hoppe's 9 in the morning?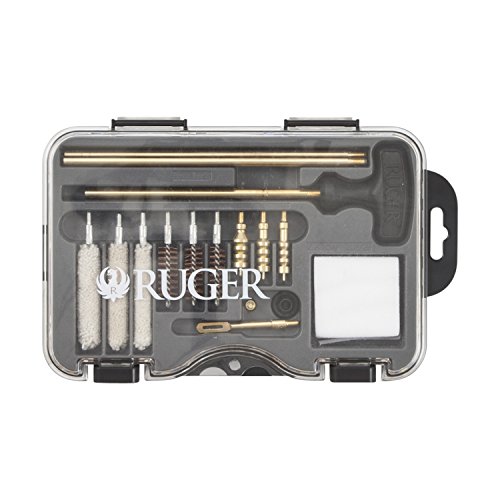 In this cleaning kit, you will find components to clean eight different handguns. There are 15 pieces that are included, as well as 20 cotton patches to get you started.
As with many gun cleaning kits, all items are stored in a sturdy plastic case that keeps everything where it's supposed to be.
This is a great field kit to bring out to the range as it is lightweight and contains pretty much everything you need to clean a handgun on demand.
A favorite among many gun owners, this case offers components to clean almost every gun imaginable! The case is compact, which is good for a range or hunting bag and is weatherproof.
This kit is truly impressive due to its versatility. The kit includes coarse and fine cleaning rods, four slotted tips with over 100 cleaning cotton patches, nine brush mops, 13 spear-pointed jags, 14 phosphor bronze brushes, three muzzle guards with three different adapter sizes, a nylon brush, phosphor bronze brush, and a stainless steel brush.
With all these great tools packed into an affordable and mobile firearm cleaning kit, what more could you need?
This kit is made for .22 caliber rifles but is also appropriate for the M16 and AR15 rifles. It is beyond portable and lightweight which makes it easy to keep your tactical rifles in top shape, even in the field.
This is a simple case for those who may not need much or only need to clean specifically mentioned rifles. It is super lightweight, making it great to bring on hunting trips or hikes.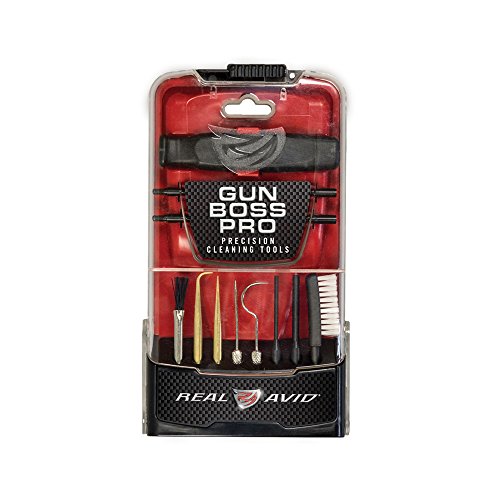 This gun cleaning kit is an 11 piece detailing kit that includes pieces that most gun cleaning kits do not. This allows you to reach areas of your weapon that may not be otherwise cleaned.
There are parts and pieces enclosed to clean every type of gun, deep down to the working and moving parts. For the price, you can't go wrong with this kit by Real Avid.
Final Thoughts
The most important thing to keep in mind is that a gun is only as good as the person carrying and firing it. The easiest way to ensure an accurate shot and no misfires is to keep it clean and dry it when not in use.
Always make sure your firearm is clean before your next use. The last thing you need is a misfire or malfunction caused by your lack of cleaning.
If you have other questions about security products or self defense, check out our other helpful articles.