Over 60% of American households claim to be campers.
Camping is a great way to recharge the mind and get in your daily physical activity without being trapped in a gym.
Many young people are starting to camp more because the desire to separate from technology is growing.
One of the most important things to remember while camping is to stay hydrated, and clean water for hydration is a must.
Staying hydrated will keep you moving along on your hike and could potentially save your life.
Below is a list of the top ten camping water filters.
Keep reading to stay hydrated on your next big camping trip.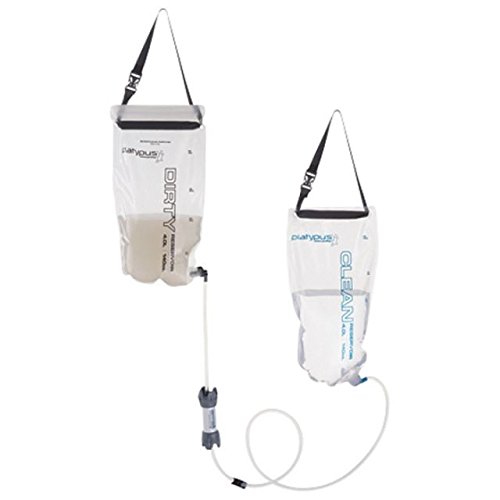 One of the best in the game, this camping water filter meets EPA and NSF guidelines for removing over 99.9999% of bacteria, 99.9% of protozoa including giardia, cryptosporidium, E. coli and salmonella. It comes with one bag for dirty water and another for your fresh drinking water.
There's no pumping required, just hang it from a tree. You're going to want to step up your protection game, you'll have the most coveted fresh water in the whole campground.
Filters are good for about 1,500 gallons and the product is made in the good ol' USA.
For something a little lighter to carry in your hand or backpack, go with this LifeStraw water bottle. The straw provided is a two stage filter so you can sip without worry.
The first stage of the filter is a hollow fiber membrane that acts as a physical barrier against bacteria and parasites.
Stage one will remove bacteria such as E. coli, parasites such as Giardia and Cryptosporidium, and will last around 1,000 gallons before you need to replace the stage one filter.
Next, stage two is a carbon-based capsule that traps chemicals such as chlorine, pesticides and herbicides. The carbon stage two filter will also help improve the taste and help remove odors from the water.
Want to know the best part? It doesn't leak. You won't have to worry about losing any water as you climb and duck around trees.
This is a great item to have on long hikes or trips where you really need to keep your pack's weight down.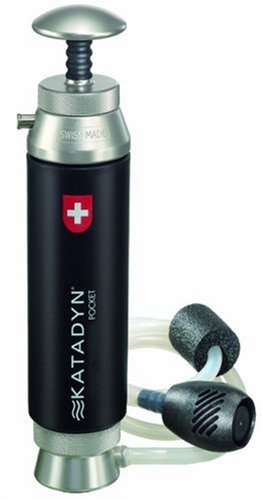 If you want a camping water filter that fits easily into your pack but can take a beating, look no further. Just find a source of water, hook the hose into your water container, and pump to get a fresh drink.
In case it comes to it, do your research on how to find water in the wild before your adventure. Hopefully, you won't have to play Survivor but having the right equipment to get the job done could save your life.
The filter is rated up to 13,000 gallons—WOW that is a lot of water!
The filter is a silver impregnated ceramic element that is very effective against bacteria and protozoa. If you are worried about virus contamination make sure to boil your water after filtering or add some iodine tablets to be on the safe side.
Overall, this is an extremely well-built water filter that is portable and effective. If you want to purchase something sturdy that will last for years to come this is your filter.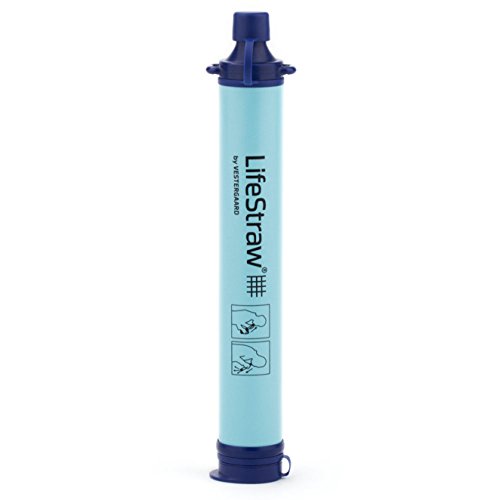 Get personal with this one. It's basically a super fancy straw you can use to drink straight from a water source.
This water filter straw removes bacteria as you sip. It's also light, durable, and will fit easily into a pocket or backpack.
As you are crouched and drinking the water, don't forget your surroundings and remember your best self-defense moves just in case.
This is one of the most economical personal water filters available and is extremely portable. Heck, you can carry a few of these and you will barely notice the weight difference.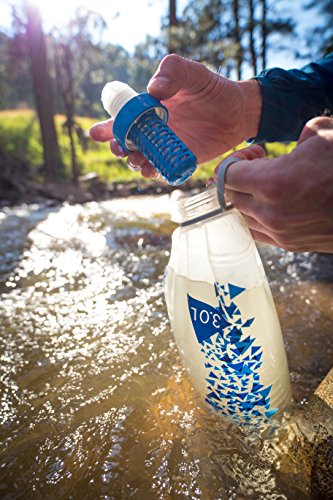 This product is one of the best camping water filters because it can be sipped as a personal flask. With one squeeze, you have fresh water to drink.
If you are feeling generous, hang it up and use it as a gravity filter for your group. It even comes with a drinking nozzle to keep the mouthpiece clean.
This is a lightweight and very easy to operate filter. Just fill up the pouch and screw the filter back on and let gravity make you some clean water.
Overall, this is a very good filtration of bacteria and protozoa-based contamination, but if you are in an area with potential viral contamination, make sure to treat your water chemically.
While these aren't necessarily a filter, they are much needed. When you want to be sure that both bacteria and viral contaminants are removed from your water, you will need to use these tables in conjunction with one of the filters on this list.
They are safe for both children and pregnant women. You must stir the water for about ten minutes and then let the water sit for a half hour up to four hours to ensure full decontamination.
When you are planning for survival you must always make these part of your pack.
Get modern with this sort of water filter. This pen uses UV light to clean your water.
This UV-powered purifier can remove 99.99% of bacteria and viruses from one liter of water in under a minute.
It's effective and doesn't alter the taste of your water. If you find many particles in your water, look into getting a filter to use in tandem with the SteriPen Opti.
The SteriPen Opti can also be used as an emergency flashlight and is covered by a three-year warranty.
This is the perfect gift for any hardcore camping, hiking or trail riding adventurer.
If you need an affordable yet effective camping water filter, this is your pick!
You can use the straw by placing one end into a body of water and sucking. Or you can screw the open end to a water bottle full of water, and either suck or squeeze the bottle to produce clean filtered water.
There are some additional survival tools that come with this straw filter including: carabiner, signalling mirror, tourniquet/extension tube, and survival whistle.
It even comes with a compass on the end in case you have trouble finding your way back to camp.
Weighing in at under half a pound this is a great lightweight portable water filter for campers, hikers and preppers alike.
Remember: one of the most important supplies to guarantee your survival is clean drinking water.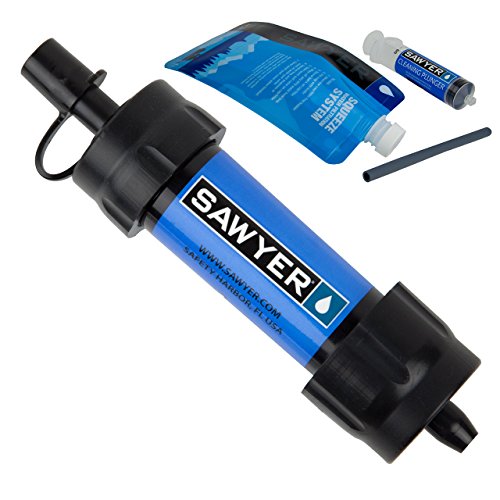 Small but strong, this water filter packs an outstanding cleaning punch. It's ultra lightweight so you will barely even notice its presence.
The filter will effectively remove 99.99% of all bacteria and protozoa from water.
The Sawyer mini filter is rated up to 100,000 gallons and includes two Sawyer mini filters, two 16 ounce reusable squeeze pouches, two seven inch drinking straws and two cleaning plungers.
Attach it to your bottle or drink from the source. Either way, your water will be clean.
This filter not only gives you drinking water, it protects you with a few extra features.
It comes with a knife, whistle, compass, fire flint, and flashlight to keep you well prepared in the event of a disaster.
The filter contains four stages. The pre-filter, ceramic, carbon fiber and kinetic degradation fluxion that filter particles down to .1 microns.
A single filter can expect to last up to 500 gallons with proper care and maintenance.
This is the perfect water filter for camping, hiking, backpacking, explorations, fishing and any other outdoor activity.
Best of the Best: Camping Water Filters
If you are going camping anytime soon, make sure to have a drink of fresh water with these camping water filters.
These filters are also great for the following activities.
Hiking
Kayaking
Climbing
Skiing
Camping
Natural disaster preparedness
Doomsday preparedness
Hunting
Fishing
Outdoor adventures
Need more protection on your camping trip? Check out the rest of our site for tips on self-defense, home security, pepper spray, and more.