There are 2.5 million burglaries in the United States every year.
That comes out to about one burglary every 13 seconds, so it's imperative that your home is secure.
Of course, securing your home with an integrated security system is expensive. Not everyone has the time or money to pay contracts to wire alarms through the walls of their homes.
Luckily, there are now cheap, DIY options on the market in the form of door and window sensors that can deter burglars just as well.
The 5 Best Door and Window Sensors on the Market
In this post, we've hand-selected the five best door and window sensors available in 2019. One of these options will be perfect for keeping your home safe.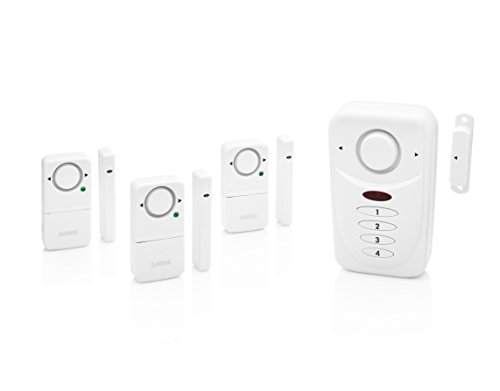 The SABRE Wireless Home Security system is extremely cheap and DIY-friendly. Thankfully, you don't lose any quality for the price either. This set of window and door alarms get as loud as 120 decibels, so everyone in your neighborhood will be notified of an intruder.
The alarms also have three different modes: off, alarm, and chime. In chime mode, the sensors make noise whenever someone enters or exits a house, which is great if you have wandering kids or are expecting guests.
The sensors are super easy to install and the door alarm is secured with a four digit PIN code. Sabre is a trusted name in the security industry and we trust that their products will always deliver what they promise.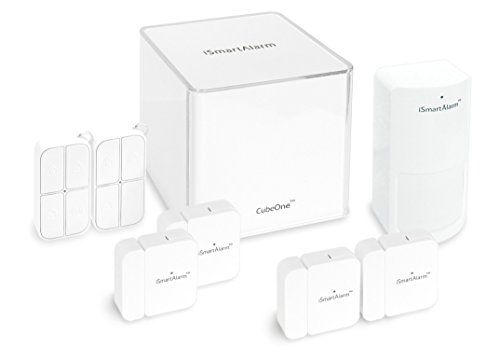 If you're looking for something at a higher price point, but with more functionality, the iSmartAlarm security package is for you.
This alarm set has all of the same functionality as the SABRE, but with the added benefit of a smartphone app that you can use to control your system.
The iSmartAlarm is compatible with Amazon's Alexa so it can be voice controlled. You can even buy a compatible security camera if you want to expand your security features down the line. To further automate your home and security systems, you can also integrate with IFTTT.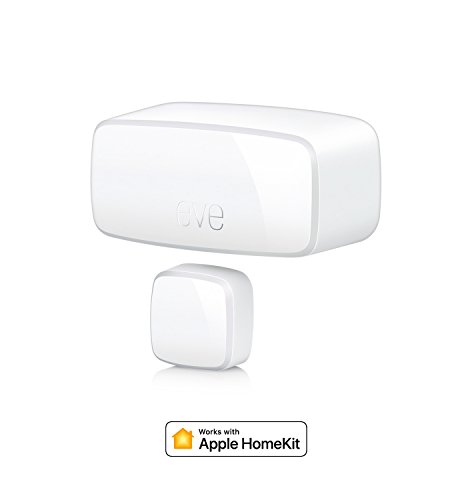 Elgato Eve is a fantastic middle ground between the two previous options, as it has some iSmart-like smartphone functionality but at SABRE's price point. Like any good sensor, Eve knows when your doors are open or closed.
But it doesn't know just that. These sensors also collect data on when your doors are opened or closed, and for how long they stay that way. You can also connect to Siri and ask her the status of your home's protection.
With average battery lifetimes of around 1.5 years, you will not have to mess with replacing batteries on a semi-monthly basis.
This BIBENE alarm package is probably the most comprehensive of the bunch. The system is easy to install yourself and has alarms that reach 120 decibels.
Like the iSmartAlarm, it also comes with an Android or iOS app that you can use to take control of your system and get alerts of break-ins.
In addition to the phone app, you can even sync the system with Alexa and use voice commands to activate your system. Plus you get an army of sensors for an amazing price point. The included contents are listed below:
1 x PIR Main Panel
1 x Wireless PIR motion detector
5 x Door/Window sensors
2 x Remote controls
1 x AC adapter
Overall, this is a great full home security system out of the box that has the ability to tie into your Wifi, Alexa and be controlled by your phone if you desire.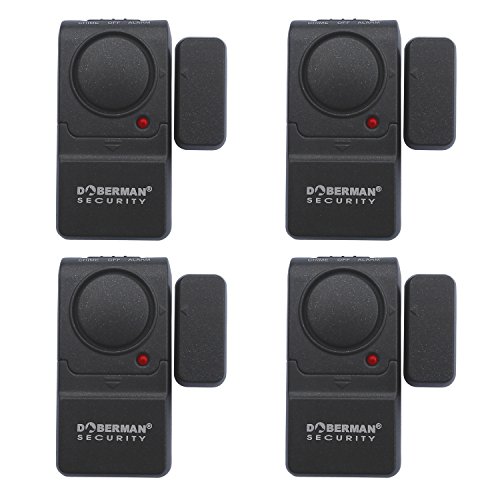 Lastly, if you're looking for a no-frills alarm set-up that just screams when a window or door is opened, these Doberman Security sensors are your best option.
Their alarms reach 100 decibels and their design is sturdy, compact, and inconspicuous.
Please note that these alarms use LR44 batteries, which are not very common. Other than that, these little sensors get the job done.
Need More Recommendations?
Hopefully one of these door and window sensors tickled your fancy. Any of them will be able to adequately protect your home from break-ins. However, if you'd like more recommendations for a wide range of security essentials, check out the Security Products section of our site.