Picture this: it's Sunday night and you're relaxing with a glass of wine and your favorite movie. The volume is turned up so loud that you hardly hear the microwave beep when the popcorn is ready.
Outside, a stranger is peeking through your front windows, casing your home for a point of entry.
It's every homeowner's worst nightmare, so why are you still leaving your security up to chance? Installing a driveway alarm can alert you to the presence of unwanted visitors before they give you a chance to pull out your pepper spray or access your hidden gun safe.
Ready to take your security into your own hands? Keep reading to find the best driveway alarm on the market for your needs.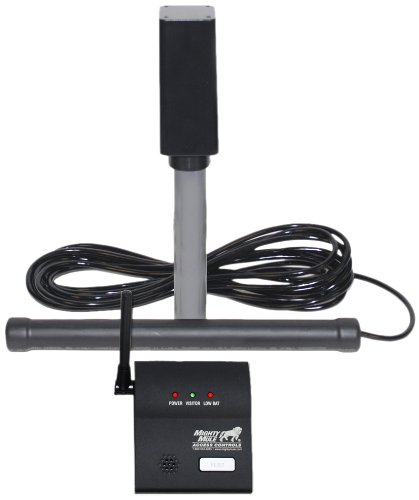 The Mighty Mule is a great alarm for the budget-conscious. The internal base has a 400-foot range to communicate with the wand sensor. The wand has a radius of three to 12 feet to sense large metallic objects like cars or trucks. There are low battery indicators on both the indoor receiver and the transmitter. You will need to purchase two AA batteries to power the remote wand.
You will be alerted by a pleasant chime when the sensor is triggered. It's easy to disguise because installation requires burial in the yard. The electromagnetic sensor also keeps it from going off at the sight of animals or humans, making it perfect for those who wish to only be alerted to vehicles.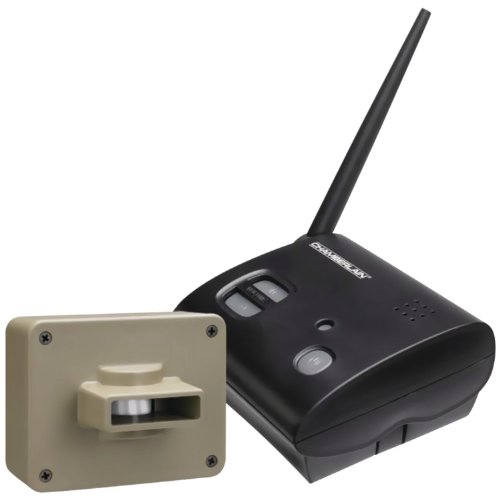 If you want to monitor your driveway or yard with some line of sight sensors, check out this motion alert system by Chamberlain. It has a half-mile range and can be extended to four sensors to cover a larger perimeter. It will alert you to the presence of vehicles, humans, and large animals to cover all your bases.
The sensors take four AA batteries that will last about six months depending on how often they are activated. The base can be powered via AC adapter or batteries if you prefer. Each sensor can be programmed with a unique sound so you can easily identify what sensor was activated. Overall if you are looking for a wireless solution with multiple sensors, this is a great and flexible option.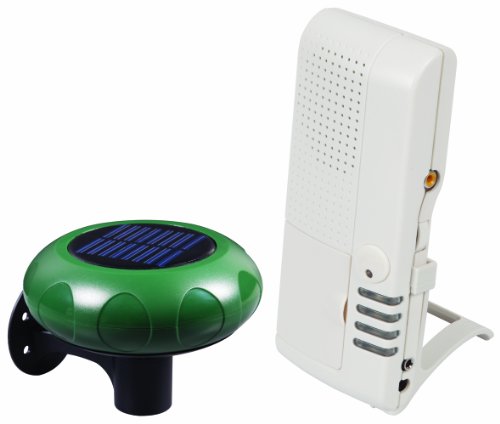 Like the Mighty Mule, Safety Technology's alarm also functions via an electromagnetic sensor, meaning it'll only go off around vehicles. Unlike the Mighty Mule, it charges through solar energy, making it long-lasting and low maintenance. There is a four-channel voice receiver that is included that will sound a programmable voice message when the sensor is triggered. There are ten selectable tones and 53 selectable words that can be programmed.
The receiver has a 1,000 foot line of sight range from the sensor. The optimal range for vehicle detection is about 12 feet, so make sure to install your sensors accordingly and if needed, grab a few extra sensors to cover larger areas. This product comes with a full one year warranty from the date of purchase.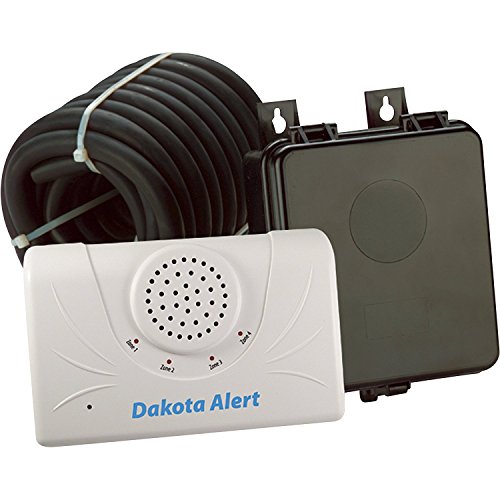 The Dakota 2500 Wireless Vehicle Sensor uses a rugged weatherproof tube that lays across the driveway to detect when vehicles drive over the hose. The transmitter is powered by a single nine-volt battery that is attached to the 25-foot detection hose. When the hose is triggered, a signal is sent to the included receiver up to a half-mile away.
With great reviews for all applications, this is a great addition to a driver through or any other business looking to be alerted when cars or trucks are present and individuals may not be close by to see them approach. If you are looking for a pressure triggered driveway alarm the Dakota Alert 2500 will not disappoint.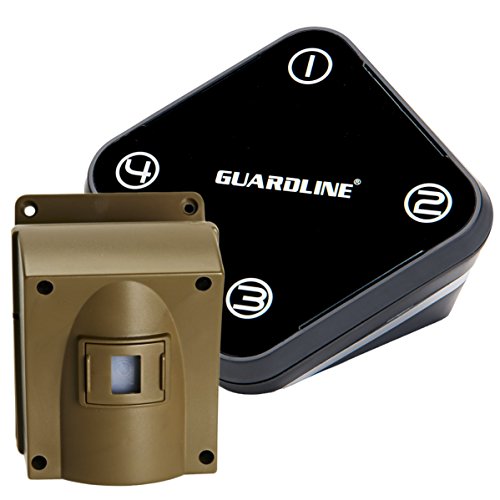 Guardline's alarm is wireless and scale-able to cover larger areas with multiple detection zones. It can also be extended to a whopping sixteen sensors to expand your perimeter as far as the eye can see. You can set up multiple receivers as well so you are alerted in all areas of your house. Each of the sensors is powered by four AA batteries that will last about a year. There are low battery indicators on the sensors to alert you when the batteries need to be changed.
The sensors can detect motion up to 40 feet away so, with a great line of sight and support of 16 different sensors, this system can cover almost any scenario that would require motion detection. The receivers can be powered by AC adapters but also support four AA batteries for backup in case of a power outage. There are 30+ ring tones and adjustable volume on the receiver stations. This kit contains one transmitter and one receiver. There is a 12-volt relay that you can connect an external alarm or chime too, as well as making this system extremely flexible and customization for endless configurations.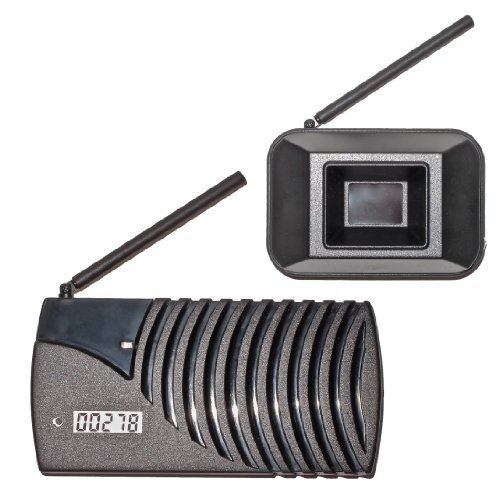 Rodann's alarm is heat activated, meaning it'll react strongly to heat signatures of cars, larger animals, and humans while staying quiet for squirrels and falling leaves. There is a five-digit LCD counter that will tally the number of times the sensor has been tripped, which is nice if the receiver is left unattended. It is wireless and is extremely simple to install, so there is no need to mess around with digging or wires.
The sensors are powered by two AA batteries and they have a range of about 1,000 feet. Rodann products are made in the USA and are backed by a one-year manufacture warranty. You can even expand the system to support additional sensors and receivers if you need to cover multiple areas. If you are looking to get a passive infrared sensor then Rodann is the way to go.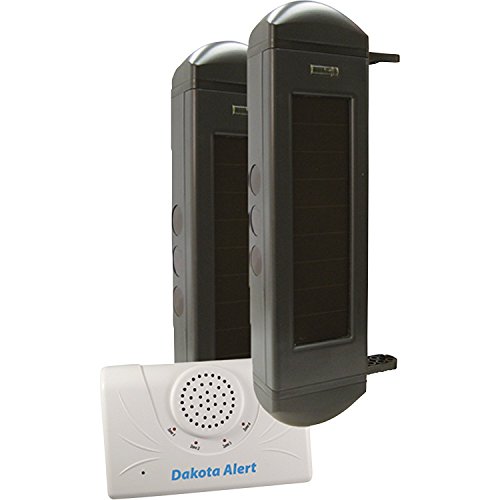 Dakota's Alert 2500 is the crème de la crème of driveway alarms. It's wireless and solar-powered, and registers vehicles, large animals, and humans without picking up on small animals. With no wires, installation takes just a few minutes and the system can be easily relocated or used for temporary situations.
The best feature? It can be extended to four different sensors with a different tone for each, meaning you'll know in an instant what sensor is picking up an intruder. The sensors can be installed up to 300 feet apart and can send the signal back to base up to a half-mile away. For anyone looking to use a break beam sensor or "invisible trip-line," this is the sensor for you.
What's Right for You?
There's a slew of awesome driveway alarms out there, all with different features to match varied needs. Before you buy, consider your property and who or what you're trying to keep out. You can expand many of these systems to cover large areas, but make sure you take proper measurements and check with your local city codes before digging any underground lines.
Once your home is geared up, check out our other security products for added security!