Flashlights are one of the most useful and underrated tools ever invented. Over the past 20 years, flashlights have evolved quite drastically with the invention of LED bulbs and reliable rechargeable batteries we have access to some of the brightest tactical flashlights ever made!
The flashlights below are not your everyday plastic five-dollar flashlights from Walmart. These are tactical flashlights; most are constructed of aircraft-grade aluminum and have extremely bright LED bulbs capable of producing some of the brightest lights available to civilians.
Some tactical lights are designed to be mounted on a firearm using a bracket system that can attach to accessory rails. Others are just super bright lights with long battery life to provide quality portable light for any situation.
What is a tactical flashlight?
Tactical flashlights are designed for use by military, police, firefighters, and enthusiasts. They are made of high impact materials so they can take the abuse of harsh conditions and still provide a reliable light source.
There are even tactical lights that are made to be mounted on guns to provide extra light when aiming, while others are so bright they can temporarily disable someone if shined directly in a person's eyes.
Common Uses for Tactical Lights
Top 10 Brightest Tactical Flashlight Reviews
If you are looking for a nice starter flashlight with all the accessories you need to keep your flashlight running on the go, the Fenix PD35 TAC 1000 Lumen tactical flashlight is a great choice. As the name states, it features a 1000 max lumen Cree XP-L version 5 LED with a lifespan rating of 50,000 hours of run time. The main switch is located at the tail of the light and there is also a mode selection switch located on the side of the flashlight body. There is a total of six different modes including multiple light intensity and a strobe mode.
The package includes two 18650 3400mah Fenix batteries and a dual charger, which allows you to always have a fully charged spare ready to go. You can also use standard CR123A lithium batteries if charging is not an option, as this kit includes two of these as well. There is an included holster that can be attached to a belt or bag for easy access. Additionally, this tactical flashlight comes with a car adapter that will allow you to charge on the go, which is a nice feature if you are mobile. Overall, if you are looking for a nice package deal, this hits all major bases and will get you some quality light with plenty of power to keep you out of the dark in extended situations.
Next, we have the Nitecore MH12 1000 Lumen CREE XM-L2 LED tactical flashlight. If you are looking for a quality tac light that comes with a weapon mounting kit, this package is a must. The light uses a 1000 lumen output CREE XM-L2 (U2) LED bulb that produces a very powerful beam of light. The included weapon mount is designed to fasten to rail systems on firearms. There is also a remote pressure switch that allows you to relocate the on/off switch to a more convenient location when mounted on a firearm.
The flashlight has a USB charging port for the included 3200mAh Nitecore rechargeable battery. There are also two included EdisonBright CR123A batteries that you can use if you cannot recharge your Nitecore battery. Other features include a clip that allows the flashlight to be carried easily without the need for a holster. Also included is a holster if you need to carry the flashlight on a belt or want to have the additional protection that the clip does not provide. Nitecore offers different lens filters if you need to change the color of the light that can be purchased separately. If you are looking for a nice weapon mount flashlight pick up a Nitecore MH12 to solve your lighting problems.
Here we have the ProTorch 800 Lumen Tactical EDC Flashlight made by American Tactical Supply Co. The body of the light is made with durable aircraft-grade aluminum and features a self-defense bezel that you can hit an attacker with. The 800 lumens LED bulb is powered by a single 18650 rechargeable battery included with the light. The flashlight can also be powered by two CR123A batteries or three AAA batteries placed in the included battery caddy. The ProTorch features five different light modes: high, medium, low, strobe and SOS. Having multiple modes is essential to making your tactical flashlight that much more convenient in different situations.
The light beam can be adjusted to make the light cover more area or provide a more powerful spotlight by adjusting the bezel's zoom feature. The tail cap is designed to glow in the dark to help assist you in finding your flashlight in low-light situations. The ProTorch comes with everything you need to get started including a USB AC adapter, USB charger, rechargeable 18650 battery, and AAA caddy. This product is great for using as an everyday carry light and having multiple sources of power is great for a wide variety of scenarios.
Next up is the Olight R50 Pro Seeker, which is a well-rounded tactical light that brings a lot to the table when it comes to light modes and features. The R50 incorporates a Cree XHP70 cool white LED that has a variable output between 50 and 3200 lumens. Powered by a huge 4500mAh lithium rechargeable battery this flashlight can keep a 50-lumen beam for around 50 hours and at the highest 3200 lumens setting the runtime is right around 150 minutes. One of the most important features in our opinion is the overall runtime: you can have the brightest flashlight in the world, but if it dies in then minutes, then what is the point?
Let's go over a few of the unique aspects of the Olight R50. First, there is a low power indicator: the ring around the button will glow red when the battery is running low. This is one of the only flashlights on the market that has a low power indicator and it is awesome! There are four light levels, 60 lumen, 400 lumens, 1500 lumen, and 3200 lumens, as well as a strobe setting. The charging cable is magnetic, which makes charging this flashlight super simple. If you are a gadget geek, and like all the bells and whistles, then definitely check out the R50 Pro by Olight.
Harness the power of the sun with the Fenix TK75. This is one of the brightest tactical flashlights we could find, covering distances of up to 650 meters! This is the 2015 model, which is a few years old, but we still like this product enough to keep it on our list. With a maximum lumen output of 4000, this light is far from dull. The light is powered by four 18650 rechargeable Li-ion batteries or eight CR123A lithium batteries (both included in this bundle). Combining four Cree XM-L2 LEDs this flashlight has a 50,000-hour lifespan. There is a handy low battery indicator to let you know when the light is running low on juice.
There is a dual body switch that offers a simple output selection between the four brightness levels, and solid or strobe modes. There is also a multi-function socket that allows a strap or mounting on a tripod that makes the light mountable if needed. The battery compartment is protected by reverse polarity technology to prevent the light from being damaged by batteries being installed in the wrong direction. The body of the light is made of a durable aircraft-grade aluminum and coated with an anti-abrasive finish. If you are looking to light up the night or cover two football fields with a handheld light, the TK 75 is a great solution for large light coverage and distance needs.
Moving on, we have the SureFire G2X Pro series tactical flashlight. SureFire is a well-trusted brand in law enforcement and military sectors because of its quality build and durability. The G2X series are great for stand-alone lights as well as mounting on a weapon, and is available in multiple colors and styles. There are two output modes 320 lumens and 15 lumens for extended battery use. The modes can be easily toggled with the tail cap switch. The body of this light is made of a unique nitrolon composite material making it extremely light with the bezel made out of anodized aluminum for added durability and striking force.
The parabolic reflector in the bezel creates a steady beam of light that is protected by a tough polycarbonate window and weatherproof O-rings. The nice gasket sealed bezel keeps water and dust from reaching the flashlight's inner circuitry. The light is powered by two SureFire 123A lithium batteries that are made in the USA and included with the purchase of the flashlight. There is a whopping ten-year shelf life on this product and after seeing 1000's of positive reviews, you cannot go wrong with SureFire lights.
Want a cost-effective mountable tactical light with three modes? Check out this super versatile Streamlight 88850 PolyTac LED flashlight. This light is great for mounting on firearms, helmets, or just using as a plain old flashlight. There are three power modes: low 14 lumens and 65-hour run time, high at 275 lumens with three-hour run time, and a strobe mode that can run for five and a half hours. The 88850 is powered by two CR123A batteries that are included with purchase and there is a removable belt clip that comes in handy if you are wearing the light on your person.
The body of the flashlight is made of a nylon polymer that is extremely durable. The light is also waterproof up to one meter for about 30 minutes and has an O-ring that seals the glass lens. This tactical flashlight is great for firefighters, law enforcement, military, hunting, sports and all sorts of outdoor activities. Utilizing a C4 LED with some high tech reflective technology, the light output on this guy is amazing for the cost. If you are looking for a flashlight that can perform in almost any scenario, check out the Streamlight 88850 PolyTac.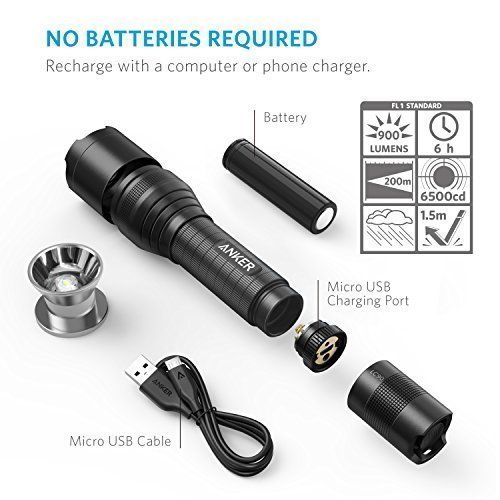 The Anker LC90 is one of the best budget flashlights we have come across. Anker is a well-respected manufacturer of many technologies including flashlights, batteries, chargers, and computer accessories. If you are not trying to break the bank but need a quality torch, then definitely check out the LC90. The battery is rechargeable so you do not have to fiddle with replacing batteries when it runs out of juice. One really nice feature is the two-stage tail cap: one that covers the charging port and the other allows access to the battery compartment. The use of advanced CREE LEDs allows this flashlight to throw up to 1000 feet away. The super bright LED will output 900 lumens on the max setting and has five operating modes: high, medium, low, strobe and SOS.
The LC90 comes with a 18650 3350 mAh battery, micro USB charging cable, wrist strap, instruction guide and 18-month warranty with excellent customer service. The LC90 is rated at IP65 water-resistant so it can withstand heavy rains and other harsh weather conditions. The aluminum body makes this light extremely durable and can be banged around without worry. For the price, this light is hard to beat and Anker's customer service is some of the best in the industry.
Streamlight is one of the most trusted flashlight manufacturers among police and law officers. Many departments use Streamlight products as part of their standard issued equipment. This just reinforces the fact that these flashlights will perform when you need them most. Let's get into some of the details on the Streamlight 75454 Stinger DS. The C4 LED technology has a 50,000 hour lifetime, which will provide you with a reliable and blinding light for many years to come. The use of NiMH rechargeable batteries can be charged and discharged around 1000 times before you will even need to think about replacing the batteries in this light.
There are a total of four different lighting modes: high will provide 640 lumens with a little over a one hour run time, medium at 340 lumens with approximately two hour run time, the low setting at 170 lumens will extend run time up to four hours, and last but not least there is a strobe function that can be used to disorient individuals in tense situations. You can cycle through these modes using the tail switch or the head-mounted switch giving you options depending on your comfort and situation. The light throw on the high setting can reach distances of 297 meters and 148 meters on the low setting. If you are like us and quality is of utmost importance, go with a Streamlight product and you will not be disappointed.
Here we have a nice starter kit that will fit almost any budget and makes a great gift. The PeakPlus Super Bright LED is powered by either one 18650 rechargeable lithium-ion battery or three AAA batteries placed in the included battery cart. There are a total of five operating modes on this light: high, medium, low, strobe and SOS, providing the perfect amount of light in all situations. You can adjust the zoom and focus of the light by moving the head of the flashlight up or down, throwing the light up to 600 feet on the full zoom setting. It also provides a much wider spotlight on the low zoom setting.
This tactical flashlight comes with everything you need, including a nice carrying case for additional protection when the light is not in use. If you are looking for a cheap light to bring along for emergencies, self-defense at night, hiking, camping, cycling or other tactical uses, this little guy will give you some great bang for your buck. If you are just getting into the world of tactical lights or carrying a light with you on a regular basis, check out this nice budget-buy flashlight by PeakPlus.
Tactical Flashlight Parts Explained
There are a few components you should familiarize yourself with to better know and understand your tactical flashlight. We have outlined the most common parts with descriptions so you have a better understanding of each component and what their primary functions are.
Lens
The lens of a flashlight is usually a clear plastic or glass piece at the head of the flashlight that scatters or focuses the light emitted from the lamp. Some flashlights allow you to change the lens to get a different light pattern or swap out the color for different situations.
Reflector
The reflector is a shiny metal piece that surrounds the bulb and reflects the light away from the flashlight through the lens. The reflector helps keep the light steady and consistent when moving the flashlight around.
Lamp
The lamp is the light source of the flashlight. Older flashlights use incandescent bulbs while newer flashlights mainly use LEDs to provide a more durable and longer-lasting light source.
Bezel
This is the rim that goes around the lens. The bezel protects the lens from breaking or being scratched. On some tactical flashlights, the bezel is designed to provide a striking point for breaking glass or being used as a weapon.
Battery
The battery provides power to the flashlight's bulb. Many tactical lights are powered by rechargeable batteries so you do not need to keep buying new ones. Make sure you understand what kind of batteries your light can support and purchase backups accordingly.
Body/Case
The tube that holds the batteries, lamp and inner wiring of the flashlight is called the body or case. Many tac lights are made out of high-quality aluminum for its light weight and durable construction. Look for lights with a nice grip to add comfort and stability when holding the light for long periods of time.
Switch
The switch is sometimes a slider or a button that turns the light on or off. Many of the higher-end lights will have additional modes that are toggled with the use of the switch.
Final Thoughts
Regardless of its intended use having a dependable and durable flashlight is an absolute must. There have been countless times where we have been grateful that we carry a big 3000-lumen flashlight and a smaller more manageable pocket light at all times and keep an extra set in our car so we will never be stuck in a situation where we do not have ample portable lighting.
Always remember to charge up and test all of your equipment before going on camping, hiking or other adventures. If you ever notice the batteries are rusting or leaking look into getting them replaced by the manufacturer or replacing them with aftermarket batteries.