Heading out on an overnight adventure in the great outdoors?
Then you should know there are a couple of essentials that every camper needs.
For example, most campers know that a high-quality knife is a must. But, did you realize having the right lighter on your trip is just as important?
Anyone who has ever encountered strong winds or rain while camping knows there are times when not just any lighter will do the job. A windproof lighter ensures that you are prepared no matter what weather might come your way.
Unless you are a wizard with a fire starter, then one of these lighters is an absolute must for your arsenal of gear. We are sure you have heard of a Zippo "windproof" lighter. The products listed below are like a Zippo on sterioids.
Read on to find out how to choose the best windproofer lighter for camping!
The Camper's Essential Guide to Buying a Windproof Lighter
Those of us who are especially fond of camp life tend to live by a sort of "camper's code".
What's this "camper's code" exactly?
Well, as a rule, campers tend to help out their fellow campers. When we discover a crucial piece of camping gear that will make others' camping experience more enjoyable, we share it with other fireside enthusiasts.
A windproof lighter can be vital when you're living life in the great outdoors. It can be the difference in eating a well-prepared meal, lighting a dark path, or keeping warm on a cool night.
Before embarking on your next camping trip, be sure to pick up one of the following top-rated lighters. You'll see why we consider it to be a fail-proof must-have for nights spent under the stars.
Coghlan's disposable, windproof lighter is safe, easy to use, and can stand up to intense winds. It's perfect for campfires and grills.
No wonder it's named as Amazon's top-seller, with a consistent five-star rating. And, it's available at a very affordable price point.
This is not the most glamorous windproof lighter but it will get the job done.
The Windmill Delta All-Weather Lighter can withstand winds up to 70–80 miles per hour. And, it's not just windproof, it's rainproof too. In fact, there's not much this lighter can't take.
It has a fuel level indicator so you are never left stranded. And, the Piezo-Electric Ignition System eliminates the need for batteries or flints. Also, the system allows for up to 30,000 one-handed ignitions.
If you're looking for a tough windproof lighter, this is it.
While its durability doesn't come cheap, you can bet that you won't be left out in the cold when you're camping.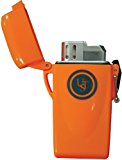 This model is sealed to keep water out and it comes in a variety of colors.
Its adjustable flame works in most weather conditions.
Unless you expect to encounter major inclement weather, the UST Floating Lighter will probably be the perfect camping partner.
It comes at a great value and is also on the Amazon best-seller list.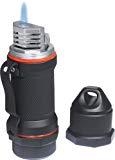 This windproof lighter works at altitudes up to 10,000 feet above sea level! The single coil torch is great for starting campfires or cooking stoves at high altitudes.
The fuel level window lets you see how much butane is available. The small size and included compass make this a great addition to your camping or hiking gear.
Looking for More Survival Gear?
In addition to a windproof lighter, there are a few other items that any adventurist should have in their pack.
If you're looking for more top-rated survival gear, we can help.
Check out our site to find out more about your must-have gear and be ready for whatever life might throw your way!