Do you have to walk to your car alone late at night?
Do you live in a not so nice area?
You may want to consider getting a self-defense keychain. These devices may look like a cute little cat or dog but when used properly can put an attacker down with a single strike.
The sharp edges and special design allow you to firmly hold the keychain with your fingers through the support holes and deliver a sharp and painful blow. For just a couple dollars you can add this discrete security item to your key ring.
Top 5 Self-Defense Keychains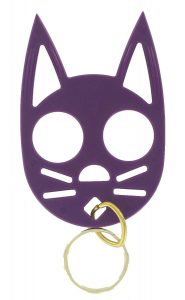 If you are a cat lover this will be purrfect (see what I did there). You can easily fasten to your keys or the keychain can be carried on its own. To use this cat self-defense keychain you need to put your fingers through the eye holes and use the sharp tips of the ears to defend yourself.
This product is made in the USA and is constructed of a durable lightweight polymer. This keychain is also available in multiple colors to fit anyone's preference.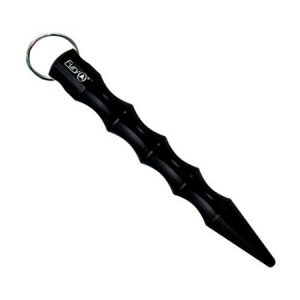 This Kubotan is handcrafted with lightweight aluminum making it ultra-lightweight and easy to carry. Designed in the USA. Includes a keychain loop so you can easily attach the device to your keys. You can order this in 7 different colors and the product measures 5.75 inches and only weighs 2 ounces.
This is a great product and we highly recommend this to anyone looking for some protection on their keyring.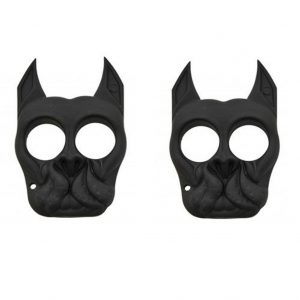 These keychains are made of plastic that is rated as strong as most metals. You can easily fasten this device to your keyring for quick access. The Brutus keychains are 3.5 inches tall by 2.5 inches wide, the small size allows you to easily conceal the self-defense keychain.
If you are a dog lover and want some extra self protection this will be the perfect fit.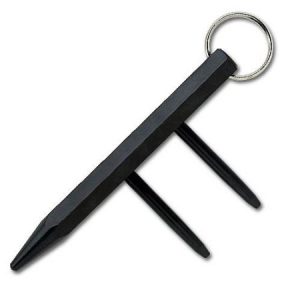 This keychain may not look like much but it packs a mean punch. This bar is designed to be held in your fist with the two spikes sticking out between your knuckles. When you throw a punch with these sticking out your target will not know what hit them.
This keyring is made of black metal and measures 5.5 inches in length. It includes a keyring for quick access and usability.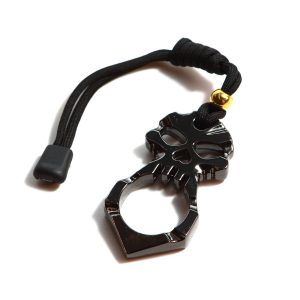 Last but not least is the Prudance Skull Keychain (emergency survival tool). If the cat self-defense keychain is not intimidating enough for you, maybe some skulls better fit your style. The construction of this product is a metal alloy that provides great durability.
You can get this tool in 4 colors black, gold, bronze, and silver. The product features a rope loop to easily attach to your keyring or bag for ease of use. For under 6$ you can't go wrong with adding this to your security device stash.
Final Thoughts
Many people are intimidated by the thought of carrying pepper spray due to the possibility of it blowing back or being used against them. These self defense keychains are a great non-lethal alternative to carrying a gun, taser or pepper spray type device.