At first glance, these little key chain devices do not look very intimidating. But if used properly by a knowledgeable individual, they can inflict a world of pain on the receiving end of the weapon.
Kubotans are small metal or plastic rod about 4-6″ long and no more than 1/2″ wide, usually containing some grooves on the sides. The kubotan is effective when applied to pressure points or if used to strike a pressure point with a hard pinpoint blow.
The small size and lightness in weight make this self-defense weapon a great choice for anyone, regardless of age, height or size. When applied properly, this tiny rod will put even the most intimidating attacker in his place.
Kubotans can also be used in emergency situations to break out a car window or pry open a stuck door. The possibilities are endless with a little imagination and determination.
This kubotan comes in two lengths, either 5″ or 5.75″, and is available in five different colors. The Fury Tactical SDK is handcrafted from lightweight aircraft-grade aluminum, which makes the device easy to handle. Designed in the USA, this is one of the most popular force multipliers available. The keychain loop allows you to easily attach the kubotan to a key ring or zipper and the finger grooves provide a firm grip and control.
Weighing only two ounces, this lightweight self-defense keychain will not add noticeable weight to your current key ring. This product is manufactured in Taiwan, which is a higher quality product than other Chinese knock offs. The Fury logo is also engraved on the product if it is genuine. With all kubotan type products, you should practice your techniques before relying on this tool as a viable means of self-defense.
This next kubotan is made by SZCO Supplies and is pretty darn cool. Getting essentially two great tools in the same product is always a nice deal, especially when both functions work as described. With a 5″ closed length, this self-defense kubotan keychain can be easily attached to your keyring with a fairly small addition to the bulkiness of your keys. The blade is made of stainless steel and is about 4.5″ in length, making the extended blade and handle come out to about 9.5″ total.
The blade is extremely sharp and can deliver a lethal blow if necessary. You also get all the benefits of having a kubotan for less than lethal self-defense needs. If you like multi-functional abilities, the SZCO Supplies folding knife kubotan is the right pick for you.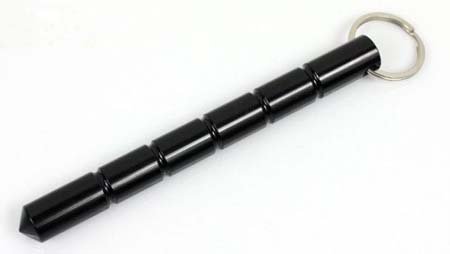 This is the Kubaton Keyring made by Kubaton, which is the original self-defense keychain. This kubaton is manufactured with aircraft aluminum and weighs only three ounces. The overall length is 5.5″, making the device easy to secure to a key ring or conceal in your purse or pocket. This kubaton will provide an extra layer of security in a discrete fashion.
As with any unexpected situation, always be sure to evaluate all options. Do not instigate an attacker if you have the ability to remove yourself from the situation. Make sure you practice and are comfortable in using the device before considering using it for self-defense.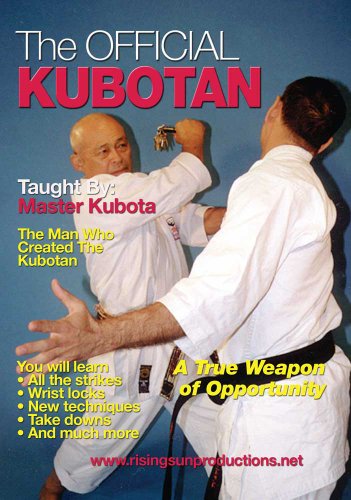 If you are a visual learner you may consider grabbing The Official Kubotan DVD. This up-to-date visual presentation will teach you some of the most effective techniques to use with your kubaton. These devices are used by police, military, security, and women and men of all ages.
This DVD will cover blocks, wrist locks, take downs, and many different striking techniques. There is even a section on how to defend yourself while sitting in a chair. Fighting Spirit Magazine calls it "a terrific video that will show you how to defend yourself."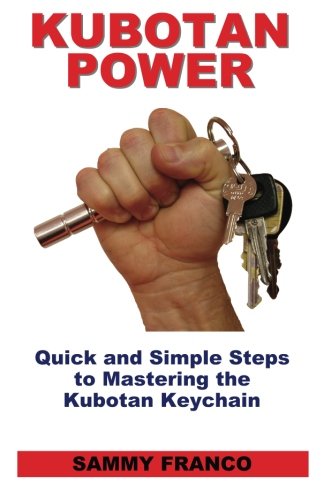 If books are more your style and you are looking for some information on how to use a kubotan, you can get this handbook that has some great tips and techniques. With over 290 photos and step-by-step instructions, you will be a master kubotan wielder in no time.
When properly trained, individuals can master devastating techniques that will make an attacker drop to their knees and allow for your escape. If you are looking for a quality resource on how to use your newly purchased kubotan, definitely check out this book.