Many people use natural gas to heat their homes. Natural gas is also used for cooking, hot water heaters, and clothes dryers. There are even gas-powered air conditioning units.
Natural gas is a safe and affordable way to power many home appliances. But, gas leaks are silent and often deadly. There are about 400 deaths annually from carbon monoxide poisoning due to gas leaks.
In the event of a gas leak in your home, a warning system is invaluable. Investing in natural gas detectors is an easy way to protect your loved ones.
Like other security equipment for your home, a gas detector is a must.
Read on to learn more about the top five natural gas detectors for home use.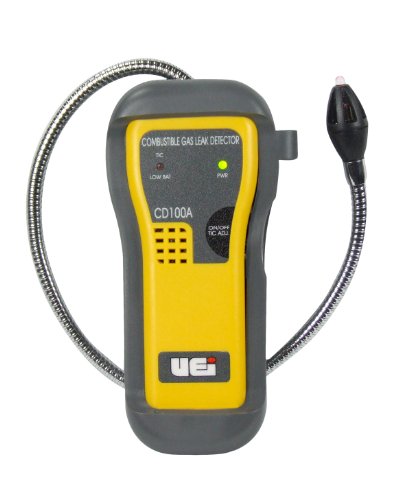 Are you looking for a gas leak detector that can pinpoint a leak? Look no further than the UEi Test Instruments CD100A. This little handheld device is user-friendly and weighs only four pounds.
There's a long, 18-inch gooseneck that allows you to get into small places and around corners. You'll only need one 9-volt battery to operate it.
This detector helps you locate many types of combustible and toxic gases including: Acetone, Industrial Solvents, Alcohol, Jet Fuel, Ammonia, Lacquer, Thinners. Benzene, Methane, Butane, Naphtha, Ethylene, Oxide, Natural Gas, Gasoline-Petrol, Propane, Halon, Hydrogen Sulfide and Toluene.
This is a must have for HVAC technicians, plumbers, firefighters, home inspectors and building maintenance workers.
The TECHAMOR natural-gas detector gets top ratings and comes at an affordable price. You cannot put a cost on the safety of your family and home.
The detector is capable of sensing many combustible gases commonly found in a home kitchen.
If a gas leak is detected, the alarm sounds at 85db and a flashing light is triggered. The LED screen will display the amount of gas detected in the area.
Installation is also easy with this plug-in detector and can be done without the need for professional install.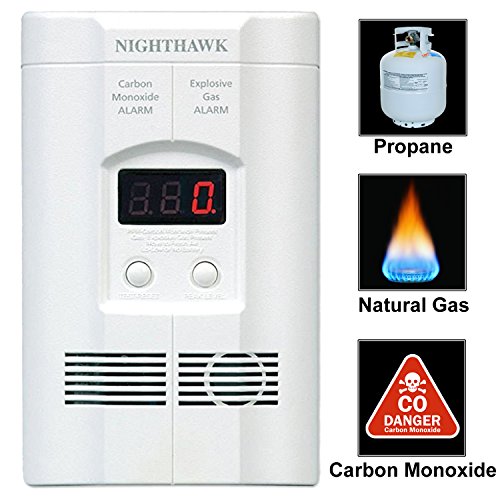 Another affordable home gas detector is this plug-in model from Nighthawk. The 85db alarm will be loud enough to warn anyone in the house of a leak detection.
You can install a backup 9-volt battery to allow the alarm to sound in the event of a power outage. The device has three methods of install. You can plug directly into an outlet, run a cable to the wall mount or set it on a counter with the cable run to the wall.
Testing the device is simple and you will even be able to see the most recent peak levels if gas is detected on the digital display.
If you are looking for a simple to install home gas and carbon monoxide sensor grab yourself a Nighthawk.
This next natural gas detector by Arikon features an 80dB siren and voice alarm with top flashing red lights for a visual alert. You will be able to monitor for methane, propane, and natural gas leaks before they reach explosive levels.
It comes with a free ebook on gas and air quality hazards with some really good complementary information. Installing the device is as simple as plugging it into an outlet.
If you are looking for a budget friendly natural gas detector this guy will keep you safe, just make sure to check the batteries on a regular basis.
Last but not least is the micro CD-100. This unit is designed more for technicians and handymen but can be used for home detection as well.
There are options for visual, audio or even vibration alerts to adapt to your surroundings. There is an adjustable sensitivity feature to ensure you are getting accurate readings.
These make for great gifts for the handymen of the world and are a great addition to any HVAC technicians arsenal.
Natural Gas Detectors Are a Must
Natural gas detectors are as important as smoke detectors in your home. Carbon monoxide is an odorless, tasteless gas. You can't detect its presence on your own. Don't risk your life and the lives of your loved ones.
These detectors are affordable and easy to install. If you are unsure where to install your detector, contact a licensed fire safety professional or your gas company to get recommendations.
Do you have questions about home security products? Contact us here.