Tactical scopes greatly increase the aim and utility of your firearms.
The problem is picking and choosing from the thousands of different manufacturers available today.
Long distance? Red dot sight? The list of technical specs can be endless and very confusing.
Check out these five features to look for in any kind of scope you're considering.
1. Quality Lenses
One of the biggest differences between cheap tactical scopes and high-quality scopes is the optics. More expensive lenses provide better magnification and produce a better scope.
Some of the best lens manufacturers today include:
Leupold
Swarovski
Nightforce
Premier Reticles
Zeiss
Cheaper lenses usually don't provide the same level of clarity at lower magnification. At higher magnification, you can expect a larger cheap lens to work less effectively than a smaller quality one.
If you're going to invest in any part of your scope, let it be the lens.
2. Interchangeability
Most modern shooters have a variety of sporting, hunting and target guns in their collection alongside other self-defense tools. Having a scope designed to fit on different shooting platforms provides major savings.
Tactical rifles, in particular, will often use a Picatinny rail system rather than a manufacturers' mounting hardware. If you only have one wood stock hunting rifle alongside an AR-15, AK-47, and tactical shotgun, it's often better to buy a universal mount scope rather than one that fits a factory stock.
Try and find a scope that you can use on most of your platforms.
3. Multi-Mission Role Tactical Scopes
Try to choose your scope with multiple roles in mind. A medium or short-range scope with a good holographic reticle can often fulfill both close quarters and long-range needs.
This not only saves you money but prevents you from having to practice with several different magnifications and reticle types. Always remember the KISS principle.
4. Durability
If you're investing your hard-earned money in a scope, you want it to last. Always purchase the best scope you can afford, from a reputable manufacturer.
Cheap scopes are almost indistinguishable from more expensive ones. The difference shows after just a few trips to the range.
More expensive scopes are made from better quality materials, with better seals and higher-end optics. They may have a true holographic sight rather than a simple projected red dot.
5. High Visibility Reticle
Depending on the type of tactical scope you're looking for there are a number of available reticles. The traditional crossed circle has been in use on long-range scopes for years because it works.
If you're looking at a more modern scope at a lower magnification you will often see either a holographic or lighted reticle. The red dot sight is the variety most people think of.
Most tactical scopes have a red, orange or green reticle. Some people feel the red sight shows up better on a wider variety of targets. Always choose the reticle that you find easiest to work with.
6 Best Tactical Scopes Reviewed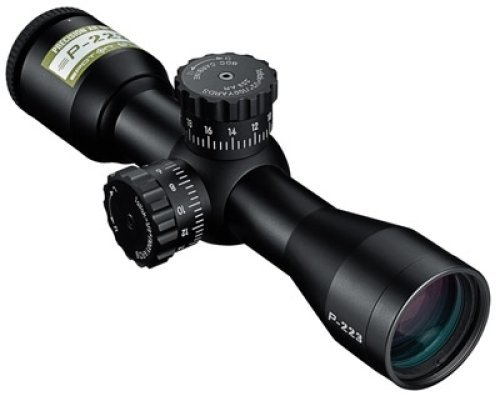 Nikon is mostly known for its camera equipment but they also make some really nice rifle scopes. This Nikon scope is designed to fit on an AR-15 and calibrated to .223 Rem /5.56 NATO rounds with 55-grain polymer tip bullets.
The new reticle has hash marks at the 200, 400 and 600-yard distances. The scope is waterproof and fog proof due to the nitrogen-filled chamber.
For the money, you will not find a better tactical scope to throw on your AR.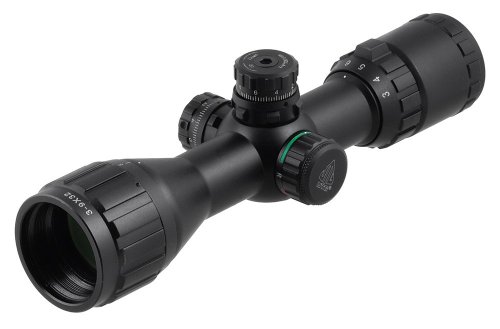 Up next is a nice all-around scope that will not break the bank. The tube is a one-inch diameter with emerald coating for maximum light transmission. The mil-dot range estimating reticle can be toggled from green to red with the turn of a dial.
The scope is very comfortable and has a two-inch sunshade and detachable lens caps. The scope is nitrogen filled and shock resistant so you don't have to worry about it fogging up.
Almost everyone who reviewed this product has had nothing but good things to say about it. Overall this is one of the best value priced scopes on the market.
This isn't a tactical scope per say but it is a tactical flashlight that you can mount to your firearm. SureFire makes some of the best quality gear you can mount to a gun.
The light has a 500 lumens brightness that is biased in the yellow/green spectrum, which is optimal for human eyes. One finger operation is convenient and quick.
If you are in need of a light, anything from SureFire will not disappoint.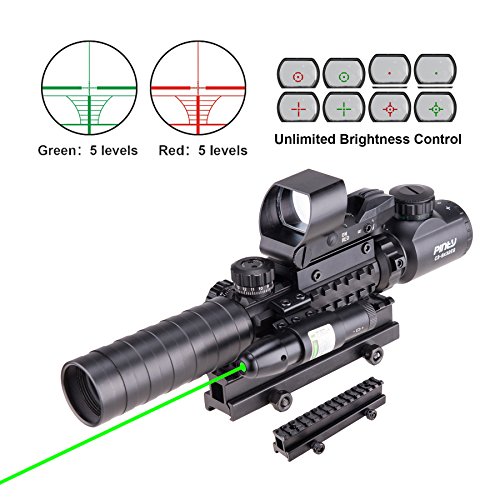 For those of you that cannot make up your minds check out this crazy 4 in 1 tactical scope by Pinty. This thing has features galore.
There is a red and green dot sight, laser sight, rangefinder rifle scope all crammed into this guy. The riflescope has a magnification of 3x to 9x with red and green illuminations and multiple brightness settings.
There are four reticle patterns available for the dot sights. The scope is nitrogen-filled to prevent the lens from fogging up.
This scope is nothing short of complete badass.
For some nice range and bullet drop compensation check out Bushnell Optics Drop Zone-223.
The scope is a bit on the heavy side but has a crystal clear reticle and is very easy to zero. It makes for a great hunting scope and is not too expensive.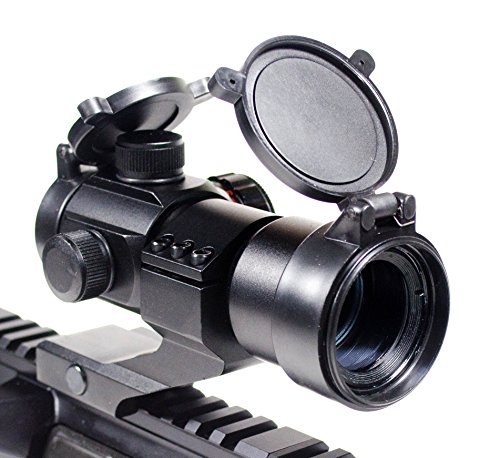 For tough conditions check out this rugged tactical scope by Ozark Armament. There is a red and green dot reticle that has five different brightness settings.
Mounting is quick and easy with the included cantilever mount. Backed by a no questions asked one-year warranty, you cannot go wrong with this if you know you are hard on your gear. But if you are looking to shoot long range invest in a higher-end scope this is a strict budget buy only.
Know Your Needs
If you're just looking for a good plinking scope to put on a beater gun you can often buy the cheaper models. Always price out your scope based on how you intend to use it.
Just keep in mind that with optical equipment, quality is a huge factor. You get what you pay for when it comes to this type of gear.
For more information about the tools needed to protect yourself and your family, see these useful articles.