Owning a spy camera isn't just for secret agents and undercover operatives. Today, many homes are equipped with these helpful gadgets in an effort to protect their family and their possessions.
It's not such a crazy idea, especially considering the price tag on these monitoring devices. You can pick up a quality camera for under $100. And, typically, the set up is a breeze.
What Is a Spy Camera?
Does a spy camera elicit visions of Mr. James Bond? Sure, he had all the coolest gadgets to help him catch the bad guys. But, a spy camera is more than a hidden button on Bonds' lapel.
Today, a spy camera is a home surveillance tool available to everyone. It allows you to check in on your home and make sure there's no suspicious activity taking place in your absence.
In fact, one-click on Amazon and you can have a wireless camera delivered to your door the next day!
We'd like to help you along your journey as you begin your research and selection process. Here are nine great spy cam recommendations.
9 Covert Spy Cameras and Nanny Cams To Capture Every Moment
Who said size doesn't matter?
This mini spy camera packs tons of punch for its tiny size and has great video quality too. The FREDI Hidden Camera 1080p HD Mini WiFi Camera is a must-have if you need a compact video recorder.
With support for real-time video recording, infrared night vision, snapshot capabilities, and a nice wide 140-degree angle lens, this little guy is worth every penny.
The FREDI can support SD cards up to 128GB allowing for tons of video storage. There is a rechargeable 400mah battery so you can recharge as needed. You can enable loop recording and time stamps to keep your video constantly recording even if you run out of space.
You will get one to two hours of constant recording on a single charge, but you can extend this with an external power pack that allows for much longer recording sessions.
Overall if you are looking for a nice quality small camera that can record short sessions, this is a great buy.
Wearable cameras come in all shapes and sizes, but this spy video bracelet makes for a great covert recording device. The camera can record full HD 1080P video with video recording resolution of 1920 x 1080P @ 30FPS and photos at 2560 x 1440.
You will need to purchase an SD card (not included) to allow the device to record or take pictures. With the support of up to 32GB SD cards, you will be able to capture a decent amount of video or photos before needing to swap out the card or dump the images.
With only two operational buttons, starting or stopping video or snapping a pic are as easy pushing a button. It even comes with a 24 month limited warranty and 30 day money back policy. If you are looking for a nice wearable spy device check out this bracelet cam by Poweradd.
Next up is one of the coolest hidden spy cameras on this list. It looks like an ordinary water bottle but it conceals a hidden 1080P HD motion-detecting camera. The recording device can accept SD cards up to 64GB allowing for over 2.5 hours of video recording at 1920 x 1080 resolution at 30 frames per second.
There is a 400mAh rechargeable battery that will give you about two to 2.5 hours of motion activated recording. The bottle is made of food grade PET and holds real water that can be drank or poured out for authenticity. If you are looking for a unique and discrete camera check out this WEKE Hidden Spy Camera.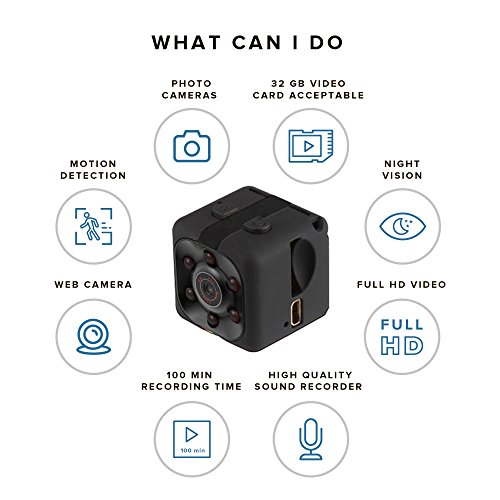 This is a nice little spy camera that is easy to hide and simple to use. The little cube has a wide 140-degree angle lens that can capture both video and photos at 1080P resolution.
The 12MP camera can take photos at 4032 x 3024 resolution that is great when you need clear detailed photos. The motion sensor mode is great for capturing longer segments of time and the built-in battery can last about five hours in motion detect mode.
If you are doing constant recording you will only get about 100 minutes of recording time, so if you need to record for long time periods, get a camera with a better battery and higher supported capacity. The battery is a lithium-ion rechargeable 200mAh battery that is charged with the included USB cable.
The camera supports SD cards up to 32GB and comes with an adjustable mount so you can fasten the camera to a wall or shelf if needed. Overall if you need something small and cheap that will deliver quality in short time frames this is a great option.
Moving on, this awesome multi-purpose device packs a portable power bank and covert spy camera into one feature-packed gadget that you cannot go without. The power bank is fully operational which is super cool on its own but then there is a very discrete hidden camera on the edge that is capable of capturing 1080P video.
Making this hidden camera even better is that it is WiFi-enabled and even has an app to control it that is supported on both Android and Apple devices. There is an option to enable motion detection if you only need to record when something moves in front of the camera's line of sight.
This is a great multi-purpose gadget that many individuals buy just for the battery bank feature due to how thin and lightweight the device is.
Backed by a two year manufacture warranty, this power bank brings tons of value for its cost and is one of the most feature-packed spy cams on this list.
Trying to find a legit nanny cam to watch over the new baby sitter or maybe you're trying to catch a cheating spouse? Check out this Alarm Clock Hidden Camera by DareTang. The fully functional clock and alarm are a great cover for the concealed surveillance system.
The camera can be set to a loop record mode so if the storage becomes full it will continue recording and just overwrite the oldest footage so it never skips a beat. There are IR lights that allow the camera to record in low light environments without giving away the fact there is a camera in the alarm clock.
You can connect the clock to a nearby wireless network and even set up motion alerts to be sent to your phone. With the support of a 64GB SD card, you will be able to fit a good amount of footage on the card.
This is not something you can throw in your pocket as that would be kinda obvious and strange, but if you are looking to get some insight on what happens at home or the office while you are gone, this may be a great fit.
Here is another portable spy camera that is so small it can be disguised as a clothing button. There are eight included caps to allow you to disguise the spy cam to your personal liking.
The camera records 1920 x 1080P video at 30 frames per second so you get a very nice quality video. The battery is a 600mAh rechargeable lithium-ion cell that allows recording even when the device is charging. This is a nice feature if you need to record large time segments that will run longer then the battery's life.
The built-in WiFi capabilities allow you to interface with the camera via smartphone. There is an app for both Android and Apple devices so you can view on your phone, tablet or computer.
You can view the video stream live via app or computer as well which is another great feature many of these covert cameras do not offer.
The device supports SD cards up to 128GB, giving you a nice amount of storage. Even if you run out of space, the camera will just overwrite the oldest data. This way the newest footage is not lost.
The only downside is that the viewing angle is a bit tight at only 90 degrees. If you need wide angle coverage, you will need to get something else. This is a great portable option with plenty of features to capture covert images and make you feel like a top-notch sleuth.
Smile, you're on camera! This is literally a smiley face button with a built-in spy camera. The button can be kept in sight without drawing suspicion.
The button camera can support micro SD cards up to 16GB. The battery is rechargeable and will allow around 100 minutes of constant recording on a full charge.
The video quality is 480P resolution, so it is not the greatest. There is a one year warranty in case the device malfunctions.
Operation is very simple and user reviews are almost all positive. This is a great pick if you need a cute spy cam.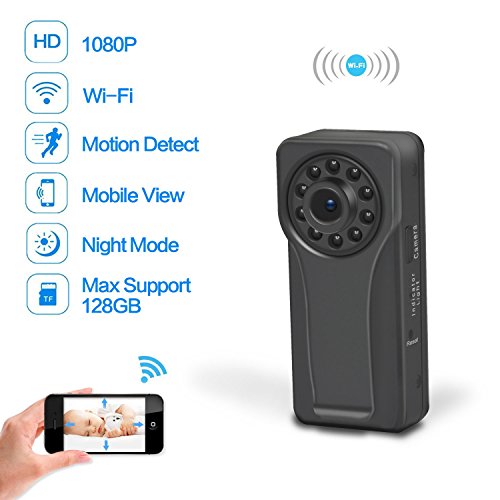 Another great option is this WiFi spy cam by Youlanda. It is easy to carry with you like a mobile camera or keep in a stationary location as a detection device.
The 170-degree wide-angle lens captures footage at 480P, 640P, 720P or 1080P depending on your preference. You can connect the camera via 2.4ghz WiFi networks. This allows you to use the phone app to control the device remotely.
You can also set the device to snap pictures when motion is detected and then alert you via the phone app. With the support of SD cards up to 128GB, you can capture a ton of footage.
The 700mAh battery will give you about three hours of constant recording. Multiple recording modes include loop recording and long standby. In the end, if you want a covert camera with a decent phone app, this little gem could be for you.
Individuals looking to keep an eye on the house while they are away will love this nanny type camera. Concealed in an ordinary-looking picture frame, this is one of the best stationary spy cams on this list.
The picture frame sells the deal 100%. There are no wires or cables visible from the back. The built-in night vision is effective up to 15 feet. Motion recording mode can be triggered by movement about 25 feet away.
The 1000mAh battery has an outstanding two year standby time! With the continuous recording mode, you can capture about 30 hours of constant footage in normal lighting and about 10 hours in night vision mode.
The picture frame camera supports SD cards up to 32GB (not included). If you want a solid nanny cam for your home or office, grab yourself a few of these.
5 Features Every Good Spy Camera Should Have
With so many options available it can get a bit confusing choosing between all the available features. Look for these five main features below to help narrow down your decision.
Sometimes the best solution is a combination of different cameras to give you the best coverage possible.
Wireless Functionality
Nowadays, does anything come without wireless capability? You don't want too many cords and plugs hanging from your camera. What good will that do to deter invaders?
A wireless camera is pretty much the only way to go. They're easy to install and, generally, don't require a lot of hardware.
Beyond these benefits, they're also free to work along with cell phone frequencies and batteries. This means, should a home invader ever try to "cut the power" before breaking and entering, you'll still be able to catch them in the act.
Recording Modes
You want your camera to offer a recording option. Sure, it's nice to check in on your home from the app on your phone, but what if you see some suspicious activity on the premises?
You definitely want to be able to hit the record button and capture the evidence on screen. Or, maybe you just want to hit that record button anytime you leave the premises.
Recording Resolution and Speed
Whether it's surveilling or recording, you also want your camera to operate at peak performance levels. This is pretty commonplace these days, but make sure your internet can handle at least an additional 2.5Mbps per camera.
You'd hate for things to get tied upright when you're ready to record something. Also, if your camera is offering 1080p, you know you're going to be looking at some high-end resolution.
Night Vision and Low Light Support
Many evildoers like to lurk in the dark and break into homes that are clearly uninhabited at the moment. Don't let your camera fail you simply because it doesn't have night vision. Make sure your camera is equipped with infrared LEDs. This will give it a strong night vision range.
Ability to Blend In
Sure, you can prop your camera right up there on the kitchen counter. There's no shame in that. In fact, that's rather commonplace these days.
But, what if you don't want to advertise to thieves they're being caught red-handed? If you select a smaller device, you may be able to work it into the home decor seamlessly.
Stay Protected
Whether it's your house or your individual family members, personal defense is of utmost importance. A wireless camera is just the tip of the iceberg when taking all the necessary precautions to stay protected.
Here at Best Pepper Spray Online, we're all about personal safety. We'll help you select top-quality pepper spray and other self-defense products.
Head on over and check out our pepper spray buying guide. Like your home surveillance system, we want you to only have the best.