When it comes to identity theft, it's easy to have the "it will never happen to me" mentality, but the statistics aren't in your favor. Studies show that one in 14 Americans will experience identity theft in their lifetime, and sometimes more than once.
It's terrifying to know that someone has a hold of your information, including access to your bank account. In 2017 alone, criminals stole 16.8 billion dollars from identify theft victims.
With new technology emerging every day, thieves are getting more sophisticated with their tactics. In some cases, they don't even have to go in your pocket. This technology also makes keeping yourself safe easier than ever.
In this article, we'll go through what to look for in the best RFID wallet and our top picks. Let's dive in.
Why Use an RFID Wallet?
Before we get started, let's back up and understand exactly what an RFID wallet is and why making the switch is important.
Your credit cards and passports, which have RFID chips embedded in them, store a lot of your important information. These chips then get scanned, via radio waves, when you make a purchase or go to the airport, as intended.
The problem occurs when a thief uses an RFID scanner to swipe your cards through your wallet or purse without you ever knowing. Luckily these radio waves are easy to block with the right accessories.
Keep reading to discover what to look for when shopping for accessories with RFID protection.
Three Tips to Find the Best RFID Wallet
We take the subject of protecting yourself–both your physical body and your information–very seriously. When choosing the best RFID wallet for you, here are three things to consider.
1. Keep Your Standards High
When it comes to your security, now is not the time to skimp. The entire point of purchasing an RFID wallet is to block the RFID waves. Make sure before selecting your new wallet that it meets all government standards and requirements, and that you're getting something that does what it's supposed to!
2. Quality Material
RFID-blocking wallets come in many different types of materials. Choosing the best one for you is all about your lifestyle and taste. Keep in mind when it comes to picking the material of your new wallet that most experts suggest a quality material like a premium metal or a synthetic fiber wallet to properly block the radio waves.
3. Size and Design
Today's marketplace boasts an RFID wallet for every budget, style, and need. Our favorite options include the following.
Join the hundreds of thousands of people making the switch to RFID protection wallets.
Top 5 RFID Wallets Reviewed
Each of these corresponds to the products mentioned above. If you would like to know all the bells and whistles before making a purchase, keep on reading and we will clear up any questions you might have.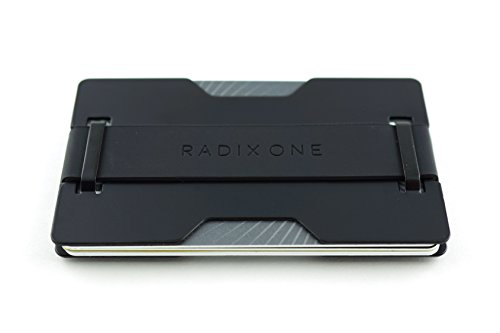 Not a fan of the George Costanza wallet? Radix has created a unique minimalist wallet that is not only appealing but extremely functional as well.
Some of the features worth mentioning are obviously the RFID blocking technology that will prevent almost any scanner from reading the chips in your cards. The wallet only weighs three ounces and can comfortably hold between four and ten credit cards.
The wallet is made from a durable stainless steel material that feels great in your hand and pocket. If you are not into a big bulky wallet you can't go wrong with the Radix One.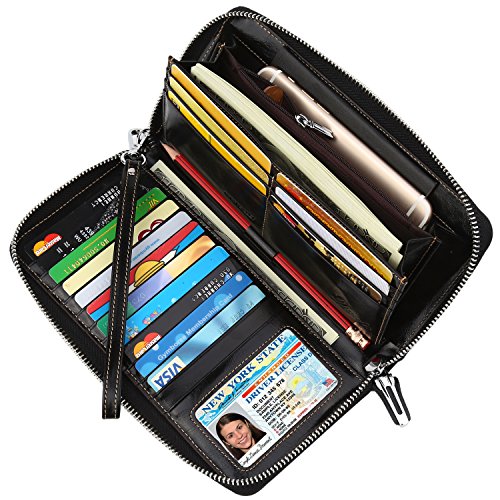 Up next is a great option for all the ladies out there. This clutch is made from 100% real leather with a classy wax finish, making it comfortable and luxurious. If you are familiar with real leather then you know this will last a very long time.
The RFID blocking technology built into this wallet has been tested and confirmed to protect against signals ranging from 10MHz to 3000MHz, specifically 13.56MHz, which is the frequency credit cards use.
There is plenty of room for all of your must-have items in this wallet as well. There are 17 credit card slots, one ID card window, one zipper pocket for change, three additional pockets, a pen loop and a removable strap. You can hold a cell phone and passport in this wallet as well with room to spare.
These wallets make for great birthday, Mother's Day or anniversary gifts, and will stand the wear and tear of daily use for years to come.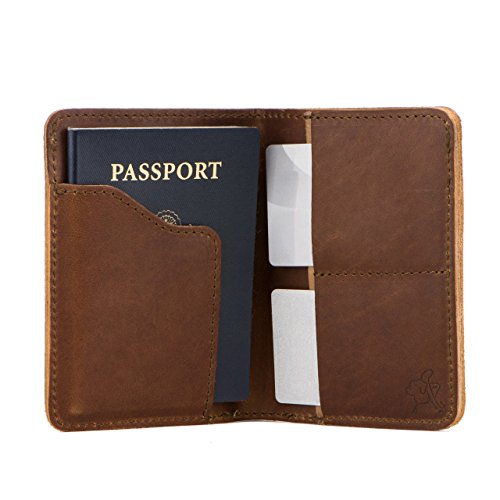 Here we have a full grain top quality leather wallet with pigskin lining and premium marine-grade thread to stitch it all together. Saddleback Leather Co. has been in business for a long time and only makes quality products.
This wallet is great for family travel because it can provide RFID blocking for up to four passports. If you like quality leather this is the wallet for you.
Oh yeah–we forgot to mention they come with a 100 year warranty! Their slogan is "They'll Fight Over It When Your Dead". If that doesn't speak quality, we don't know what does.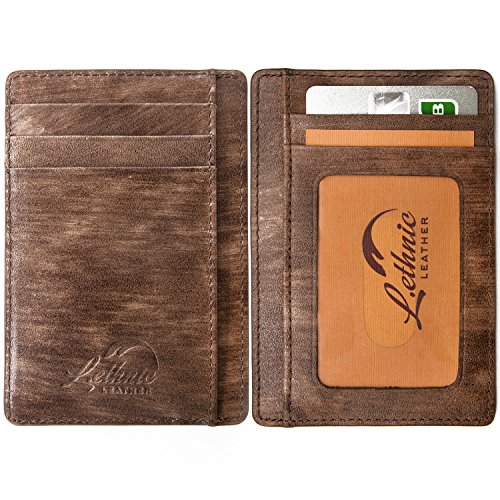 Here is another great option for the wallet minimalist. Featuring four to five card slots, one ID window slot, and two to three money pockets, you will be able to bring everything you need.
The built-in RFID blocking technology is hidden inside the walls of the real leather wallet, keeping you safe from scammers trying to steal your identity.
This makes for a great gift and is one of the best front pocket wallets we could find with RFID blocking technology.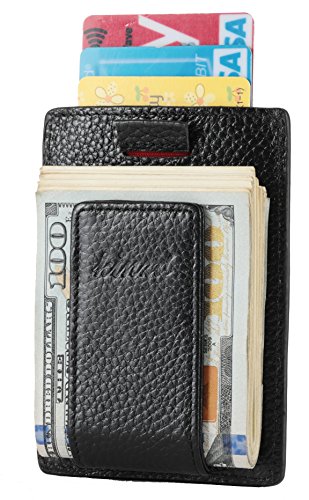 Last but not least is this beautiful soft embossed full grain leather money clip from Kinzd. This money clip may look small but you can fit a ton of stuff in it.
Featuring four card slots, one ID window, one change pocket and one strong as heck magnetic money clip, you will be loving this wallet for a long time. They advertise that you can fit 30 bills folded and the magnet will still hold the cash in place!
If you are the money clip minimalist kinda guy or gal, check out this sweet RFID money clip from Kinzd.
How Will You Keep Your Info Safe?
Now that you know how to pick the best RFID wallet, your information is one step safer. If you're looking for more ways to keep yourself protected, check us out here at Best Pepper Spray Online. Stay safe out there!