What can be more assuring than knowing your important documents would still be safe should the temperatures suddenly rise to 2500?F?
Fireproof document bags will effectively do the job long enough for you to get the documents to safety.
Nevertheless, this effectiveness is contingent on knowing how to identify the best bag in the market when you come across it. In this article, we'll show you what to look for in a fireproof bag.
Read on to never have to worry about losing important documents in a fire.
High-Temperature Resistance
The broad range of fireproof bags in the market differs in terms of the limits of temperatures they can handle. Some can only withstand up to 700 F while others can hold out to over 2500 F.
Depending on the documents you seek to protect, you should seek to purchase the bag that offers the highest resistance.
Think about the important documents you have such as passports, insurance documents, birth certificates, and cash.
Do Fireproof Bags Have Master Lock Security?
Master lock security ensures the owner of the bag is the only person who can access the bag's contents.
A feature that would demonstrate its worth in a scenario whereby a fire breaks out and the bag ends up in the wrong hands. Master lock security can keep the privacy of the documents intact until it's restored to the owner.
A Sizable Interior
It would be a loss to have a high-quality fireproof bag that can't hold all of your important documents. A bigger bag that offers the same level of protection would be a better buy.
Get a fireproof bag big enough to hold a laptop and a sizeable amount of cash per se.
Even though a large bag is hard to conceal, you'll have more space to store what's important.
What Else Can The Bag Protect Your Documents Against?
There's always the possibility of water and heat being joint risks. It would be better to hedge your bets on a bag that is both water and heat resistant than on a bag that is only heat resistant.
Bags with a double covering involving a zipper and velcro should do fine against both agents. It's important, however, not to compromise on the quality of the heat resistance ability in favor of dual ability.
Is the bag made of fiberglass?
Fiberglass is a key raw material in the making of fireproof bags due to its heat resisting abilities.
Purchase a fireproof bag made of fiberglass but be careful not to buy one that hasn't been coated e.g. with silicone.
The coating prevents the itchy sensation that accompanies exposure to fiberglass.
4 Best Fireproof Document Bags To Help Keep Your Valuables Safe
Keeping important documents and other valuables safe from a fire can be a difficult task. Fire will destroy pretty much anything if the flames are hot enough and the objects are exposed for a long enough time.
Keeping your documents in a fireproof safe is a good idea. If you want to be extra safe put your valuables inside a fireproof bag inside your safe for an extra layer of protection.
Here are four good options for keeping your precious documents and other valuables safe from an unannounced fire catastrophe.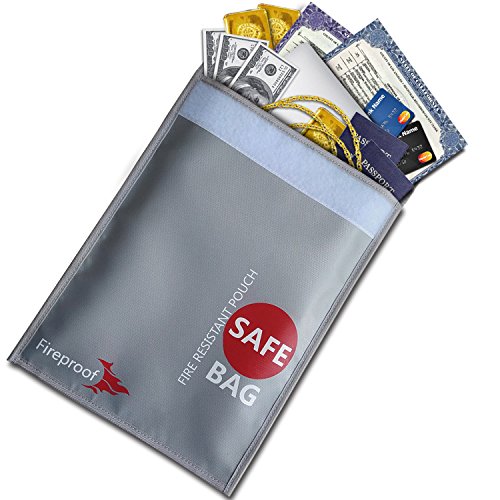 If you are looking to secure documents such as passports and other legal papers this is a great option. The fire retardant pouch measures 15 inches by 11 inches.
The material is mainly fiberglass but it is coated in high-quality silicone to protect your hands from fiberglass contamination and itchy discomfort. The bag is rated to protect against temperatures up to 1000 degrees Fahrenheit.
The best part is this product has a 100% product satisfaction money back guarantee, so if you don't like it for any reason you can easily return for a full refund.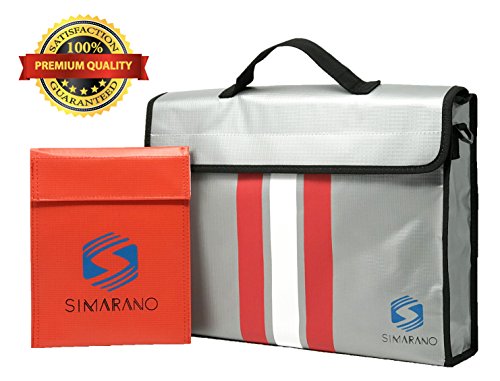 What's better than one fireproof bag? Two!
This fireproof bag set from Simarano is a great option if you have multiple items to keep safe. The smaller pouch is 9″ x 7.1″ and the larger briefcase is 15″ x 11″ 3.5″.
There are four layers of material to keep your items safe. There is a layer of PVC to protect against water and fire, a layer of fiberglass to help protect against temperatures up to 1000 degrees Fahrenheit. Then there is a silicone coating to keep the fiberglass from making your hands itchy. And lastly, there is a layer of nylon to protect items from getting scratched inside the bag.
This set is a bargain buy if you need to secure both small and large items or if you want a solid bag to transport documents to and from to office. This is by far the best fireproof waterproof document bag out there.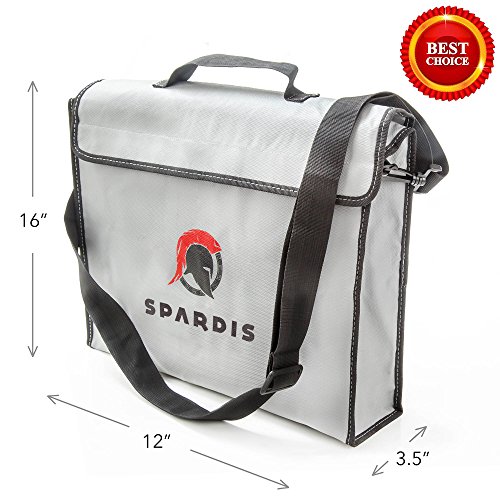 Are you constantly transporting important documents or valuables between home and the workplace or some other location? If so this fireproof bag by Spardis will keep your stuff safe on the move.
Updated in 2018 this bag can now protect against temperatures up to 1100 degrees Fahrenheit. The size is great too measuring 16″ x 12″ x 3.5″ you will have plenty of room for documents and other items.
The bag is designed to be easily carried, so if you have time to retrieve one thing grab your precious documents and photos stored in this bag and get out of the house as fast as possible. There are two different carry handles making it comfortable and portable.
The bag is foldable so if you need to stick it in a safe or want to store when not in use you can decrease the footprint by folding the bag up for storage. Overall this is a great option for anyone looking to have extra protection against fire or water damages.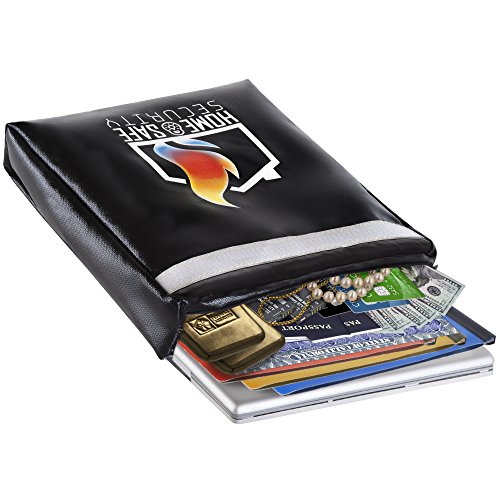 Another great option for protecting documents from fire is this 15″ x 11″ x 2″ bag by Home Safe Security. Like the bags listed above the main fireproof material is fiberglass coated in silicone so it is not an itchy nightmare retrieving items from the bag.
The opening is sealed with both a zipper and Velcro strip to ensure a tight seal to protect from water, fire, and smoke. Great for storing legal sized documents, cash, jewelry, guns, photos and much more.
For the best results keep the bag in a fireproof safe to ensure it is not directly exposed to flames for a prolonged period of time. This bag also has a 100% satisfaction guarantee so if you are not happy you can send it back for a full refund.
One Can Never be too Careful
While the damages resulting from fires in America and the rest of the world have reduced over time, shouldn't lessen your security measures. Just because the statistics are in our favor doesn't mean you shouldn't be prepared for the worst-case scenario.
Also, keep in mind these bags will work best in conjunction with a fireproof safe to ensure the best protection of your goods. These bags are mainly designed to be kept in a safe or easily accessible for you to quickly grab the valuables and get out of the burning structure and to safety.
Best Pepper Spray Online will prove to be worthy of that trust. Feel free to browse our site for other security products we provide. Contact us today.