You're not imagining things: power outages have been happening more and more frequently in the United States during the past few years.
Extended loss of power can have serious consequences on both residential buildings and businesses.
Your food could spoil, you won't have Internet access, and you may not be able to get important information about storms and other dangers from the radio or the television.
You could even deal with extreme temperatures because you have no heating or cooling. Plus, your home security system will be compromised.
The solution?
Buying an emergency home generator.
But what should you look for when buying backup generators?
Read on to find out.
Know What You Need to Run
When you're in the market for an emergency home generator, the first thing you need to know is what appliances are the most important to you.
In general, you'll need to look for generators that offer a minimum of 5,000 watts.
Your computer requires up to 300 watts to run, while your fridge needs 600 watts.
If you need to power an AC unit, allow for 1,000 watts to go towards that. Your home lights will likely take up to 600-1200 watts.
Which Type of Generator Do You Need?
You'll also need to decide between portable generators and home standby generators.
A home standby generator is more expensive and will automatically switch on when you lose power.
So, if your priority is to never actually "lose" power in the event of a power failure, this is the kind of generator you should rely on. You can run these generators by using propane or natural gas.
In general, a home standby generator will be able to give you anywhere from 5,000 to 20,000 watts, which you may not need. Remember that these types of backup generators will be permanently installed in your home.
So, you'll need a pro to make sure the installation process goes smoothly.
Another option is a portable generator which, as the name implies, can be taken anywhere, anytime.
Usually, you'll get anywhere from 1,000 up to 9,000 watts of power from a portable generator.
While they're more affordable, they run on gasoline, which means you'll need to keep plenty on hand for emergencies.
Be aware that you'll need to keep them about 15-20 feet away from your home or any other building, and that you absolutely cannot keep portable generators in any sort of enclosed area.
These are better for those with smaller needs and who don't need their generator to automatically power on in the event of an outage.
Best Standby Home Generators (2018)
These emergency generators will keep most, if not all, of your home's outlets hot and ready to deliver power to your devices.
Many of these units will need to be installed by a professional and need access to a gas or propane line, so expect additional parts and labor costs when purchasing one of these units.
Keep the refrigerator and air conditioning running through a multi-day outage with the Generac 7043 standby home generator.
This product includes a 200 amp NEMA 3 whole house smart transfer switch, allowing your unit to auto-switch when a power outage is detected and keep your house up and running.
There are LED indicators to inform you of the status of the generator, utility power presence and maintenance required. The shell is made of durable aluminum and three of them are removable for easy access and maintenance.
A few things to consider when purchasing this unit: One, you will need to purchase the battery separately. Two, you will need to have a gas or propane line run to the unit. Three, this unit needs to be installed by a professional electrician.
The unit will run through a self-test bi-monthly to keep the unit in top working order. Mobile Link Remote Monitoring allows you to check the status and operate the unit from a smartphone, tablet or PC.
Overall, if you are serious about having uninterrupted power during a long power outage the Generac 7043 will not let you down.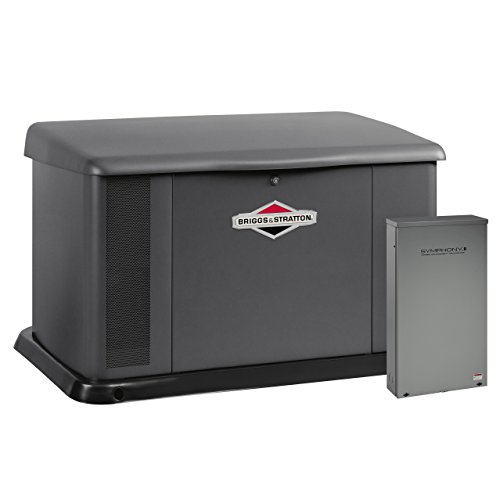 The Briggs & Stratton 40396 brings a whopping 20,000 watts of power to your home. This model also includes a 200 Amp split 400 Amp transfer switch.
Capable of powering a 12,000 square foot home with a five-ton air conditioner, this unit is great for larger homes and businesses.
This unit adheres to the National Fire Protection Agency 37 standards, allowing you to install the generator as close as 18 inches to your home.
The Symphony II Power Management System helps orchestrate high-demand appliances such as your electric oven or an air conditioning unit.
Make note: this standby generator is powered by propane so make sure you can accommodate the tank and lines before purchasing this unit.
With the huge power output of this unit, please make sure to have this installed by a professional. Incorrectly wiring a device like this could cause a fire and/or death.
You will also get a five-year part, labor and travel warranty, which is more generous than most competitors.
This is one of the most powerful units you can find before you have to go with a commercial grade generator, and with the Briggs & Stratton brand and warranty you can count on.
The last standby generator we recommend is made by Champion Power Equipment. This generator can be powered by propane yielding 14,000 watts of continuous power or by natural gas yielding 12,500 watts.
You will not have to worry about a super noisy generator when this kicks on with its neighbor-friendly 63 decibel noise level.
The 24-volt starter system is reliable in temperatures ranging from -22 degrees to 104 °F with no need for a warming kit.
You will be covered by a 10-year limited warranty with free lifetime technical support.
As with the other standby generators, make sure this is installed by a professional. We cannot stress this enough. This is for your safety and the longevity of the generator. You want this thing to work and to work right when you need it most.
With optional load control modules, you can wire up high demand appliances like an electric stove to be managed by a relay for extra safety.
A weekly auto-maintenance task runs to ensure the unit is ready to perform when disaster strikes.
We recommend this unit to anyone who has a mid-sized house or the need for a low-maintenance standby generator.
Best Portable Generators (2018)
These generators are great for providing temporary power for outages, events, RVs and camping trips.
Most of these types of generators are powered by gas and will need to be refilled on a regular basis for longer periods of time.
Check out our recommended portable generators below.

The WEN 56200i is a great compact generator that provides 2,000 watts of power to your electronics.
The operation of this unit is extremely quiet with a low 51 decibels at quarter load. That is about the same loudness as a normal human conversation.
The outputs include two 120V 20A 3-prong outlets, one 5V USB port, and one 12V DC 8.3A outlet.
You will get about six hours of run-time at half load with the one-gallon tank.
This generator is great for camping, construction sites, tailgates and power outages.
Up next is the WH2200iXLT super quiet generator by Westinghouse. This unit provides 1800 rated watts and can handle up to 2200 peak watts.
Weighing only 43 pounds, this is a nice light and portable emergency home generator that can be easily moved. The operation is quiet with a sound output of 52 decibels at 25% load.
This unit will also run for about 13 hours at 25% load on a full 1.3 gallon tank. There is a fuel efficiency mode that will get you the longest runtime with the lowest needed fuel consumption.
One really cool feature is you can run two of these guys in parallel with a special cable that you will need to purchase separately.
Don't worry about failed parts, as you will be backed by a three-year warranty and lifetime technical support.
If you are looking for portability the WH2200iXLT by Westinghouse is a great option.
This is the tried and true Honda EU2200i. This is one of the most well known and widely used portable generators on the market.
It is one of the quietest gas-powered portable generators, operating between 48 and 57 decibels. This unit is ideal for camping, RVs, job sites and home emergencies.
You can add a second 2200i, doubling the output for situations where you need more power.
With its unique eco-throttle system, you can expect run-time between four to about ten hours on a single tank depending on the load.
If reliability is your concern, grab yourself an EU2200i to solve your portable power needs.
Need a more powerful portable generator? The Q6500 from Briggs & Stratton will deliver 6500 watts of power in a compact unit.
Designed with a noise-reducing shell, this generator operates at noise levels of 66 decibels at a 25% load.
The generator is a bit on the heavy side weighing in at 128 pounds and is started by a recoil pull start. The unit is on wheels and has a handle, though, so relocating the generator by yourself is fairly easy on a flat surface.
The engine is quite efficient with a five-gallon tank and will allow run-times up to 14 hours at a 25% load.
You can power devices with the four 120V 20A outlets, two USB outlets, and one 120V-240V twist locking outlet for 2500 watts of continuous power at 120V 20.8A.
The Q6500 is backed by a two-year consumer limited warranty.
For bigger RVs or more demanding power needs, you will not be disappointed with the Q6500 from Briggs & Stratton.
Get the Right Emergency Home Generator for Your Needs
We hope that this post has helped you to better determine the type of emergency home generator that will best fit your needs.
Looking for more information about choosing a generator?
Need to know what else you can do to prepare your home for a disaster — or to protect yourself at any time?
Be sure to keep on visiting our website and blog for more tips on how to stay safe in any situation.