Dog pepper spray can ward off an aggressive dog without inflicting permanent damage to the animal.
There are specific formulas that are designed to be strong enough to stop the dog without causing injury. All effects are temporary and will wear off completely within an hour.
Many active joggers, mailmen, police officers, construction workers, or other similar occupations are in danger of the possibility of an aggressive stray dog attacking them.
Many people do not want to injure the dog they just want it to leave them alone.
Know that there is a difference between dog and human pepper spray.
Dog spray is very intense for the dog so there is still some level of pain inflicted, but not enough that it will cause permanent damage.
Top 4 Best Dog Pepper Sprays

Protector series pepper spray by Sabre Red consists of only 1% major capsaicinoids, which is the maximum allowed by the EPA for use on animals. The canister is small enough that you can easily carry on your keychain or bag to allow easy access. The spray pattern is a stream that you can deliver about 14 one second bursts.
This dog pepper spray has a spray range of up to 12 feet and has a safety locking feature on the firing mechanism to prevent accidental discharge. If you face dangerous dogs on your daily routine, grab one of these just to be on the safe side.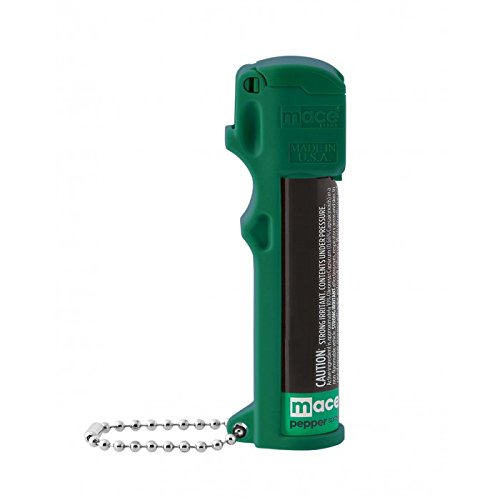 Mace also has some canine specific pepper spray that is not as strong as their human pepper spray formulas. With a range of about ten feet, you will get 15 or so burst sprays of a powerful stream to ward off the attacking animal.
There is a convenient hand strap that allows you to have easy access to the spray and is great for going on walks or for jogs. Mace is a trusted brand in the pepper spray business and we expect nothing less with their animal repellents.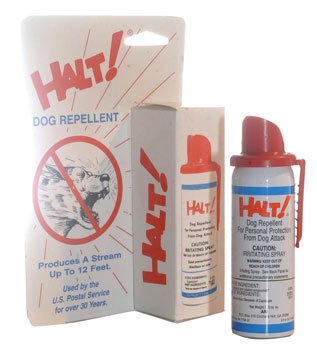 We have yet to test this product ourselves but the customer feedback we have heard has been very positive. Halt! has been around since 1966 protecting mail carriers from unfriendly animals. This pepper spray uses a natural pepper extract process and is one of the more natural products to use against dogs.
The spray will cover a ten foot range to give you some distance between you and the attacking animal. This is probably the safest product on this list if you are worried about injuring the animal.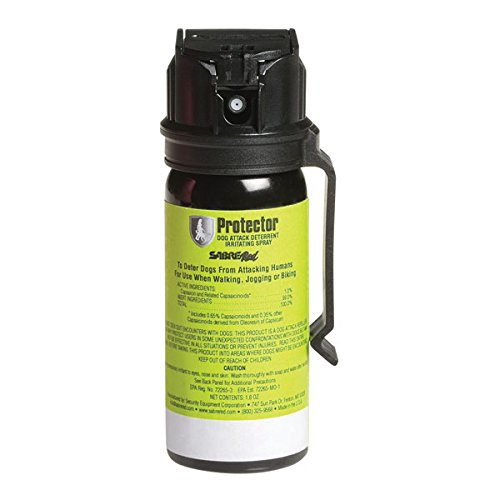 This is a larger version of the Protector spray listed above. Containing 1% major capsaicinoids keeps it within EPA standards for use on animals. This product has a 15 foot range and will deliver seven one second bursts in a powerful stream pattern.
There is a flip top security cap on this pepper spray to help prevent misfires and a clip on the side to attach to a belt or your pants for easy access. If you want to have more distance between you and the animal, this is going to give you 15 feet, which is better than the other products listed above.
Tips to Prevent Dog Attacks
There are some things you do and don't want to do when facing a potential dog attack. Check out what you should and should not do.
DO
Remain motionless when approached
Curl into a ball and cover your ears with your hands if attacked
Report stray dogs if sighted
DONT
Run (the dog will chase you and could possibly attack more)
Approach dogs you do not know
Panic or make loud noise
Encourage the dog to be more aggressive
Pet animals without allowing them to smell and acclimate to you first
Check out this quick video for more ways to defend yourself against a dog attack

Final Thoughts
Always try to avoid confrontation if possible and never antagonize an animal. You never know how they will react. By combining some techniques you should not have to resort to the use of pepper spray on a dog, but if you do, make sure it is approved by the EPA and safe for use against animals.