If you are an active jogger or runner and are looking to carry pepper spray, you have come to the right place.
When considering buying pepper spray to bring along on a jog, look for models that have a strap so you have immediate access to the device in the event of an emergency.
The strap can also keep the attacker from taking the pepper spray and using it against you.Take a look at our top five picks for the best pepper spray for runners.
Looking for the best pepper spray for runners?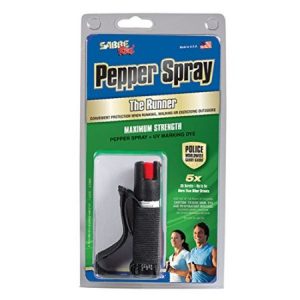 The Runner by SABRE Red is our first pick for a couple of key reasons. One is the hand strap that allows an individual to have instant access to the spray if encountered by an attacker. It is compact at four inches and extremely lightweight at only .75 oz. Other great features are the high capacity with 35 bursts deployed in a powerful stream of gel up to a distance of 12 feet. Overall, this is our top pick for the best pepper spray for the jogging category.
Features
Color: Black or Pink
Number of Shots: 35 bursts
Spray Pattern: Stream of gel
Range: 12 feet
Expiration: 4-year shelf life
Features: Adjustable hand strap allows for instant access and provides practical protection while going on a run.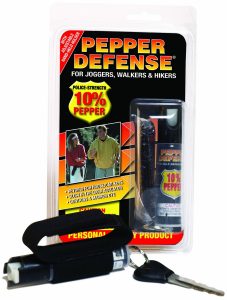 With 10% OC (the oil that is extracted from peppers), this spray is great for joggers in need of extra self-defense. It includes a hand strap and key ring to easily accompany you in any scenario. The trigger on this device is glow-in-the-dark so you can find it in low light situations.
Features
Color: Black
Number of Shots: 35 bursts
Spray Pattern: Cone
Range: 10 feet
Expiration: 4-year shelf life
Features: Glow-in-the-dark actuator for quick firing in the dark and multiple ways to carry.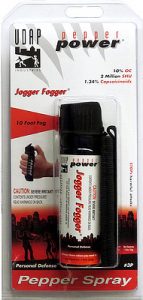 The UDAP 3P Jogger Fogger is another great product specifically designed for runners. UDAP uses an oil-based formula that is 1.34% Major Capsaicinoids (MC) ozone safe and non-flammable. You will get roughly 8 one-second bursts of a powerful fog. The Jogger Fogger can cover a distance of 10 feet to allow a decent amount of distance between you and the attacker. You can wear the device on your hand or fasten it to your belt for quick access using the provided strap.
Features
Color: Black w/white label
Number of Shots: 8 Shots
Spray Pattern: Cone/Shotgun Fogger
Range: 10 feet
Expiration: 3-year shelf life
Features: Universal holster strap for easy access, powerful 1.34% MC heat rating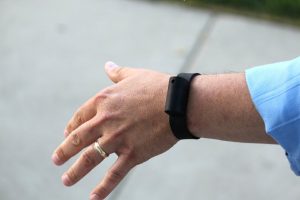 This bracelet is our last pick for the best pepper spray for the jogging category. It is extremely lightweight at only 1 oz. and looks nice on the wrist. The wristband strap design allows very quick deployment in the event of an attack. This model comes in both black and pink, and there is even a combination deal if you are looking for his and hers. It was also featured on NBC's Steve Harvey Show in 2014.
Features
Color: Black or pink
Number of Shots: 3-6 bursts
Spray Pattern: Stream
Range: 3 feet
Features: Light weight and comfortable, and features a wristband type strap for easy deployment.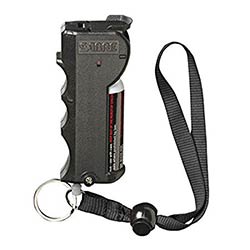 Many people are afraid of using pepper spray because they worry that an attacker may get the spray and use it against them. This is a unique design that has a detachable fail-safe strap. So if the attacker pulls on the spray and the strap is detached the pepper spray will not fire protecting you from being sprayed by the attacker. Made by the trustworthy Sabre brand you can be sure that the pepper spray will burn like hell and keep your target at bay. There is an included training pamphlet that shows you the best practices when using this device.
Features
Color: Black or pink
Number of Shots: 20 bursts
Spray Pattern: Stream
Range: 10 feet
Features: Lightweight, comfortable and features the unique stop strap feature to prevent the spray from being used against you
6 Simple Yet Effective Jogging Safety Tips
1) Do not run with headphones. This is a very simple yet effective way to improve your overall safety and awareness of your surroundings when running. This will give you some notice if an attacker is approaching you. If you cannot run without music try using only one headphone or getting a small Bluetooth speaker designed for running.
2) Do not run alone. This may not always be a viable option depending on your situation. But if possible get a running buddy and coordinate times to run together. It is much more difficult for an attacker to take on two individuals, and most of the time they will not see you as a target.
3) Run against traffic. This will give passing drivers more visibility of you and a potential attacker. This will also help prevent you from being struck by passing drivers when visibility may be minimal.
4) Switch up your route. This will reduce the chance of someone stalking you or keeping tabs on your routine. This will also force you to be more aware of your surroundings because you are not as familiar with the alternating routes.
5) Carry pepper spray. As you can tell we are advocates of staying safe, check out our recommendations below for more info on these products.
6) Wear reflective clothing. Yet another simple but effective precaution you can take. Make sure to always wear light colored clothing and carry lights or reflective material when running in early hours or late at night.