Keeping your pepper spray in a place where it is easily accessible is one of the most important things to remember to ensure your self defense spray is effective. By carrying a pepper spray keychain, you will have quick access if you are holding your keys when walking to your car at night.
Most pepper spray keychain products are small and discrete, while still providing an impressive amount of spray.
People almost always have their keys with them, so by placing your pepper spray on your key ring, you will not forget it at home.
Pepper spray will not help you if you leave it sitting in a desk drawer or on the kitchen table. Always remember to check the expiration date on your pepper spray to make sure you have an effective product if trouble should approach you.
Pepper Spray Keychains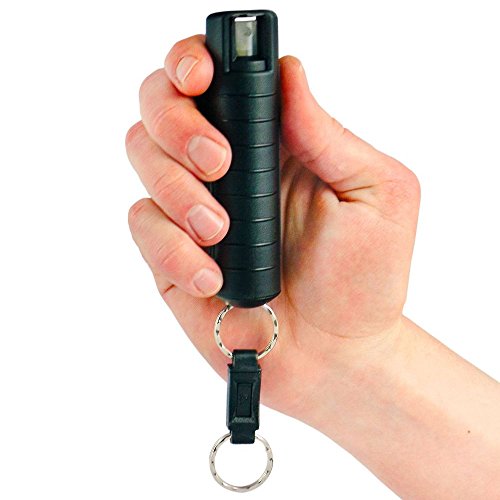 First up we have the Mean Green 3 Million SHU pepper spray keychain by Fox Labs. Packing some serious heat at over three million scoville heat units, this stuff will disable just about any attacker out there.
The capacity is decent giving you about five to six one second bursts of mean green stopping power, which is capable of covering about a ten foot range.
The most unique feature of this key companion pepper spray is the fact that it contains unwashable green dye. This pepper spray will not wash out of your white tee shirt, so make sure if you are testing or using this stuff you are careful not get it on yourself.
Backed by a two year warranty and a three year shelf life, this little canister of pepper spray will keep you safe for a few years before having to buy a new one.
Features
Color: Black
Number of Shots: 10-12 half second bursts
Spray Pattern: Stream
Range: 8-10 feet
Expiration: 3 year shelf life
Additional Features: Easy to carry keychain design; the mean green also has a green marking dye that does not wash off, making it easy for authorities to identify your attacker.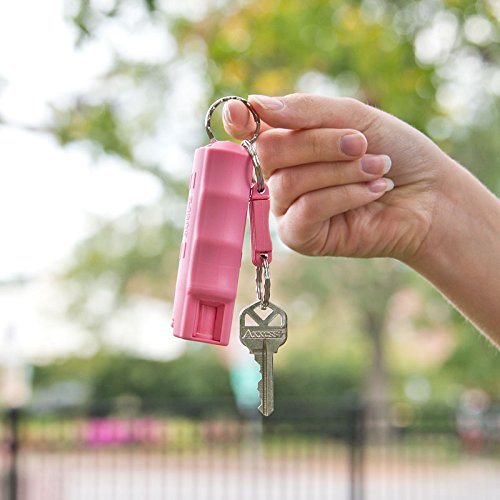 Stay safe and support a cause at the same time with Sabre Red's Pink Breast Cancer pepper spray. Backed by one of the most trusted pepper spray manufactures in the game, you get some high power pepper spray that you know you can count on.
This specific model is pink to represent the National Breast Cancer Foundation, which receives a portion of the proceeds. Don't think that just because this canister is pink it will be any less painful than Sabre's other products.
Providing 25 high powered bursts of a stream pattern, you will have plenty of spray to go around. It covers an effective distance of about ten feet, giving you a safe distance from your attacker when applying the spray.
The expiration is four years from the manufacture keeping you safe for multiple years at a time.
Features
Color: Pink
Number of Shots: 25 bursts
Spray Pattern: Stream
Range: 10 feet
Expiration: 4 year shelf life
Additional Features: By purchasing this product some of the proceeds will go to support breast cancer research for women. There is also a link in the packaging for free training and tips on how to use pepper spray effectively.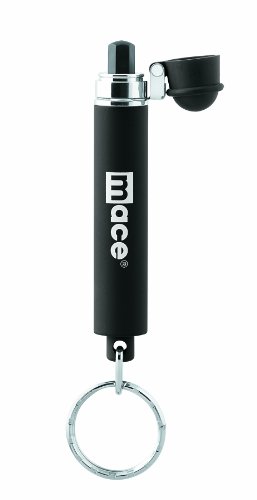 This keychain pepper spray is great for keeping on your keys. Made by Mace Security, you know the product will stand its ground when the time comes.
Unfortunately, the capacity is quite small, providing about six short bursts. The range is really only effective to about five feet, which is kind of close for some individuals.
There have been some reports of the cap not staying on when kept in a pocket with other items, so be cautious if you go with this model.
All in all, if you are in the market for the smallest pepper spray this product is right for you. The spray nozzle does rotate, so you will need to make sure the nozzle is facing outwards before pressing the trigger.
Features
Color: Black or Pink
Number of Shots: 6 bursts
Spray Pattern: Cone
Range: 5 feet
Expiration: 4 year shelf life
Additional Features: Possibly the smallest pepper spray canister available makes this very easy to conceal and the discrete design does not look like a traditional can of pepper spray.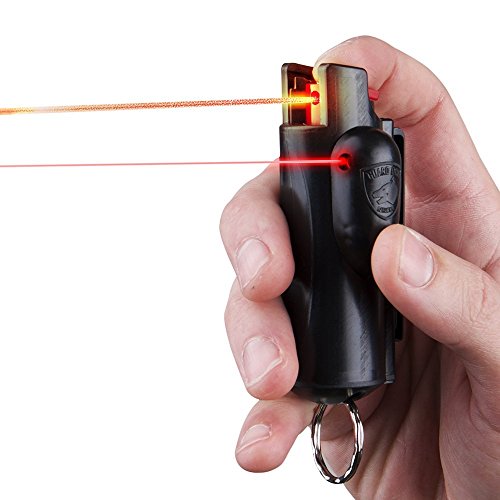 Looking for some extra bells and whistles? The AccuFire Pepper Spray with Laser Sight by Gurad Dog is a great self defense option. It provides seven to nine one second bursts of spray up to 16 feet, which will keep you protected in many situations.
If you are looking for a product that can cover greater distances check out our pepper spray gun recommendations. This product uses a 18% OC spray mixture that is very powerful and incorporates a UV marking dye so authorities can easily identify the individual who has been sprayed.
The best feature of this product is the laser aiming system, which will help ensure you are hitting your target in an effective location, giving you the best chances of survival and escape.
With a four year shelf life, you will not have to invest in another canister for many years to come. If you like extra features and cool lasers, go with the AccuFire by Guard Dog and you will not be disappointed.
Features
Color: Black
Number of Shots: 7-9 one second bursts
Spray Pattern: Stream
Range: 16 feet
Expiration: 4 year shelf life
Additional Features: The AccuFire is quite unique featuring a laser targeting system unlike any other keychain pepper spray product available. Combined with the UV marking dye, this is a sure fire way to scare off an unwanted attacker.
Final Thoughts
We highly recommend purchasing two or three of these pepper spray products to allow yourself some training and field testing for how the spray works.
Make sure you are comfortable with how to hold the pepper spray and how to disengage the safety features on the canister. Also, you should always know the range and spray pattern to avoid cross exposure due to wind or indoor discharge situations.
Set up a target outside that is downwind to practice your grip and aim. Just like anything else you learn, practice makes perfect, and in this situation, less than perfect could mean serious injury or death.
If you are looking for something other than pepper spray to carry, you can check out our self defense keychains, or tasers if you are unable or not willing to carry pepper spray.