What is a taser?
A taser is a device that sends an extremely high-voltage, low-current electrical discharge that is strong enough to temporarily disable the body's ability to control motor functions. Tasers are sometimes referred to as stun guns, tazers, or shock pistols and are a derivative of cattle prods, which have been used for over 100 years.
The first taser was developed by Jack Cover, a NASA researcher, in 1969. Cover completed the device by 1974 and named it after his childhood hero, Tom Swift (Thomas A. Swift's Electric Rifle, by Victor Appleton) a neat pseudonym.
Tasers are a great, less than lethal option that is used and trusted by police departments around the globe. They are cheap and extremely effective. A good stun gun will be able to temporarily disable an attacker even through multiple layers of clothing.

Best Tasers 2019 – Our Top 8 Picks
If you are looking for the best personal self defense taser to buy? check out the products listed below. All of the tasers we recommend are the strongest and most efficient tasers that we can find. Make sure to check your local laws on the possession and use of stun guns or tasers in your area before making any purchases.
the products listed below are our handpicked favorites. All of the tasers we recommend are the strongest and most efficient tasers that we can find. Make sure to check your local laws on the possession and use of stun guns or tasers in your area before making any purchases.
The Vipertek VTS-989 – 230,000,000 Heavy Duty Stun Gun review is first on our list as it is one of the best stun guns for its cost and effectiveness. Dimensions are quite manageable at (6.5″ x 2″ x 1″), making the stun gun easy to conceal and hold comfortably. One of the unique features of the VTS-989 is "snatch protection." These are the two metal strips that go down the sides of the stun gun. If the attacker tries to grab the taser out of your hand the bands on the sides will still send them a powerful jolt and allow you to stay in possession of the stun gun.
There are two ultra-sharp spikes at the head of the taser that deliver the high voltage shock. In between the two spikes is a high powered LED flashlight to provide extra light in dark situations. There is no need to replace batteries; the Vipertek VTS-989 is powered by an internal rechargeable battery. To make this product even better, the whole unit is backed by a lifetime warranty. If you are looking for the best value for your dollar, the VTS-989 will exceed your expectations.
Moving on, we have the Streetwise Sing Ring 18 Million Stun Gun. If you are looking for a stun gun that is small and easy to conceal, the unique ring-shaped design makes this a great option. The stun gun is activated by placing your middle finger through the hole and squeezing the trigger. When held properly the unit is concealed by your hand and the only part showing is the stun ring surface, allowing you to carry discretely with other objects such as a flashlight or dog leash.
The small size and lightweight eliminate the need to carry heavy or bulky self-defense weapons. The Streetwise Sting Ring is a great option for walking your dog or for taking on your morning run. There is a safety switch on the side of the device that activates the stun feature. This makes activating the sting ring extremely easy and fast in the event of an attack. If you are an active individual or are looking for a small but effective tactical stun solution, the Streetwise Sting Ring will not disappoint.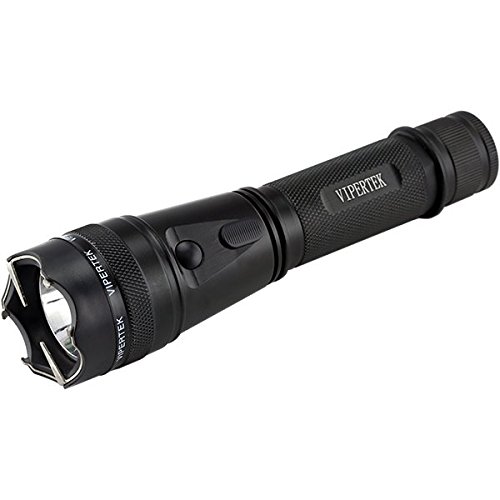 Up next we have another great product from Vipertek, the VTS-195 230,000,000 Heavy Duty Stun Gun Flashlight. It is shaped like a heavy-duty tactical flashlight, which makes holding this stun gun very easy and familiar. The flashlight features a bright 400 lumen light bulb to add additional functionality to your stun gun. The flashlight shape and function are also a great way to conceal the fact that if you set the switch to stun, this little light will put almost anyone down in a matter of seconds.
The length of the flashlight is 6.75″ and it is manufactured from type III aircraft grade aluminum with ridges on the sides to help prevent the taser from rolling. The VTS-195 has internal rechargeable batteries so there is no need to worry about replacing expensive batteries. The light bulb is rated at a 100,000-hour lifespan and the entire unit is backed by a lifetime warranty. We highly recommend the Vipertek line for stun guns and we are big fans of this multi-use flashlight design.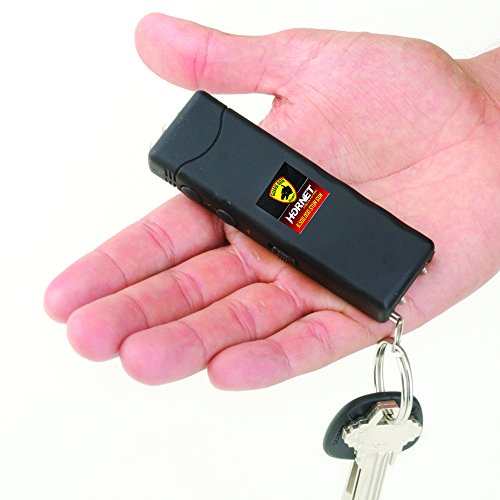 One of the most common complaints we hear about stun guns and tasers is the inability to easily conceal or carry the unit. If you are one of these people, then check out this mini stun gun from Guard Dog – Hornet Keychain Stun Gun. This small but powerful stun gun packs a whopping punch for such a small device, the sound alone is enough to scare off most people. There is a built-in three LED flashlight to allow you to see better in dark situations.
The whole unit is on a key ring that can be easily fastened to your keychain or a lanyard. This is the world's smallest stun gun available, weighing less than two ounces total. It even comes with a holster for secure storage and transport. The body of the unit is rubber for extra grip and avoid scratching from keys. There is a built-in charger that folds away when the unit is not charging and is backed by a lifetime warranty. If you are looking for something small that still packs a mean punch, this little guy will not let you down.
This is by far one of the best taser guns a general consumer can buy. It is the only item on our list that actually shoots an electrified projectile at the target. The Taser Pulse is shaped like a handgun to make aiming and shooting the device easy as point and shoot. There is a high intensity LED light on the front of the taser for low light situations. The Taser Pulse has an effective range of up to 15 feet, allowing you to disable your attacker from a distance and make a safe escape.
If you happen to miss your shot with the taser, there are contacts on the gun that allows you to use the gun portion as a stun gun for backup or if there are multiple attackers. There is a laser guide for pinpoint accuracy. There are two charges included with the stun gun as well as a convenient holster. If you are looking for a projectile-based taser this subcompact and ergonomically designed taser will keep your mind at ease.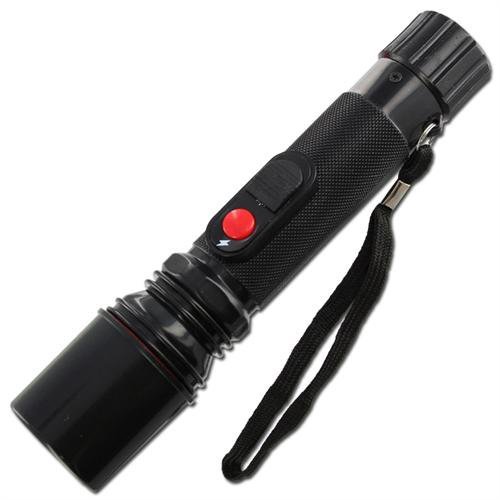 Here we have another flashlight stun gun combo from Police. The stun gun is 7.5″ long and comes with a safety cap to protect the stunning head when stored or transported. There is a safety on/off switch that is designed to deter children and accidental discharge. One of the ends of this flashlight has a glass breaker to add even more functionality to this multi-use product. The Police 230,000,000 million volts has a wrist strap to keep the product from being turned against you.
There is also an included carrying case so you can holster the stun gun when it is not in use. The batteries are rechargeable so you do not have to worry about replacing them and they are charged with a standard wall outlet charging cord. The device is made out of durable ABS plastic making the product not only strong but lightweight. If you are looking for a cheap multi-function stun gun flashlight, then definitely check out the Police 230,000,000.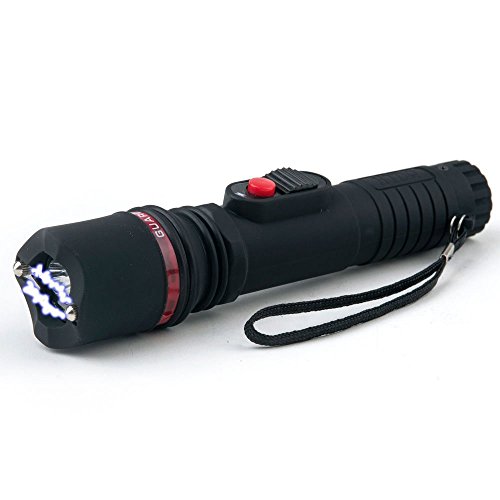 Guard Dog Security also makes a flashlight stun gun combo that features dual-spark prongs on the front of the flashlight. It is available in black and pink, depending on your preference. The body of the flashlight is made of a rubber material to prevent the product from slipping out of your hands. There is a safety cap to cover the top of the device to protect the stun prongs, but there is a hole in the center so you can still use the flashlight function.
Guard Dog backs this product with a lifetime warranty and is one of the biggest names in the security product industry. The secure safety on/off switch is designed for easy activation but will keep the product from accidentally discharging at the same time. The sound of six million volts in the air make this taser is enough to scare away most attackers.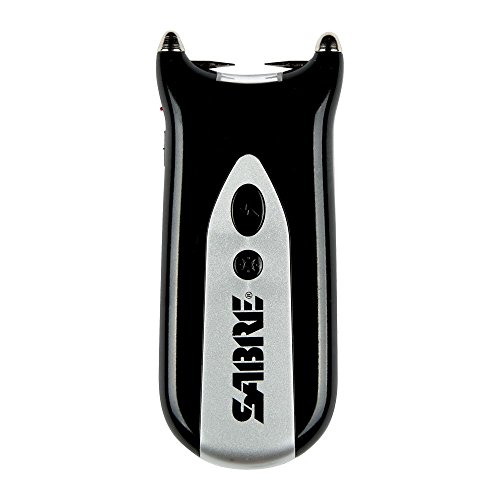 Last but not least is Sabre's Stun Gun with LED Flashlight. Saber is most well known for their pepper spray products, but they also make other self-defense items such as stun guns and personal alarms. This stun gun is a fairly compact size measuring 4.8″ x 1.9″ x .8″ in size. In addition to its compact size, this stun gun features a LED flashlight on the front of the device to provide extra light in low visibility situations.
This taser is powered by two CD123A lithium-ion batteries (included) and the product is backed by a two-year warranty. There is included access to a free training video to assist you with how the product works and how to effectively use the stun gun. All Sabre stun guns are tested at the factory before shipping to ensure they work as advertised. This model is available in three different color options: black, purple, and pink. Add an extra option to your personal safety with one of these stun guns by Sabre.
Tips and Best Practices for Tasers and Stun Guns
Familiarize yourself with the device and features
Make sure you read the product's instruction manual before using the device. Identify the stun guns on/off switch as well as any safety locks. Practice holding the taser and make yourself comfortable holding, turning it on/off and checking the device's charge. Do not touch the device's metal prongs on the stunning area, as this could result in accidentally shocking yourself.
Test the stun device
To ensure the device is working properly, fully charge your stun product. In a safe location, turn the stun device's power on and disable any safeties that are on your stun gun. Always keep your fingers and body clear of the stun prongs. Pull the trigger or push the button for one-second bursts to test the stun function. After verifying the stun gun works, turn the safety back on and power the device off. Do not to touch the metal stun prongs for at least five minutes after testing, as they may still be hot and could burn you.
How to use the stun gun
For the stun gun to be effective, you need to make sure both of the metal prongs are pressed firmly against the target. If possible, try to make direct contact with the skin for the best results. Try to aim for the neck, under the arm, torso, upper shoulder or groin area. These areas contain high nerve counts and will provide the strongest zap. Make sure to hold the device in contact with the attacker for three to five seconds, possibly longer if the person is more resistant to the shock. This should provide enough time for you to make your escape.
Final Thoughts
Confirm you are extremely comfortable with holding and using your device before relying on it to protect you. Also, keep in mind that some people may not be completely incapacitated by the taser, so you should always make removing yourself from the dangerous situation your top priority. Always keep the stun gun in a location that is easy to access in case you need to use it.