For some individuals, the thought of carrying a weapon for self-defense may cause more anxiety than protection. If you fall into this category, do not worry because you are not alone. Keep reading to see the best personal alarms.
And guess what, you do not need to have a weapon to protect yourself. You can make a small investment in a personal alarm system. These discrete devices are easy to conceal and carry but will let out a tremendous audio alarm that will bring attention to you if you feel endangered or are being attacked.
Now, this is not going to be some superhero device that will make an attacker stop or drop their weapon, but it can offer some attention that may scare the attacker away, or bring attention to someone nearby that can help or call for help. A great solution for this is a personal protection device!
These devices are great for anyone who wants to stay safe and also they won't break the bank.
How Do They Work?
These devices are easy to operate and there is little practice needed to ensure they will work when you need it. Most of these devices are activated by pulling a ripcord style switch that will sound the alarm until the pin is reinserted into the device.
Once the pin is pulled, the device will let out an ear piercing alarm sounding at 90-140dB, which is the same output of a jet engine!
TIP: WE RECOMMEND REPLACING THE BATTERIES IN YOUR DEVICE AS SOON AS YOU RECEIVE IT. OFTEN TIMES THESE BATTERIES HAVE BEEN SITTING FOR A LONG TIME AND MAY BE WORN OUT. DO NOT RISK YOUR LIFE – GET SOME QUALITY BATTERIES AND TEST THE DEVICE MONTHLY.
Check out these noisy little alarms!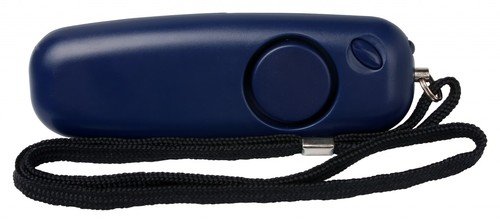 Vigilant is a well-respected company in the personal alarm space and this is their top-selling product. Powered by three AAA batteries, it will give off a very loud 130dB alarm for up to an hour, lasting almost twice as long as many competing models. The alarm is activated by pulling the pin on the top of the unit.
There is also a flashlight on the top of the device that can be used to see keyholes or other minor tasks in the dark. The flashlight is not really bright enough to cause any blinding unless you are in a pitch-black situation. Overall this is probably the best personal alarm out there and will do the job when you need it.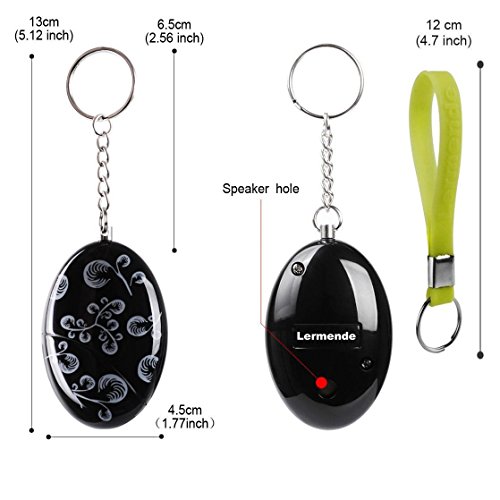 If you want something with a little more style, this 130dB alarm by Lermende is a great option. The personal safety alarm is powered by a 110V 23A lithium battery. The alarm is activated by pulling the pin attached to a ripcord, which will sound the 130dB personal alarm system alerting nearby individuals.
This is a two pack so you get double the protection. Give one to a friend, put one in your purse, put one on your backpack, or carry one when you go jogging.
If you are looking for a great personal alarm for kids, this ladybug-shaped personal safety alarm is perfect. The discrete design makes it fashionable and does not draw attention. This also makes for a good personal alarm for the elderly with its covert design. The alarm gives out a whopping 130dB of sound that is enough to get some attention.
There is also a small flashlight on the bottom of the ladybug that is activated by a button on its back. The unit is powered by four LR44 batteries that are accessible by removing a few screws. Overall, this is a great little personal alarm for people of all ages.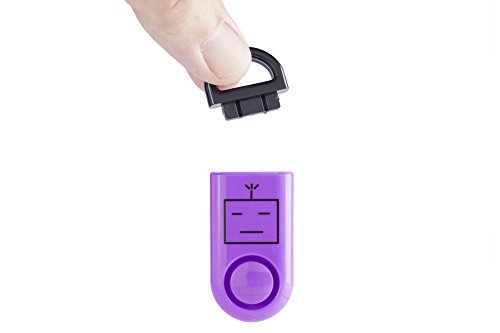 Claiming to be the world's smallest SOS personal alarm, the B A S U eAlarm measures only 2.79″ x 1.22″ x 0.51″ and weighs less than one ounce. This alarm is about the size of your average USB flash drive.
The alarm will sound at 120dB, which is pretty loud considering its size. The pin on top can be removed to sound the alarm and reinserted to silence the device. If you enjoy having something nice and compact, this is going to be your best bet.
The loudest alarm on our list is the EPOSGEAR Metallic Mini Minder personal attack alarm system. Featuring an ear-piercing 140dB alarm, this is the loudest device at this size. The unit is powered by three LR44 batteries secured by a few Phillips screws on the back.
This alarm is available in a few different metallic colors: blue, red, purple, hot pink and silver. There is a style for everyone. If you are looking for the loudest personal alarm keychain, get the Mini Minder.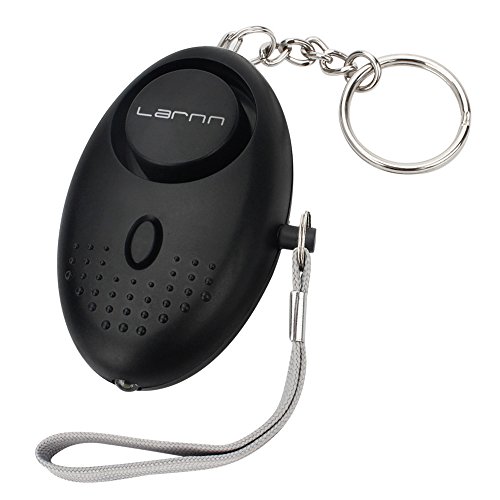 Last but not least is the Larnn 130dB personal alarm keychain. With a slightly different design than the rest of the alarms on this list, it functions pretty much the same. The alarm is activated by pulling out the pin attached to the ripcord.
There is also a mini flashlight built into the device to assist in dark situations. The small keychain design allows you to easily attach it to a backpack, purse, gym bag, or even your pants. The product is backed by a 30-day money-back guarantee making it one of the best personal alarms we could find.
Final Thoughts
Hope you enjoyed the best personal alarms we could find.
These little devices offer a cheap and effective form of self-defense that will not inflict any harm on anyone.
Personal attack alarms are great for kids as they pose no threat to them. But, they also offer just as much help to the elderly or assisted needs community to alert people nearby if they need assistance.
For just a couple dollars these devices can truly be lifesaving.