The U.S. Department of Labor's Occupational Safety and Health Administration (OSHA) makes it mandatory for companies to have first aid kits. Unfortunately, many employers don't know what first aid supplies to buy.
First aid provides emergency care while you wait for the medics to arrive. It reduces recovery time and may also prevent permanent disability. Moreover, first aid gear supplies protect users from pathogens or blood contamination.
But the most important thing is that first aid saves lives. Thus, failure to have a kit in your office could cost you one of your employees.
In a pinch?

Jump to our top 7 recommended workplace first aid kits here.
Keep reading to learn what first aid supplies to get for your workplace.
First Aid Supplies to Buy For the Office
Last year, the revenue for over-the-counter (OTC) first aid kits was about 2.2 billion U.S. dollars. Yet, there's still some confusion for employers over what should be in those kits.
Here are a few tips to guide you when buying first aid supplies for your workplace:
1. Size of Your Company
If you have less than 25 employees, you can buy a small first aid kit. If it's more than that, you should be looking for a medium or large-sized kit. This guideline is only for a low hazard environment.
High-hazard areas should get a small kit per five people. If you have more than five employees, you'll need a larger kit.
Also, you need many kits if your company has several floors. Each floor should have one or two kits, depending on the square footage. If it's a complex layout, you should find ideal areas to install a kit.
2. Type of First Aid Kit
There are different first aid kits on offer. Traditional kits have small samples of each item. There are wall-mounted kits, which dispense various supplies. There are also custom kits that are more tailored to a specific type of medical treatment.
These custom kits focus on the industry you are in. For example, construction workers need a different kit than someone in an office. The more specific first aid kits will provide more targeted medical support to your workforce and lessen the risk of improper treatment.
3. Protective Gear Required
Some industries use materials that may be hazardous to their employees. As such, employers should go out of their way to include protective gear for emergencies.
Self-defense enthusiasts know about the Nasin steel wire safety anti-cutting arm sleeves. These sleeves can protect your arms while you are trying to rescue a trapped co-worker.
In other cases, employees can get facemasks, breathing gear, and coveralls. These are important if there is a leak of infectious materials.
Always make sure you put on protective gloves and cover yourself before helping an injured person. You do not want to risk getting infected by the
4. First Aid Kit Supplies
Finally, the last thing you should be looking at is getting the supplies that OSHA recommends. These include general first aid leaflets, disposable gloves, sterile dressings, and plasters. Others are antiseptic creams, scissors, sterile eye pads, and distilled water.
That's not all. There should also be cleansing wipes, tweezers, elastic wraps, and safety pins. Some also have a thermometer, painkillers, antihistamines, and cough medicines.
With these supplies, you can stabilize and care for someone until emergency responders arrive.
Always properly label the locations of your first aid kits and make sure they are at accessible and convenient locations.
7 Workplace First Aid Kits To Keep Your Workforce Safe
To save you the time of searching around, we compiled a shortlist of the most common workplace first aid kits available. Remember if you have multiple floors or a very large building with a large workforce you will need multiple first aid kits.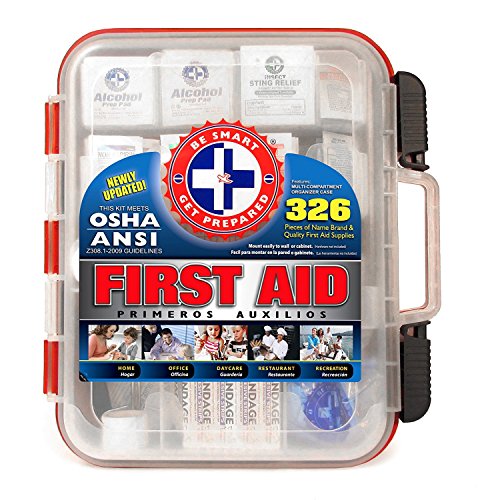 First on the list is a great overall option that meets OSHA and ANSI standards for 100 people. The kit includes 326 first aid treatment products that pass FDA standards as well.
There are two shelves separating the smaller items from the larger items. The plastic case measures 13″ by 12″ by 4″ and can be mounted to a wall if desired.
We always recommend going over the number of employees to be on the safe side. You never know when there could be 20 or 30 visitors in your building, driving you out of OSHA or ANSI compliance.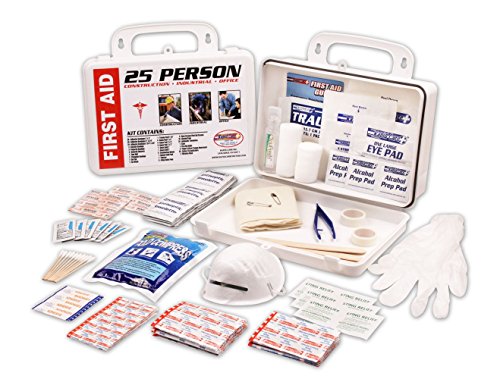 Up next is a great first aid kit suited to handle up to 25 people by OSHA and ANSI standards. There are 166 pieces total and the kit includes a first aid booklet for guidance in emergency situations.
If you have a small office or job site, grab a few of these and keep them easily accessible.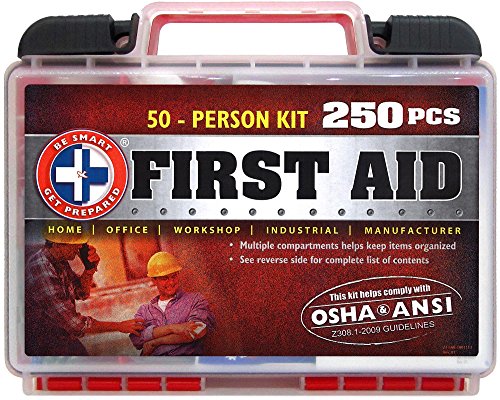 Designed for up to 50 people, this 250 piece first aid kit by Be Smart Get Prepared has everything you need. OSHA and ANSI standards are met or exceeded.
The slide clips offer easy access to the supplies and the case is light and durable. If you need a portable first aid option this is a solid option.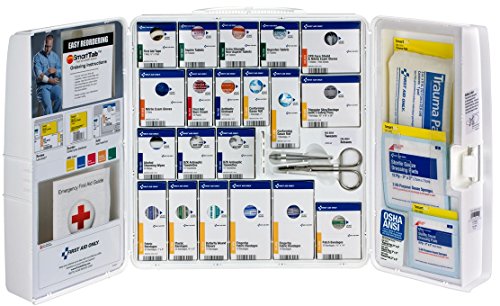 Moving on, we have a two-door 50 person first aid kit by First Aid Only. This model has a carrying handle so if needed it can be portable, but it is primarily designed to be wall-mounted.
The two doors are filled with all the supplies you need to quickly treat the most common injuries. Everything is easily identifiable by labels and the kit meets OSHA standards.
There is even a SmartTab refill system that flags you when you are about halfway through your supply so you can replenish to stay within compliance.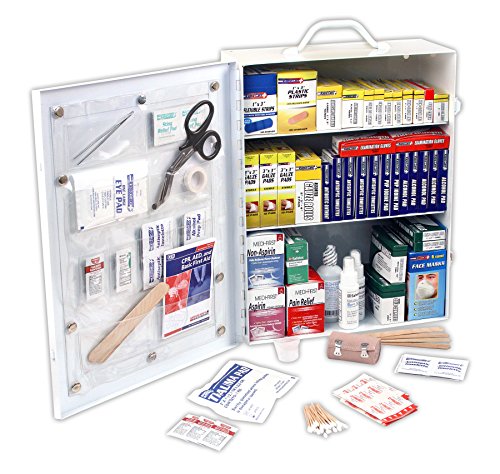 Have a bigger office?
This first aid kit with three shelves is on the larger side of the scale and covers up to 150 people. There are 800 pieces of first aid supplies that are fully ANSI and OSHA compliant.
The case is made of white steel and is moisture resistant. There is some included literature to assist during the emergency treatment process.
This is one of the largest kits on our list and it has every supply you can think of and then some. If you have a huge office with several hundred or thousand people you will need to stock up on quite a few of these guys.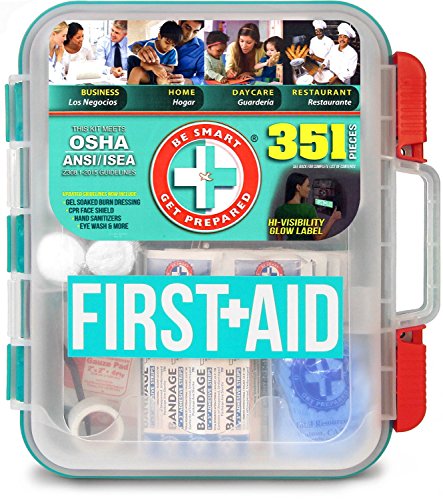 Here is another kit from Be Smart Get Prepared that is designed for up to 100 people. There are a total of 351 pieces of quality first aid treatment supplies.
This is a great option for most businesses to cover both employees and visitors or customers.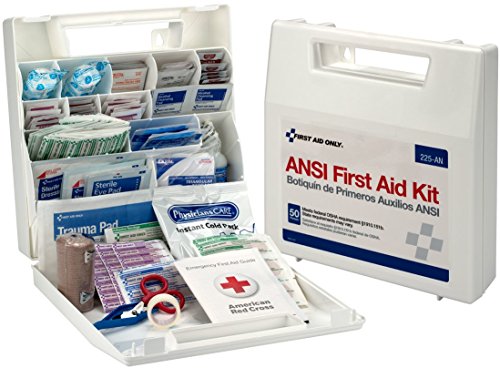 Last but not least, we have a nice portable OSHA compliant first aid kit that covers up to 50 people. The case is plastic so it is lightweight and durable.
This is a great option for work vehicles or job sites but can easily be used in an office environment if a portable option is needed.
First Aid Kit Signs
The brighter the better to help easily identify where the first aid kits are when they are needed most.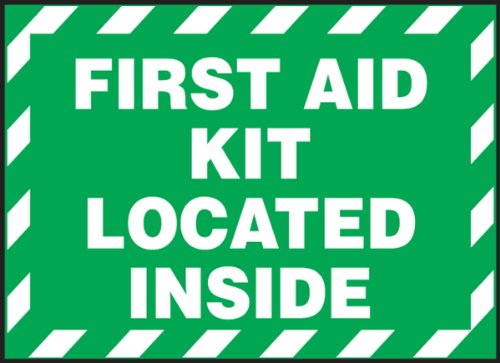 Learn More About Security and Self Defense
First aid supplies are another aspect of personal security and self-defense. Both save lives but the former deters danger while the latter cares for injured people. Thus, employers must ensure the safety of their employees at all costs.
Visit our website to learn more about our security and self-defense products.