The suggested rule of thumb for home repair savings is to set aside 1–3% of the purchase price of your home.
You could potentially be set back thousands of dollars depending on the severity of damages you may run into. One of the worst repair costs comes from water damage.
Homeowners deal with water damage in a variety of ways and all can have costly repairs. Flooding is a type of water damage that can leave not only your house but a lot of your belongings damaged.
Consider investing in a flood sensor instead of worrying if you have enough money put to the side. Here are seven of the best water detectors that you can use to prevent flooding incidents in your house.
Top 7 Water Detectors to Prevent Excessive Flooding in Your Home
The Everspring ST812 makes it easy for you to set up this system with your various technological devices. It is equipped with a 60dB alarm and LED battery status indicator.
The wall mount design allows for easy accessibility and has a range of up to 100 feet. Two double C batteries are included in the purchase and required for use.
This device senses moisture quickly and will even alert you via text if it touches a wet surface area. There is an audible alarm that makes a beeping sound when triggered. The alarm stays on for 30 seconds or until the device is dry.
This flood sensor is a great choice if you want a great quality product at affordable prices. The La Homieta WA08 has a loud alarm that sounds up to 100dB and two sensors that can detect water at less than 1/35-inch depth. It operates on one 9-volt battery (included) and has a low battery detector that will warn you when the voltage is too low.
La Homieta works well for leak detection and can be placed in a variety of spaces in your home. You could save lots of money on repairs by purchasing this inexpensive solution.
The Zircon Leak Alert WiFi will send you an email immediately after any hint of moisture is detected. This quick system includes a 105dB alarm and flashing SOS alerts that operate even when the device isn't connected to a WiFi network. It is battery powered and works with a 3V Lithium battery.
The setup for this device is fairly easy with no hassle. Add security to your property by placing this compact leak and flood sensor near kitchen sinks, water heaters, dishwashers and more.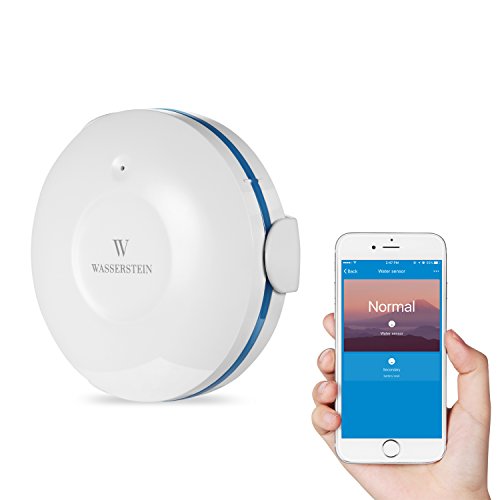 The Wasserstein Smart Wifi Water and Flood Sensor provides an extra layer of home security that senses water leakage before the issue gets out of hand. It's also great for avoiding a technology hassle.
The sensor requires little effort for installation but doesn't ask customers for hub or subscription service.
You can receive alerts from this device by downloading an easy plug-and-play app to your phone. It runs on a CR2 battery that can last more than six months.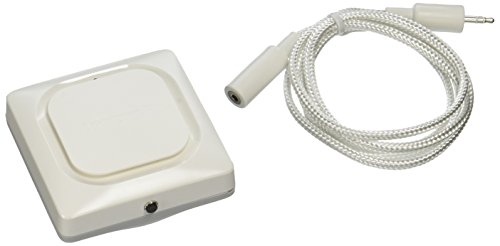 The Lyric WiFi detector sends alerts to your smartphone whenever it senses moisture, leaks or freezes. You can even choose to alert your family and friends in case you are out of town or unable to receive alerts. It has a four foot water sensing cable and easily connects to standard WiFi. It is battery-operated and uses two AA batteries.
The LeakSMART is noted as the world's most intelligent leak and flood sensor for your home. This awesome device not only detects leaks – it also shuts off your main water supply in five seconds or less to protect your home from severe damage.
This battery operated product works fine without a smart home and can be expanded to up to 32 sensors (starter kit includes one).
Check out this flood sensor from Guardian by Elexa if you're looking for a fully equipped, high-quality system for your water damage prevention. It comes with a valve controller and three leakage detectors. The installation takes only minutes and doesn't require any additional tools. It requires three lithium metal batteries for usage.
Save Your Home From Water Damage with a Flood Sensor
Don't hesitate on buying a flood sensor for your home—you could potentially face spending thousands of dollars in repairs.
The trade-off for the peace of mind is well worth the money spent, especially if you have lots of valuable items in your basement or other parts of your house.
There is nothing worse then coming home from a long vacation to find out your basement has been flooded for days and everything down there is totally destroyed.
Invest in one of these great devices to prevent future accidents. Let us know your experiences with flood sensors in the comments below!