A tactical vest is a necessary part of any prepper or survivalist's wardrobe. Besides keeping you protected, it's also incredibly practical and can carry tons of important gear that you'll want to have close at hand.
You might find that searching for the best tactical vest will yield you a myriad of options.
From different styles to different price points, you'll have no shortage of possibilities when planning this purchase.
Today, we're breaking down five things to consider when picking one out so you can make sure you're satisfied with your decision.
Ready to learn more? Let's go!
What Do You Plan to Carry in It?
Depending on your intended use, you might need more or fewer compartments in your vest than someone else.
For instance, you may need to store extra magazines and holsters if you're planning to wear the vest while using a firearm.
Or, you may stock your vest with a trauma kit, communication radio, pepper spray and other outdoor essentials for traveling in the wilderness.
Make sure the pockets are deep and roomy enough to store even your largest items.
Many paintball and airsoft players use these types of vests as well to carry additional paintballs, tools, BBs and even camera equipment for Go Pros to catch all the action.
This goes to show that the best tactical vest for you might not be the same for someone else, so consider your personal use case before buying.
Do You Need Body Armour?
If you anticipate needing body armour, you can check out vests that have a plated armour attached to their interior.
Though you can always buy the plates separately, these offer a 2-in-1 solution that's both convenient and cost-effective.
When you're in a survival situation, you may not have time to insert the plates, so it's wise to opt for vests that already have them installed.
What Color of Camo Do You Need?
Certain survival situations may require different camouflage patterns.
From urban and woodland digital options to more traditional green or black, you'll have your choice of several different options.
Consider the environment you're in and do a little research to determine how to best fit in.
Does the Vest Adjust?
Do you plan on sharing your vest with others? If so, you'll need one with adjustable straps.
Also, consider if the size of the vest will overwhelm the smallest member of your group and plan accordingly.
A tactical vest should be properly fitted to be effective, so if you need to buy more than one to make sure everyone is covered, you should do so.
Is it Comfortable?
Even if you have the best tactical vest on the market, if you're uncomfortable after an hour of wearing it while trekking through the woods, it won't do you much good.
Invest in one that you can move, hunt, run or defend yourself in.
Ideally, the vest shouldn't be bulky and should allow free range of motion.
Find the Best Tactical Vest and Survival Gear Today
We've listed a few of our favorite tactical vests below. Take a look and see what will meet your needs!
The S.W.A.T Style Tactical Vest is a great mid-grade tactical vest that has plenty of pockets and elastic loops to hold shotgun, rifle and pistol ammunition.
One of the downsides is there is only one size and it may not fit if you are really big or really small.
You really can't beat the price for the quality of this vest. It is a great choice for professional use, recreational paintball or airsoft use.
The UTG 547 is a cross-draw tactical vest with tons of room for ammo and gear.
With loops on your back, a mesh hydration pouch, two large inside pockets and countless magazine pouches, this vest will have you searching for more gear to bring.
This vest is also fully adjustable to accommodate most body shapes and sizes.
If you are looking to have endless amounts of room for ammunition and four different color choices, check out the UTG 547.
Another camouflage vest with tons of molle loops to hook up additional pouches and storage is the Condor Outdoor Modular Chest Set.
There is an included hydration carrier (bladder not included) to keep you hydrated on long hikes or during intense airsoft or paintball matches.
Overall, this is a very good quality vest for both military applications as well as recreational.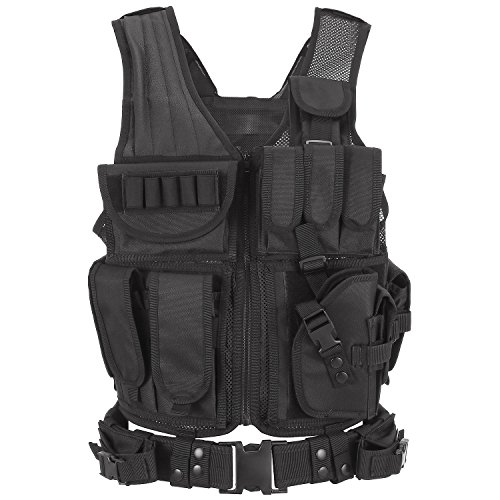 This last vest is intended for paintball and airsoft use only, so do not purchase the Barbarians Tactical Molle Vest for professional or military applications.
Having a quality vest that allows for easy and quick access to reload is crucial when playing airsoft or paintball matches.
For the price, you can't go wrong to add so much room for ammo and additional gear on the field.
Give yourself the edge and grab yourself some extra clips and quick reload gear to get a slight advantage the next time you play.
Final Thoughts
When it comes to defending yourself and securing your safety, being prepared is half the battle.
A great tactical vest can go a long way in keeping you protected and stocked with all your essential gear.
For more information on self-defense products and more, contact us today!