In 2016, identify theft accounted for $16 billion stolen from the public. That's an astonishing statistic and one that would make anyone want to tighten their personal security.
Online identity theft and fraud have become more prevalent in recent years, with hackers finding innovative ways to breach networks and steal sensitive information. However, it's still very important to properly dispose of physical documents as well.
Shredding is the most secure way to ensure nobody can access private data.
Let's go over the types of documents you need to shred in order to have all your bases covered.
Personal Information
Most people keep their Social Security card and birth certificate in a safe place. However, if you ever need to make a copy of them, you need to shred them once they're not needed.
You should also shred any expired forms of id, especially old driver's licenses. This applies to old passports or voter registration cards as well. Just because it's expired doesn't mean a criminal wouldn't like to get their hands on it.
A good rule of thumb is to shred anything that has information only you know about or need.
Banking and Other Financial Documents
It's imperative to shred documents relating to your bank account or credit cards. This means bank statements and any type of correspondence with the financial institutions you do business with.
You should also shred expired debit or credit cards and old checks you never used. Even though the account is closed, a criminal could find a way to use these items.
Bank and credit card statements pile up quickly. Consider going paperless and avoid having more sensitive information about your finances laying around.
Tax Information
It's important to keep tax information in case you have an IRS issue you need to sort out. Always keeps these in a secure location, even under lock and key.
However, if you have tax papers from years back, it's a good idea to shred them. Make sure you shred everything – this means all receipts or charity donations. Tax forms typically contain your Social Security number, date of birth, and even information about your spouse and family.
If you're worried about shredding documents you may need in the future, consult your accountant or tax attorney. If you absolutely must keep certain documents, consider a blackout roller stamp.
Junk Mail
There are countless forms of junk mail, and much of it contains some type of sensitive information about the recipient. If you typically just toss junk mail in the trash, you should consider shredding them instead.
Designate a drawer or basket as the place where shred-worthy junk mail goes, and take care of it at the end of each week. Any credit card pre-authorizations, insurance correspondence, or mail from organizations you're a part of should get shredded.
Again, consider going paperless to cut down on unwanted mail.
Best Paper Shredders for Home Use
Many people toss all sorts of personal info in the trash without even thinking about the possibility of identity theft. The paper shredders recommended below are great options for home use. If you are in need of something that can handle more volume scroll down to the business shredder recommendations section.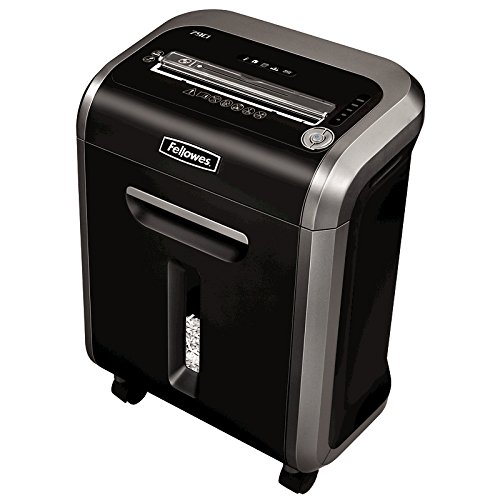 Fellows is a trusted brand in the office supply industry. The 79Ci is capable of shredding up to 16 sheets of paper with a cross-cut pattern for extra privacy.
This model can shred CDs/DVDs, staples, paper clips, credit cards, junk mail and of course paper. Another great feature is the SafeSense technology that will stop the shredder if your hand or skin touches the paper opening.
With a 20 minute continuous run time and a 6 gallon bin this is a great fit for home or a small office environment. The 79Ci is backed by a two year warranty that covers product and service as will as a lifetime cutter warranty.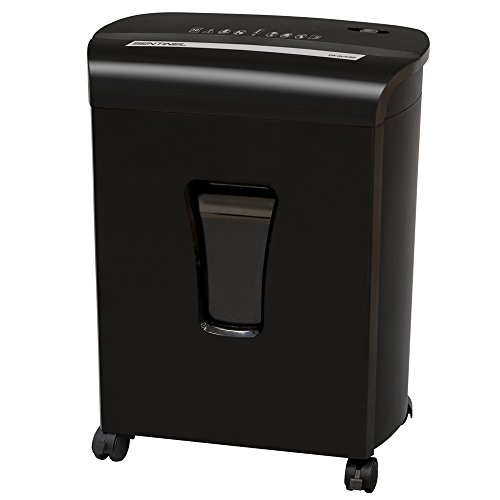 Up next is another great option for homes or small offices. This is the FM101P by Sentinel which is packed with some solid features for a mid-range shredder.
Capable of shredding 10 sheets at a time into a super fine micro-cut shred measuring 5mm by 10mm. The FM101P shreds at a rate of 7.2 feet per minute or the equivalent of 72 standard 8.5″ x 11″ sheets of paper.
The 3.5-gallon wastebasket can hold approximately 350 shredded sheets before needing to be emptied.
Overall this is one of the smallest mid-range paper shredders on the market and it comes in at an affordable price point for smaller budgets or home use.

Swingline has been a staple of the office supply world for quite some time now (see what we did there). This 12 sheet shredder is a great price-conscious paper shredder for home use or a single user office.
The cross-cut shredding pattern is very secure shredding a single letter-size piece of paper into over 400 tiny pieces.
You can even shred CDs, DVDs or credit cards with this but it is recommended to shred them one at a time through the designated CD/DVD slot to avoid wear and tear on the main shredding blades.
If you are looking for a shredder to cut through that pile of junk mail that is cluttering up your desk constantly get yourself one of these Personal Duo Shredders from Swingline.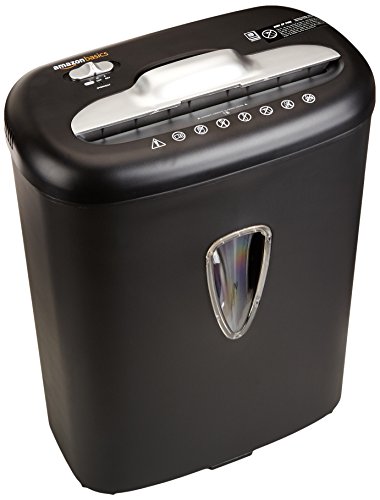 For those of you that just need something small that shreds a few pages at a time this budget shredder from Amazon does a great job.
The cross shred meets P3 security level standards and can run for 3 minutes continuously. You can shred up to 8 sheets of paper at one time and one credit card or CD at a time.
The 4.1-gallon bin with viewing window allows you to see when the bin is full without having to remove the shredder top.
All in all if you are looking for something cheap to handle small shredding jobs every now and then this is a perfect option that will not put a huge dent in your wallet.
Best Paper Shredders for Office Use

Alright now let's get a bit more serious with the MBM Destroyit 4005 SMC. This beast is NSA evaluated to meet or exceed NSA/CSS specification 02-01 (Level 6/P-7) for high-security cross-cut shredders. In plain and simple terms the particles are 1/32 by 3/16 of an inch making them next to impossible to reassemble.
Please note that this device is more of a secure shredder than a volume shredder. They recommend you run 8 sheets per pass for best shredding quality but it can handle 16 sheets without issue. There is a built-in oil reservoir and delivery system that keeps the shredder performing at optimal levels.
For anyone who needs the highest level of security for their shredded documents the 4005 SMC is a great option if you have an endless budget.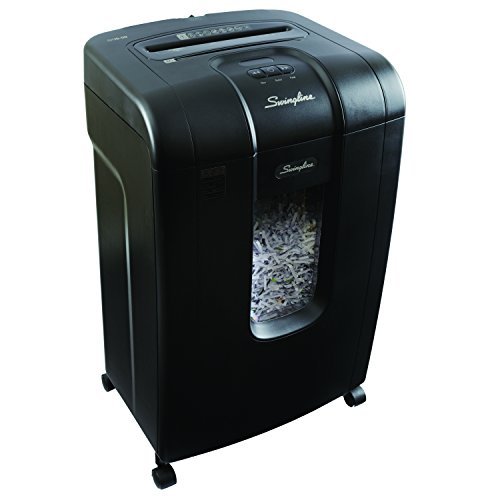 Moving on to the next, here is another great product from Swingline. This is the SX19-09 which is designed to accommodate up to ten office workers with an average shredding load.
This model can shred up to 19 sheets at a time in a super cross-cut pattern. This shredder is also capable of shredding CDs, DVDs, credit cards, paper clips, staples, and documents.
With a 16 minute consecutive run time you will be able to tackle most normal shredding jobs in a single run. There is a 40-minute cool down feature to ensure the motor does not get damaged from overheating.
For all the small to mid sized offices out there this Swingline will help you with all of your shredding needs.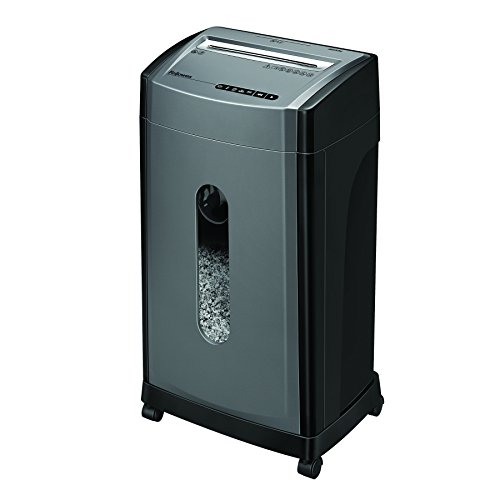 If you need something in between the two office shredders listed above the 46Ms 12-sheet micro-cut shredder may be what you are looking for. This shredder meets P-5 security standards and is capable of destroying credit cards, staples, and CDs or DVDs.
With built-in auto-reverse paper jams are a thing of the past with this shredder. There is even a SilentShred setting that offers ultra-quiet shredding for shared office space.
The eight-gallon bin slides out on the front for easy disposal and the shredder is on casters for easy relocation around the office.
The 46Ms brings both security and functionality all to one amazing office shredder at an affordable price.

In need of high volume shredding? You are in luck, this is the AutoMax 130C by Fellows. This thing can take 130 sheets of paper in its auto-feed and 8 sheets at a time in the manual feed.
The cross-cut shreds meet P-4 security standards. The auto-feed system is unique and patented AccuFeed by Fellows ensures the documents are always shredded securely. The wastebasket has an 8.5-gallon capacity making this great for individual workstations or shared office spaces.
There is a 10 minute constant run time that will cycle off for 25 minutes to allow the motors to cool down. Backed by a 2-year product and service warranty and 5-year warranty on the cutter.
All in all, this is a great option if you are not trying to babysit your 130-page shredding jobs 8 sheets at a time.
Shredding the Right Types of Documents
Having to shred documents may seem like a hassle, but the security it provides is well worth it. Make sure you're shredding the types of documents discussed above and anything else you feel puts you at risk.
For more information on security products, check out our blog today.