Self-defense is no joke. Nowadays there are hundreds of websites with articles on self-defense moves, ways to avoid getting attacked, and what to do if you are.
There are even websites that specialize in selling self-defense tools, such as mace, tasers, and even handguns in areas where they are legal. But, the most effective and useful tool is a knife.
When it comes to knives, you can use a fixed blade or a folding blade. Some people do carry fixed blade knives, but folding knives are safer (and more popular) by a long shot.
You get to choose what self-defense device will make you feel most secure, but folding knives have the strongest argument going for them.
Let's talk about that.
Folding Knives: The Ultimate Self-Defense Tool
Folding knives are effective, easy to carry, and simple to use.
The main reason folding knives are preferred over a fixed blade knife is that the folding mechanism for the blade makes a folding knife safer to carry. When the blade is folded, you don't need to worry about accidents happening.
You don't have to worry about accidentally pushing a button that spring releases it. No worrying about it slipping out of a sheath and accidentally slicing yourself. Instead, it is safely tucked away inside of itself where it can only be released intentionally.
A lot of folding knives also have a safety switch, which you can flip to lock the blade in the folded position. The more safety features your knife has, the better.
Keeping It Secret Is Safer
On top of being a safer option, folding knives also are much easier to conceal. The great thing about them is that they fit neatly into your pocket or purse.
The problem with a fixed blade is that, usually, they do not fit into a pocket and need to be kept on a sheath on your belt, which draws more attention to you. The idea here is to stay low key but prepared to unleash it when necessary.
Make sure you are familiar with your knife once you purchase it. There's no point in having a knife to defend yourself if you aren't exactly sure how it works.
There are many different models of knives, so be sure to get to know yours well.
As long as it is legal in your state, which is something you should check out before you purchase a knife, you are doing yourself a big favor.
Best Folding Knives We Recommend – Top 8
We wanted to share some of our favorite knives with you and would love to hear what your favorite every day carry (EDC) knife is in the comments below.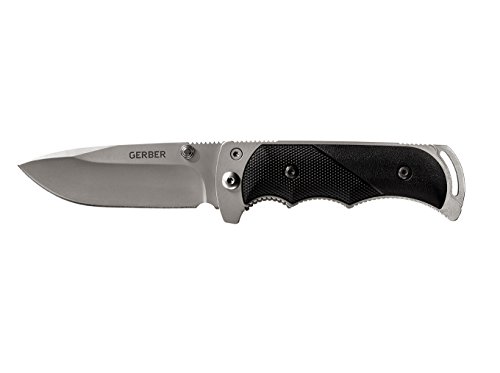 Gerber makes quality gear that can withstand years of use and abuse. This is the Freeman Guide (31-000591) folding knife. The knife is lightweight at 6.6 ounces and has a 3.6″ blade.
The handle has a sticky TacHide inlay to ensure a secure grip in any environment. There is an included nylon sheath to keep your knife stored and clean when not in use.
We recommend the Gerber Freeman Guide Folding Knife to anyone looking for a solid folding knife at a reasonable price. It is great for camping, fishing, hunting or any other EDC knife needs.

If you are the tactical type, the Kershaw Brawler will make a great addition to your collection. The Brawler has a unique tanto blade that is made of high-quality black oxide steel.
The blade measures 3″ and the open length of the knife is 7.1″, and with a weight of 3.9 ounces, this knife is extremely light. There are four positions for the pocket clip to fit any style or hand preference.
Overall, the Kershaw Brawler is a great tactical looking option or just a solid utility knife that you can beat on for years to come.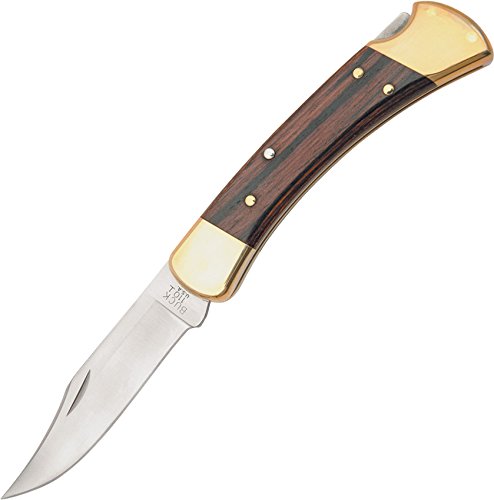 Only buy Made in the USA? This one is for you! Buck Knives Famous 110 Folding Hunter is a staple of the hunting knife community and has been since 1963.
The walnut and brass on this knife are a true work of art. The best part is this is one of the most functional knives around. The clip point blade is 3.75″ long and made of 420HC steel.
The included leather sheath has a belt loop to easily carry the knife on your hip. Backed by a forever warranty you cannot go wrong with this american classic.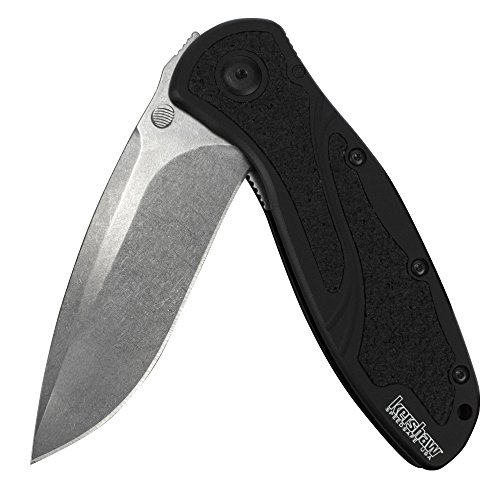 Here is another great product from Kershaw, the Blur. This folding knife is made with a powdered steel blade that looks very impressive.
We thought the grip would be slippery but don't be fooled by the looks. The grip-tape like handle adds just the right amount of stick to ensure the knife stays where you want it.
The Kershaw Blur is a great every day carry folding knife that won't fail you 15 or even 20 years down the road.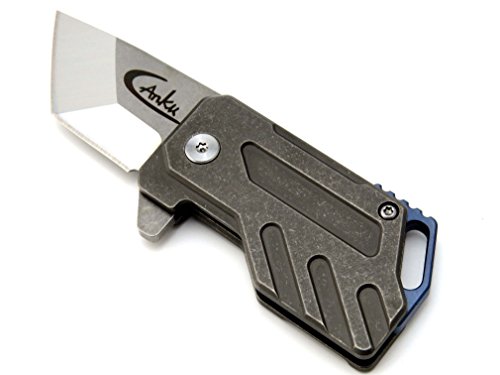 Space is a valuable asset these days and the Canku C03 makes use of every inch. With a fully extended length of 4.1″, this little folding knife is easy to throw in your boot, purse, camping bag, pocket, or basically anywhere.
You won't want to rely on this as your every day knife, but on short hikes or for an emergency knife, this little guy delivers.

Another great EDC folding knife option is the STHENIA by QSP. The unique shaped handle makes this knife comfortable to carry and hold for most individuals.
The blade is 3.8″ and the handle measures 5.2″, making this a great mid-size knife. There are a few different blade colors and handles available to fit your style preference.
At the end of the day, can you really have too many knives??? Definitely check out the STHENIA.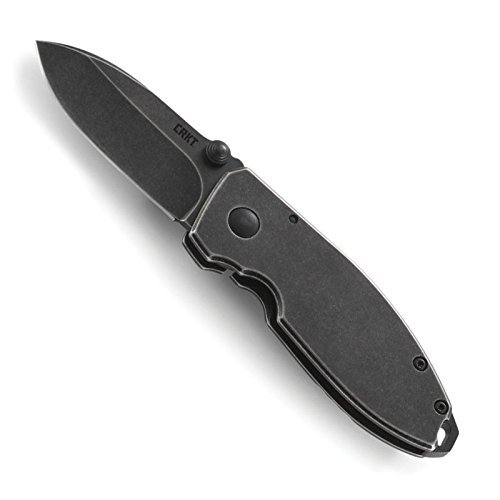 This next folding knife is the Squid by CRKT: it's portable and small but gets the job done. This little guy makes for a great EDC as it won't weigh down your pants or slosh around in your pocket.
The blade is 2.25″ and the handle measures 3.5″ at 3.4 ounces total weight. You can fasten this to a belt or pocket with the clip or even string it up on a rope through the lanyard hole.
Overall Columbia River Knife and Tool (CRKT) never seem to disappoint when it comes to their gear, especially their knives. So if you are in the market, grab yourself a Squid or two. We promise you won't be let down!
Defending Yourself
Remember: the whole point of having a knife is to make sure you can get yourself out of a dangerous situation. Having a knife is not an alternative to calling the authorities if you need help.
Always be aware of proper knife safety and what to do in the event of an emergency. Treat your knife well and make sure it doesn't rust. A rusty knife is not useful and may cause more problems than it helps.
For more self-defense information, explore our blog.
Is your favorite EDC folding knife not on our list? Let us know in the comments below what you prefer to use on your daily hike!