We love adding more gadgets to our EDC collection and these are the best tactical pens we could find. These pens are much more than a basic writing instrument. These are rugged and sturdy crafting tools that will come in handy for much more than jotting some notes on a post-it.
Many tac pens feature ink that can write in extreme temps, upside down or even in the rain. If you are looking for a step up from that old Bic that keeps leaking in your pocket, grab a tactical pen and we will be surprised if you manage to break it.
Tactical Pens Are Great For
Military
Construction
Law Enforcement
Camping
Rescue Workers
Gadget Lovers
Office
9 Best Tactical Pens For Self-Defense
We did our research and put together this list of affordable and effective tac pens. All the items in this list are durable and have a striking point that you can use for self-defense or dropping a car window if you are in an emergency. Let's not waste any more time and hop right into the features of each pen.
Why settle for a boring pen when you can have a gadget-filled swiss-army-pen of all pens. This pen features a unique tactical flashlight with a battery life up to 200 hours. The pen is a standard refill and easy to find replacements at any office supply store.
There is a stainless steel glass breaker tip on the end of the cap, a hex wrench, bottle opener, screwdriver, and of course writing utensil all packed into this super functional pen.
The body is made of military grade aluminium and weighs only 1.49 ounces. There are extra pen refills and LR936 batteries to keep you up and running for a while before you need to purchase refills of your own. Overall this is probably the best multifunction tactical pen on the market and at a reasonable price too.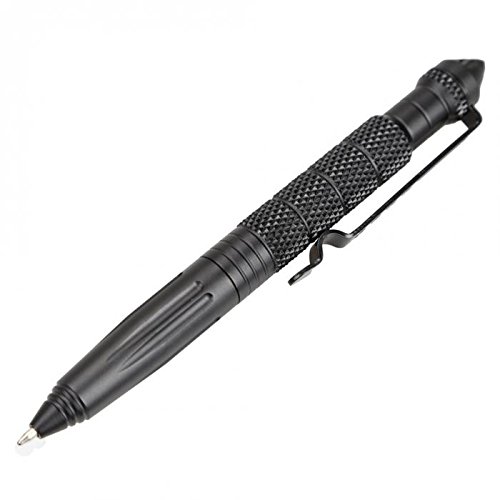 For the budget-conscious, this is a great tac pen that does the basics and does them well. The pen is lightweight and made of aircraft aluminum. You can break your way out of a car with the carbide tip glass breaker. The striking end also has a few reservoirs to collect an attacker's DNA if you are defending yourself.
There is a removable clip that can be used to fasten the pen to your belt, pants, coat pocket, backpack or purse. The pen itself is actually nice to write with and will hold up for years to come. Conveniently enough, the pen replacements are a standard model and easy to acquire replacements.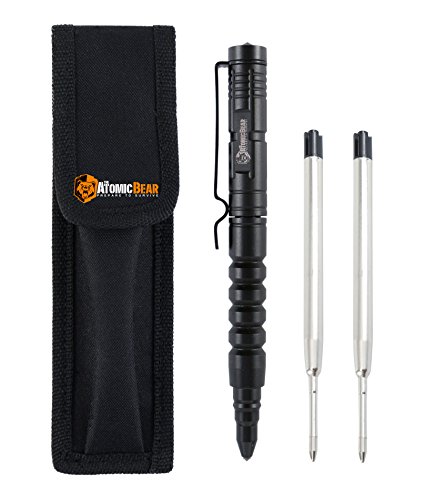 Another very affordable tactical pen is this SWAT tactical pen. One of its most notable features is the included sheath to keep your pen on your belt. The extra padding keeps it from poking into your leg or side, but still accessible when you need it most.
There are over two hours of training videos included with this product, which is an extremely valuable bonus if you need some extra information on how these work and how to protect yourself. The pen writes very well and also uses a standard refill that makes finding replacements a snap.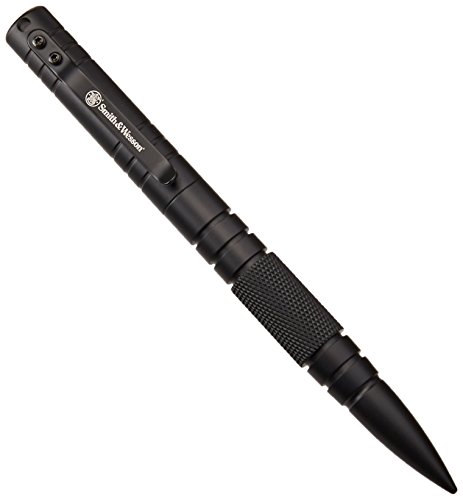 Smith & Wesson is a well known and respected firearm manufacture so you know this tactical pen is nothing to mess around with. The pen is made of high-quality aircraft-grade aluminum with a pop-off cap and clip for quick access. The pen refills are parker P900M cartridges which are easy to find.
The cap screws on and off for secure storage when not in use and makes the device sturdy if used for a forceful strike. The overall look of this pen just shows that Smith & Wesson has been around the block and it has an edge we cannot put into words. If you are stuck on a gift idea for anyone who is remotely badass, this tac pen will not disappoint.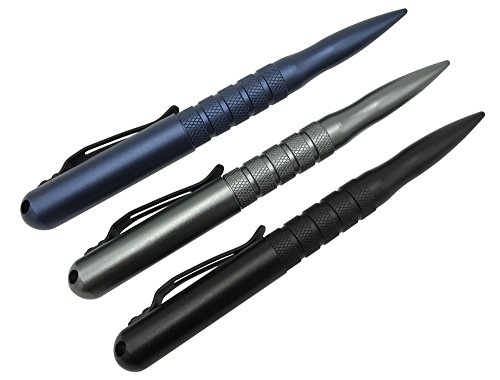 With a simple and clean design, this tactical pen is affordable without sacrificing style. Choose from grey, blue or black to fit your personal preference and taste.
You can use this as a pen, kubotan or glass breaker, making this a versatile addition to your arsenal. There is a hole that you can attach the pen to a keyring, backpack, bag or purse allowing for easy access. If you are looking for something subtle but stylish, grab a few of these.
Gerber makes some of the best quality gear available and this pen is nothing short of great. The body is made of steel and the stainless steel pocket clip will keep the pen accessible. Rite in Rain ink allows you to write in all sorts of weather conditions without issue.
We have had issues with the paper ripping due to it being soaking wet but this sucker still puts ink on the paper mess. The pen is activated by a push-button mechanism similar to most button-operated pens. There is a glass breaking tip made of tempered steel. It is made in the USA so you know the quality will be good and to Gerber's standards.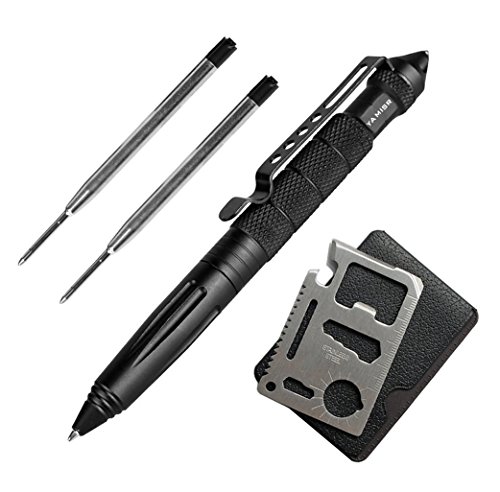 Another versatile option with some extras to go with the pen. This tactile pen is made of durable aluminum with a tungsten carbide tip on the end that can be used to break the glass. Keeping the pen close is not an issue with the removable pocket clip. There are two ink refills included, keeping you stocked up for a bit.
There is also an included survival tool that is in the shape of a credit card, which allows you to keep it in your wallet. This is a great little survival kit that can be a great gift or addition to the supply cache.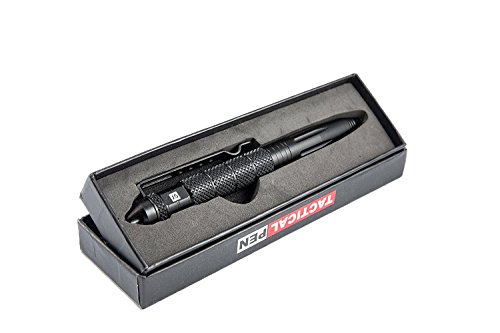 J-5 makes some of the best affordable tactical gear we have seen. Made of aircraft grade aluminium, the diamond-threaded handle makes this light and comfortable to hold while being sturdy enough to act as a self defense weapon.
An emergency glass breaker is on the end of the pen and it also has small DNA collectors to help identify an attacker if you need to use the pen for self defense purposes. The writing is very smooth and comfortable. Overall this is a great tactical pen that is great if you are light on funds.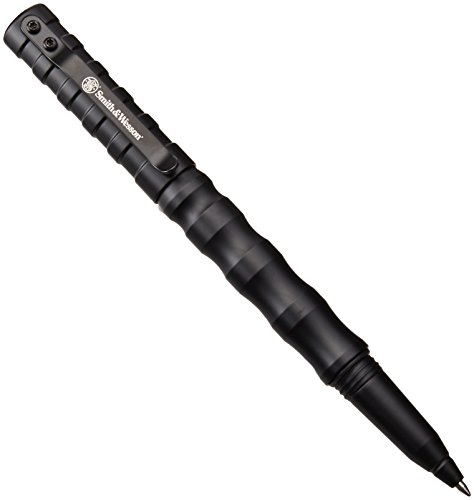 Another great product from Smith & Wesson is the last item on our list. Made of CNC machine T6061 grade aluminum, there is a screw-on cap to keep the pen protected when not in use. This is one of the more aggressive-looking tactical pens we could find and also acts great as a kubotan.
Refills are easy to find and are standard Parker style P900M cartridges. Works great for professional or recreational use and will stand the test of time. If you like buying trusted brands, Smith and Wesson will not disappoint.
Final Thoughts
If you write a lot and want to get an upgrade from that old boring Bic pen that keeps breaking in your pocket, then invest in one of these sturdy tactical pens.
Many of these pens come with a warranty and are quite hard to break even if you try. We did our best to only include pens that had refills that are easy to find because it is pointless if you cannot refill the pen.