Did you know that in 2016 alone, 91 natural disasters occurred in the U.S.?
Being prepared is the key to survival. It could even mean your life.
One essential piece of equipment, not to be missed, is an emergency radio. But do you need to spend a ton of money buying a super rugged, high-tech, complicated device? What are the essential features needed?
Of course, it all depends on your personal circumstances. These next five useful tips will help you to make a well-informed choice when buying an emergency radio.
1. Tune In
Your portable emergency radio should have AM/FM capabilities to connect you to a local frequency.
Choose analog over digital. An analog radio might be slightly harder to use at first, but if all systems go down in a crisis, digital radios may not work at all.
When choosing a radio, look for the logos NOAA (National Oceanic and Atmospheric), NWR (National Weather Service), and SAME (Specific Alert Message Encoding). The NOAA and NWR will alert you during severe weather conditions. SAME is a technology that allows you to customize alerts to your specific area.
2. Power Hungry
There are various forms of power for a portable emergency radio.
A hand-crank radio is a simple and effective form of power, without the need of plugging into a wall outlet or any power source for that matter. Solar emergency radios run directly off solar power. And some have an AC adapter or a USB that must be charged before use.
Try to look for a radio with two options. For example, a hand-crank radio with solar panels. This means you can charge it up in the day, yet if it runs out of juice in the night, you can rely on the hand crank.
The last thing you want is to have a dead radio when you are dealing with an emergency situation. If you are using a battery-operated radio store the radio with the batteries taken out to avoid corrosion in the battery compartment.
3. Size Matters
Size and weight are of utmost importance when it comes to your bug-out bag. Many emergency radios are compact in size; some are even pocket size.
Many emergency storm radios even weigh less than one pound.
But if you're looking for a battery-operated radio to store in a bug-in location, such as your basement, a bigger more powerful version may be more suitable for your needs.
4. Sturdy and Reliable
When disaster strikes, conditions may be less than favorable. So make sure your emergency radio will be sturdy and durable for when times are tough.
For instance, it must be water and drop resistant. A fold-away hand crank and antenna is a good feature as it protects the fragile pieces when it's packed in your bag. Also, a rubberized finish to provide a strong grip will be much appreciated during hectic times of trouble.
5. Bonus Features
Additional features are an added bonus. By combining several useful items into one compact device, the weight of your disaster bag will be noticeably less.
There is an abundance of features to choose from. But before you get overwhelmed by the vast array of additions, think about what you and your family will personally need during a real-life emergency.
Some features include flashlights, strobes, sirens, compasses, whistles, and even solar panels for charging purposes. Good speakers and an auxiliary jack for headphones are both essential features, as it may be noisy during times of emergency.
Top 6 Emergency Radios
Here are a few of our favorite emergency radio communication devices. We highly recommend the crank units as they do not rely on batteries.

RunningSnail covers all the bases with this radio. You will get access to AM/FM and NOAA weather radio alerts.
There is a 1w LED flashlight so you can light up the area when you need it most. There is a hand crank and 2000mAh battery that can be charged via crank and solar charge. This power supply will last about 12 hours for the LED light and somewhere between four and six hours of radio time.
With multiple ways to charge this radio, you will not be left in silence. You can charge via hand crank, solar panel, micro USB or throw in 3 AAA batteries and you will be up and running.
The only downside to this radio is the antenna is in a bit of an awkward position and can be easily damaged if not stored properly.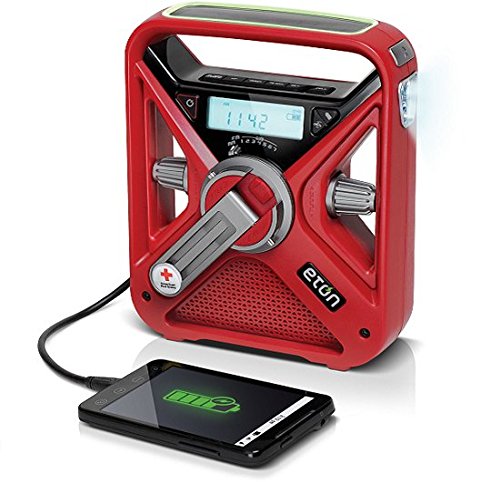 Another great option is the FRX3+ from the American Red Cross. The sound quality of this product is top-notch, allowing you to easily understand important emergency updates. The tuner is digital and can receive radio stations, unlike other analog tuners.
The unit is charged by the hand crank, USB or solar panel on the top of the device. The included 2600mAh lithium-ion battery is easily charged with the crank and can provide up to eight times the amount of playback time compared to other radios.
There is also a built-in flashlight and USB charging port to charge a cell phone or other mobile device.
The only downside to this is the digital LED tuner. Many active preppers would recommend an analog tuner, but that is more of a situational and personal preference.
Overall this is a great little radio that fits easily into any go bag.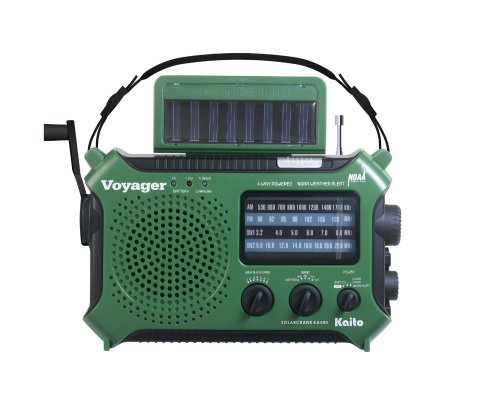 Up next is the KA5000 by Kaito and it is specifically designed with emergency preparedness in mind.
The device has multiple ways to charge including AC/DC adapter (not included), three AA batteries or the built-in rechargeable battery that can be charged with the AC adapter, hand crank, solar panel or USB.
There are seven pre-programmed NOAA weather stations making it easy to tune in when you need it most. In addition to the NOAA stations, you will get a full range of AM/FM stations, and you can tune with the analog tuner.
The solar panel can rotate a full 180 degrees, allowing you to get the most power from the sun at all angles. There is even a reading light on the back of the solar panel to provide light in dark situations.
All in all, this is a great radio to have in a 72 hour kit or any emergency pack you have.

Need to charge a bunch of devices? This next radio features a huge 4000mAh battery allowing for more charges and radio time on a single charge than most other emergency radios. It provides up to 12 hours of playtime on a single charge.
There are seven NOAA stations available as well as the local AM and FM stations in your area.
Not only is the battery capacity very large, but there are four ways you can give the device power, including the solar panel, the micro USB, hand crank or three AAA batteries (not included).
There are a few ports on the side so you can charge any USB powered device or plugin headphones. You can even play MP3s off the USB port or plug in an MP3 TF card to play music.
This device is water resistant and backed by a one year warranty and has a 30 day 100% satisfaction guarantee.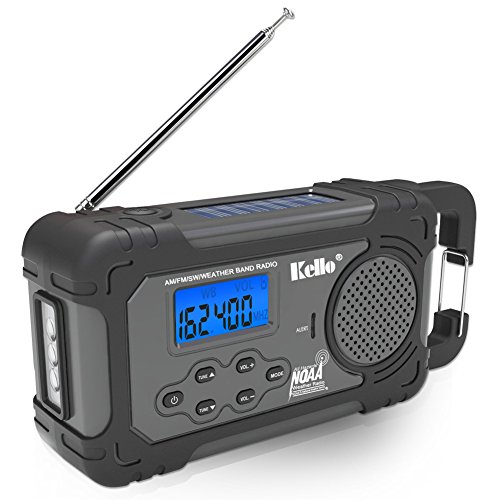 This is a great weather radio for bug out bags or hiking due to its size and built-in carabiner. It can easily be clipped to your pack for easy access to updates.
You can tune into AM/FM/SW/NOAA stations with this radio, which covers all needed stations during an emergency.
There are multiple ways to charge the radio: AC (not included), DC, solar panel, hand crank or three AAA batteries (also not included).
There is an included headphone jack and you can also charge a cell phone with the USB port.
Overall, this is a great portable emergency radio that any true prepper or outdoorsy individual should have in their arsenal.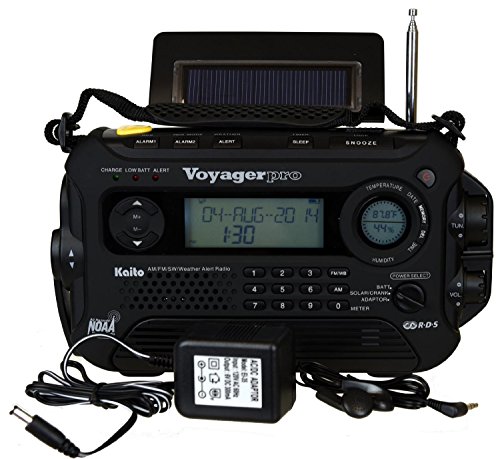 For the gadget lovers out there, here is one with all the bells and whistles. This radio features AM, FM, Longwave, Shortwave, and NOAA weather radio stations and provides RDS info.
There are four different tuning methods including manual, direct digit entry, ATS, and memory tuning with 355 programmable memories.
There is a calendar, an alarm clock with multiple settings, a sleep timer, and even a thermometer and humidity sensor.
The device can be charged from the solar panel, hand crank, AC, DC or three AA batteries.
The radio is not the most portable device around but if you are going to be in a single location during an emergency, the extra features may be worth the size trade-off.
A Reliable Emergency Radio Is a Must For Any Serious Prepper
There are many radios available and we shared our favorites with you. We like having a lot of features built into a single device to keep the amount of gear needed to survive to a minimum but any halfway decent radio could save your life in the event of a major weather or natural disaster.
If you follow these tips, you can no doubt choose the right emergency radio for your personal needs. Then you'll be prepared for anything!
Click here for more lifesaving security tips.