All of these pepper spray holsters will greatly improve the time it takes you to access your self-defense spray.
Pepper spray is only effective if it can be easily accessed and deployed. In the event of an attack every second counts! You do not want to be caught fiddling around in your purse or looking through a backpack.
Make sure your pepper spray is easily accessible, a simple key-ring or hip holster will allow you to access your device in less time, allowing you to suppress your attacker and get out of danger as quickly and efficiently as possible.
There are many different types of holsters available including belt clips, hip holsters, thigh holsters and even wall mounts. Make sure you have quick access to your device, you never know when trouble will strike.
Best Pepper Spray Holsters 2018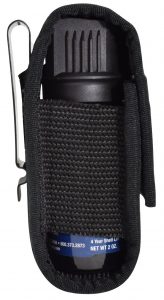 This is a great holster for 2 oz pepper spray canisters, fitting a 4 inch tall by 1 and a quarter inch wide canisters. This holster features a durable tactical metal belt clip and has a heavy duty Velcro flap to secure the canister. The metal clip can easily attach to most belts and waistbands. The holster is constructed of heavy duty nylon that will withstand a good amount of wear and tear.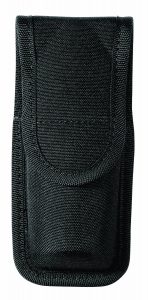 This is a simple holster that can fit a can with a 5.5 inch height. It features a hidden snapping closure to secure the pepper spray canister. There is a web belt loop that can fit up to 2.25 inch belts, you just feed the belt through the loop to secure on your waist.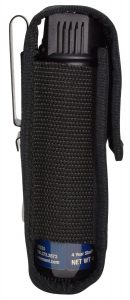 This is a great holster for canisters of 4 oz with a maximum width of 1.5 inches and max height of 5.75 inches. There is a metal belt clip to securely fasten the holster to most belts and waistbands. There is a heavy duty Velcro strap that will hold the canister in place. This product is manufactured with high-quality nylon fabric that will hold up over the years.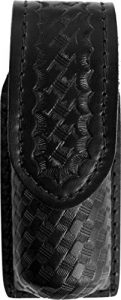 This product features a unique basket weave design, constructed from safari laminate which is a unique thermal laminate. This holster can hold a canister of about 4 inches and is actually part of an official 6005 tactical system.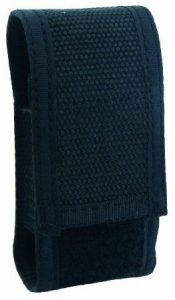 This last holster is another belt loop designed to slip over your belt. This product will secure a canister of 2 oz with dimensions of 1.25 inches wide by 4 inches high. The canister is securely held by high-quality Velcro. This product is constructed of heavy-duty nylon that will last for a very long time.