Keeping your firearms locked up and safe is an absolute must to keep them out of reach of children and unwanted individuals. If you store your firearms in hidden gun safes you may be lucky enough to be within arms reach of your gun in the event that someone breaks into your home and you need to defend yourself.
However, if your gun is locked in a safe in your closet, that does not help much when someone comes unannounced into your home with cruel intentions.
We took some time to compile a list of some of the best hidden gun safes we could find on the internet and would like to share them with you.
13 Hidden Gun Safes to Keep Your Firearms Close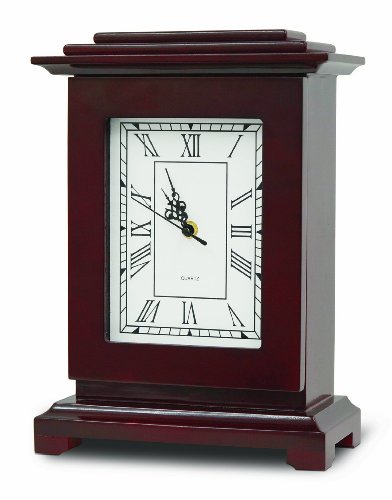 This walnut finish wooden mantle clock features a hidden safe behind its clock face. The clock is made well and has a working quartz-based timepiece that will sell the fact that this is an ordinary clock and not a hidden gun safe. The clock stands about 13 inches tall and features a felt-lined inner compartment that can be used to store a handgun, passports, money, keys or any other small valuable object you would like to keep out of sight.
You will need to purchase one AA battery to power the clock. The front face is hinged and has a magnetic latch to conceal the valuables inside. There are also rubber feet on the bottom of the clock to keep it from sliding around and make the product stay in place. This is a great way to hide your gun or other valuables in a place that many thieves would choose to ignore.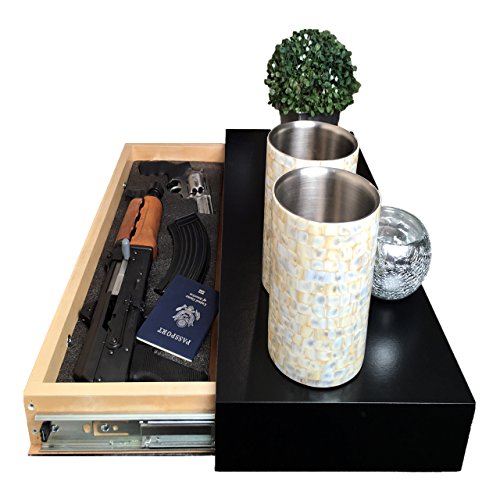 If you like the aesthetics of a floating shelf and like hiding stuff, the GS-1228 by Covert Cabinets will make for a great solution to your storage needs. This wall mounted floating shelf is both sleek and modern and can store 1-2 guns easily. The exterior dimensions are 28″ x 12″ x 3.5″ and the interior dimensions are 24″ x 9″ x 2.5″ providing ample storage space for tons of different items.
A few other notable features are double ball bearing rails for soft and silent opening and closing. Both inside and outside are finished with a nice lacquer coating to making the shelf both functional and pleasing to look at. The shelf can hold approximately 30 pounds between the stuff in the shelf and on it. All the required mounting hardware and installation instructions are included. Please note there is no locking mechanism on this product it secures with a magnetic latch only.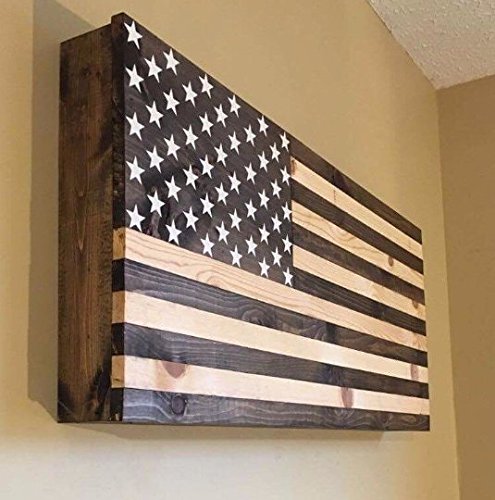 Why not hide your guns behind the good ol' American flag. This custom gun storage cabinet is made to order out of pinewood #2 boards. The overall size is 4.5″x 19″x 42″ and the storage area is 3″x 17.5″x 39.5″ giving you a decent amount of space to hide a few guns or other valuables behind an amazing piece of wooden art.
The 50 stars are made from vinyl. Please note the hooks and guns are not included with purchase. The door is secured by two magnetic strips at the top and the case does not come with a built-in locking mechanism.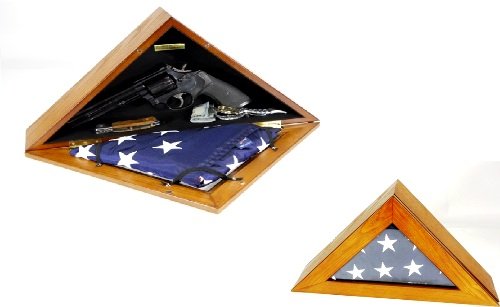 If you like the idea of hiding a firearm behind the flag but want something a bit smaller check out this memorial flag box. Not only will this display your precious flag memento but you can hide a firearm or other valuables behind the flag. Unlike traditional flag displays, this opens from the front allowing easy access to the hidden compartment behind the flag.
There are magnets that secure the door in place allowing you to grab your gun without the need for keys in you need it in a hurry. Note the display ships with a fake paper flag to hide the items behind. If you want to display a real flag in the box you will need to provide your own. The overall size of the box is 19″ wide by 10″ tall with a depth of 3.75″.
For those of you who like something a little more high-tech check out this biometric handgun safe. The safe is made from 18-gauge steel with a foam protective lining for storage. The biometrics system can store up to 20 individual fingerprints and has a key override if the battery dies. The unit can be mounted virtually anywhere in almost any direction desired.
The fittings on this safe are very snug, making it extremely difficult for someone to pry this open without industrial power tools or a torch. There is also a combination version of this gun vault if that is more your style.
Need somewhere to hide those long guns? Check out this gun concealment storage bench by American Furniture Classics. Available in six different styles and colors this bench features a locking concealed gun compartment that can hold about five long guns. There is a removable tray for handguns or other small accessories.
The interior is covered with soft fabric to keep your items from clinking around in the compartment. The upper compartment offers ample storage for blankets, jackets or any other materials you want to keep on top of the locking hidden gun compartment.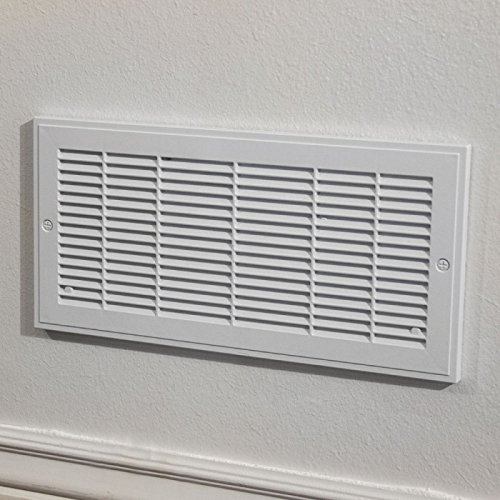 This vent safe features an RFID access badge, making it a great diversion safe. This hidden gun safe looks like a normal HVAC vent. This is a great option for hiding a gun in plain view with no one knowing. The storage area is 14" x 3" x 6.25" and the device is powered by four AA batteries that are included. There are a total of four access cards as well two RFID cards, one key-fob and one token giving you multiple ways to access your hidden safe in the event that you lose one of the keys.
There is also an external battery pack that you can hook up to access the safe in the event that the four AA batteries in the unit die completely. With that being said this is a great option for hiding a gun in plain view but make sure you check and replace the batteries on a regular basis. The last thing you need in a bad situation is to find out your safe won't open due to failed batteries.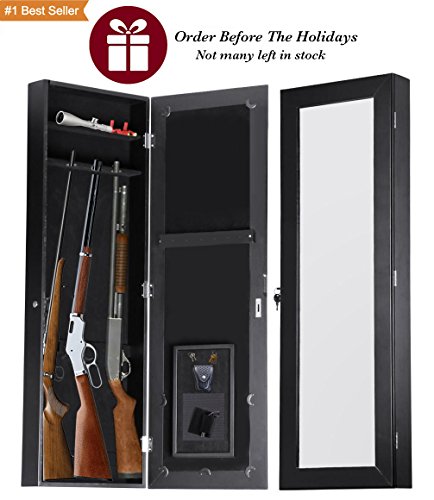 Another unique and versatile design is this hidden gun cabinet armoire. You can conceal multiple rifles behind this mirror, making it a great gun stash for your bedroom. The gun safe measures 42.5" x 14" x 3.5" giving you plenty of room for your long guns. One of the best features is you can use this by hanging it on the wall or building it into the wall to make it even less discrete.
If you are going to install this on your wall make sure you weigh the safe with all the guns and ammo you plan on storing to make sure the structure can hold the additional weight safely. If you are not sure about the install process or structural integrity of your walls, consult with a licensed carpenter to ensure your safety.
Home Defense Night Stand with Hidden Firearm Safe
Keeping a gun by your bedside is quite common but if you have kids this can be very unsafe. This nightstand will solve that problem with quick access concealed safe that can keep your firearm hidden but still in arms reach. The locking mechanism is powered by a 9-volt battery and can be opened in less than a second.
You will have enough storage space to stash a large frame pistol, stun gun or pepper spray of your choice. The nightstand dimensions are 20″ x 21″ x 30.5″ with a weight of 42 pounds. This is a sturdy piece of furniture that you can have the door open on the left or right side making it versatile. Add this piece to your bedroom for both style and safety.
Covert Cabinets HG-21 gun cabinet wall shelf is a great option for almost any room in the house or office. Once you place a few normal trinkets on top even Sherlock Holmes wouldn't realize there were guns on your shelf. The shelf has a Tuscan finish and is simple to install with the provided instructions. The exterior dimensions of the shelf are 21″ X 12″ X 3″ and all of the hinges, gas spring, and locking mechanism is located inside the shelf so you cannot tell that the shelf moves.
One of the more unique features of this hidden gun shelf is the magnetic key locking system. The included key is actually a magnet that you must slide across the lock to open the hidden compartment. The gas-powered spring allows the drop down action to happen quickly but controlled to prolong the life of the shelf. Overall, this is a very nice product that you can safely stash some guns in and it is quite hard to get this open without the magnetic keys.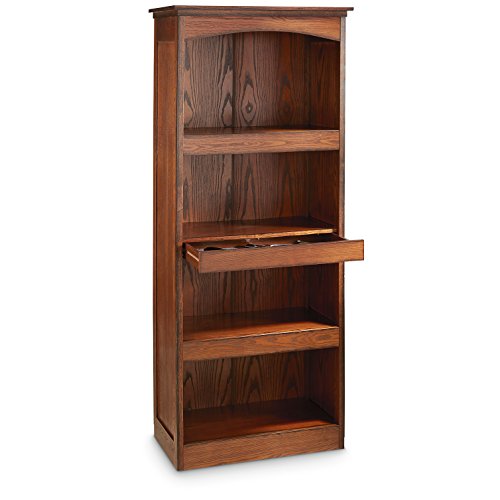 Know someone who is a bookworm but also loves guns? Check out this beautiful gun concealment bookcase from CASTLECREEK featuring a pull out hidden drawer for your guns or valuables. The wood is a dark cherry veneer so it is not multipurpose but also good looking furniture. The dimensions of the gun concealment drawer are 24″ x 13″ x 2″ and the bookcases overall dimensions are 29″ x 16″ x 72″ with a total weight of about 105 pounds.
Please note the shallowness of the drawer is around two inches deep, measure your firearms prior to ordering this to ensure they will fit. We have talked to a few individuals that said they were unable to store some of their desired weapons in the compartment due to this.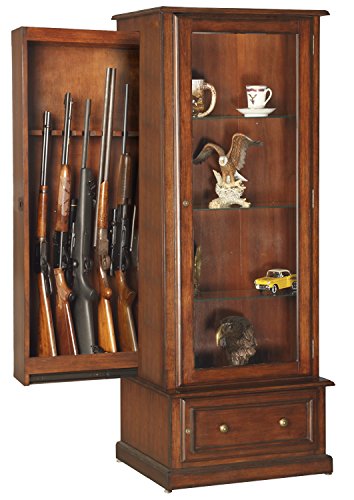 Keeping some long guns hidden can be hard and if you don't want a huge safe in the room, this is a great option to store some of your firearms. There is a hidden sliding back door that you can store up to five rifles behind the primary display case. There is also a locking drawer at the bottom that can be used for additional storage. The shelves in the display case are adjustable and there is tempered glass in the display case door.
This particular piece is not going to be a good option if you are looking for instant access to your firearms. There are two separate locks that need to be opened to release the sliding back door to expose the guns. If you are just looking for some nice furniture that can stash a decent amount of long guns, this may be a great option for you.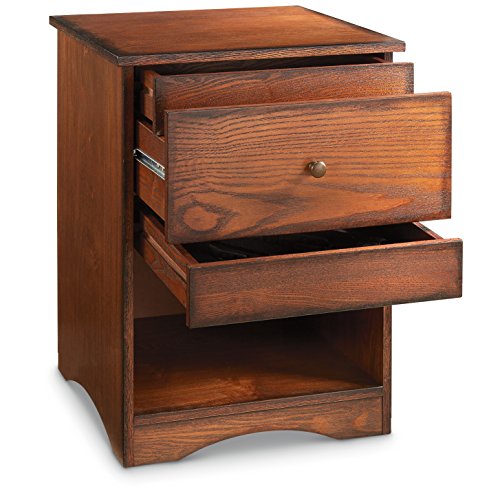 Last but not least is this nice gun concealment end table from CASTLECREEK. Another very sturdy piece of furniture that measures 18″ x 18″ x 24″ overall and the concealment area is 13.5″ x 13″ x 2″. Featuring a dark cherry finish and felt-lined concealment drawer, this end table will pass as your everyday piece of furniture. This makes a great end table for a living room or office. Overall another quality piece of gun concealment furniture to keep you safe at all times.
Final Thoughts
Please note that many of the products on this list will require assembly.
We hope you enjoyed this list as much as we did. Keeping your guns locked up can make them useless when trouble strikes as they are out of reach. Storing your guns in some really cool pieces of custom-made furniture is a solution to that problem. Grab a few different hidden gun safes and stash your firearms, weapons and other valuables in convenient locations around the house so you will be prepared when you need it most.